Denison -- Mayor Jared Johnson welcomed everyone to the annual awards ceremony for Downtown Denison Tuesday at the Rialto. Shawnda Rains Productions provided local entertainment featuring Tanner Young of Colbert, Lauren Taylor of Cooper, Emily Shannon of Van Alstyne, Tiffany Taylor of Melissa, Makenzie Rains of Denison, and Macy Edwards of Tom Bean. They were accompanied by Morris McCann and Charlie Shearer. Charlie Shearer served as the evening's emcee.
Doug Coleman was recognized for two years service as President of the Main Street Advisory Board. Donna Finch Adams was presented a placque in memory of R. E. Adams outstanding service to the Main Street Advisory Board from 2008-2013. A scholarship contribution to Grayson College was made in his name by members of the downtown and art communities.
Bob Dickson recognized Downtown Denison Inc. Board Members and Don Banman recognized Main Street Advisory Board Members. Members of the Promotion, Economic Restructuring, Design, and Organization Committees were also recognized for their efforts.
Bark & Paws Committee Members Janie Allen, Susan Bennett, and Jeri Waterloo presented Officer William Deering and Ivar of the K-9 Unit a check for over $2000 for a bite suit. The recent auction at the event was conducted by Karen Salyer and raised enough money to purchase this and other training supplies. A story was related from a recent Chamber ribbon cutting that this event actually drew a new business to town. They visited Denison for the first time at the 2012 Bark & Paws event. Their positive impression of the community who loved their dogs encouraged them to make the move.
The Partnership of the Year award went to The Advertising Committee Chaired by Bonnie Scranton and members Mia Munson, Colleen Mungioli, Candy Vickery, and Eric Batey. Bob Dickson, President of Downtown Denison Inc. joined the group to accept the award for a coordinating a cooperative advertising effort that features Denison Live at the local movie theater and area restaurants.
The Youth Volunteer of the Year award was presented to Denison Boy Scout Troop 605. They are involved in many downtown activities including the Eisenhower Birthday Celebration, Fourth of July Fireworks, and Bark and Paws.
Dean Cheney was awarded the Volunteer of the Year award for his service through The Crew, Downtown Denison Inc. Board, and more including creating the Haunted Alley to compliment Monsters on Main.
The Eisenhower Birthday Celebration had the best addition and was recognized as this year's Best New Event. Tina DiToma coordinated installation of and the Red River Railroad Museum hosted the Wall of Honor. Dave and Cindy McVeigh displayed their wonderful World War II model ship display.
Anna McKinney of the Denison Chamber and Convention Visitors Bureau received an award for Economic Impact to recognize events and advertising to promote Downtown Denison. Gary Sewell was recognized for his efforts coordinating and promoting Music on Main and bringing crowds of people downtown each Friday evening throughout the summer.
In 2013, the downtown was recognized by the Texas Downtown Association for its marketing effort "Operation: Increase Occupancy." The awards ceremony was in Bastrop, and the award was on display for the crowd.
Best New Business was given to Southern Bling Boutique.
Best Window Display was awarded to Rugs and Stuff.
Best New Signage was presented to Union Station.
Best Interior Restoration was presented to Old Firehouse Gym.
Best Exterior Rehab Project was presented to Hubbard Furniture.
Mike & Cathy Trewitt were awarded the Hall of Fame Award for their outstanding community service and support of Downtown Denison.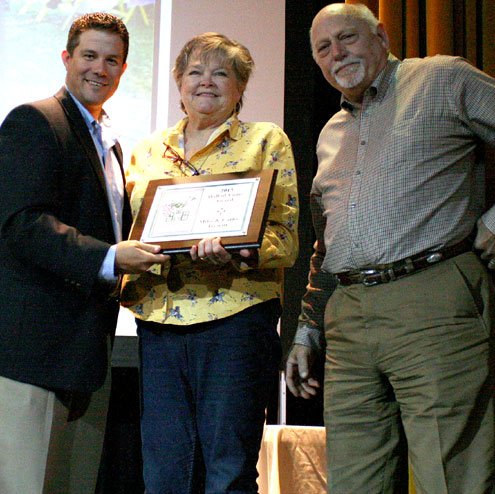 Denison Mayor Jared Johnson (left) presents the the Hall of Fame Award to Mike & Cathy Trewitt.
Kaboodles, owned by Bob Dickson & Candy Vickery, received the evening's final award for Downtowner of the Year. In addition to their wonderful store, Bob serves as President of Downtown Denison Inc. and Candy serves on the Denison Arts Council board.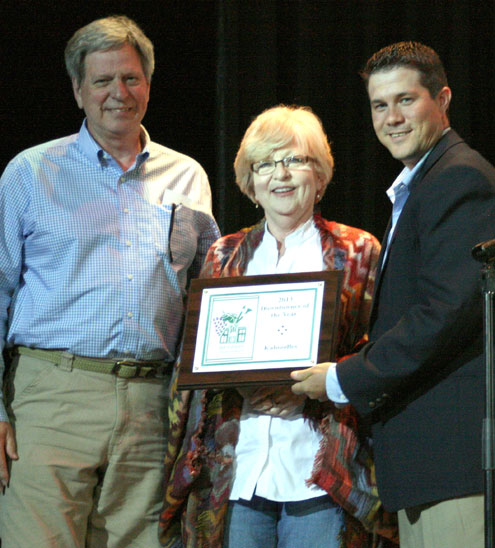 Kaboodles, owned by Bob Dickson & Candy Vickery, receives the evening's final award for Downtowner of the Year from Denison Mayor Jared Johnson (right). </center