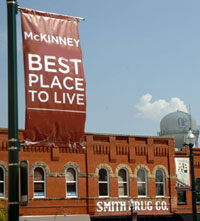 McKINNEY, Texas - The McKinney Convention & Visitors Bureau is gearing up for National Travel & Tourism Week, held the first week of May each year. This year's observance in McKinney features a city-wide scavenger hunt that will enable participants to win prizes donated by area restaurants and stores, among other activities.
"We look forward to this week each year," said Dee-dee Guerra, Executive Director of the MCVB. "Our focus is usually on bringing people from outside the area to McKinney, to stay in our hotels and spend money with our local businesses. But during National Travel & Tourism Week, we focus on educating our local residents about all our beautiful city has to offer. We want to help them be knowledgeable ambassadors for our city so they can share their hometown with their friends and family who come to visit!"
Each year, the MCVB staff plans different activities to get people out and about within the community, challenging them to learn all about McKinney attractions and other special features within the city. Also during this annual observance, the MCVB staff helps educate the public about the overall importance of tourism to every community.
"In the state of Texas, tourism-related activities return $7 to the state for every dollar spent on tourism," Guerra said. "That's a phenomenal return on investment. Not only is Texas one of the top tourist draws in the U.S., but the Dallas area is the most-visited location in our state. We greet people from all around the world to our downtown visitors center."
Among the activities in the works for National Travel & Tourism Week are:
"Tourism Keeps McKinney Hopping" Scavenger Hunt: The hunt is on starting Monday, May 5, for a sign featuring two frogs hidden somewhere in McKinney. Participants will find clues each day on the MCVB Facebook page (Destination McKinney) and website (VisitMcKinney.com) as well as on KLAK 97.5. Those finding the sign need to take a photo of themselves with the sign and email it to info@visitmckinney.com for chances to win prizes from the MCVB. All entries will then go into a drawing for a final winner of a prize package from area businesses including Local Yocal, Cooper Fitness, Cadillac Pizza Pub, the Heard Natural Science Museum and Wildlife Sanctuary, Happiness is Quilting, Third Monday Trade Days, Mom & Popcorn Company and more.
Did You Know? A new "Did You Know?" fact will appear each day on Facebook and Twitter.
McKinney Public Safety Awareness Day: For the 4th year, the MCVB will serve breakfast and lunch to the McKinney Police and Fire Department personnel on Tuesday, May 6, to thank them for keeping residents and visitors safe.
Mayor's Proclamation: As in past years, McKinney Mayor Brian Loughmiller will sign a proclamation declaring May 3-11 as National Travel & Tourism Week in McKinney.
Second Saturday Fun: The MCVB Visitors Center and Made in McKinney Store will be open 11 a.m. to 4 p.m. for Second Saturday fun. Stop by for information about the city, free popcorn and cookies, and more!
Anyone with questions about McKinney's National Travel & Tourism Week activities can check the MCVB web page dedicated to the celebration, stop by 200 W.Virginia in historic downtown McKinney, email info@visitmckinney.com or call 214-544-1407.
About National Travel & Tourism Week
The first full week of May is annually recognized as National Travel and Tourism Week, a tradition first celebrated in 1984 and facilitated by the U.S. Travel Office. Localized events are presented in cities, states and travel businesses nationwide to champion the power of travel. It was established as National Tourism Week when the U.S. Congress passed a joint resolution in 1983 designating the week to be celebrated in May. In a White House ceremony, President Ronald Reagan signed a Presidential Proclamation urging citizens to observe the week with "the appropriate ceremonies and activities." (Source: The U.S. Travel Office)