"Miss Lou," as she was known to family and friends, was a constant presence in her brother, Sam Rayburn's, life. After the death of their parents, Lucinda Rayburn filled a gap left by her mother and became the matriarch of the Rayburn family.
As Sam's political star rose, she played an increasingly important part in his life as his social hostess both in Washington D.C. and at their home in Bonham. As hostess she was responsible for welcoming guests in their home, hosting parties, luncheons and receptions at the house and acting as a companion to her brother for inaugural balls, state dinners and other social functions. When his constituents and other friends stopped by the Bonham farm to visit with Congressman Rayburn, Lucinda was there to greet them and welcome them into their home. Lucinda acted as hostess during the September 27, 1948 visit by President Harry Truman during his re-election campaign in North Texas.
Friends often described her as being extremely gracious and noble. She was very kind and so naturally regal in bearing that some thought of her as being similar in nature to royalty. She tended to be quiet and unassuming but enjoyed discussing political and public issues with her brother and attending social events with him.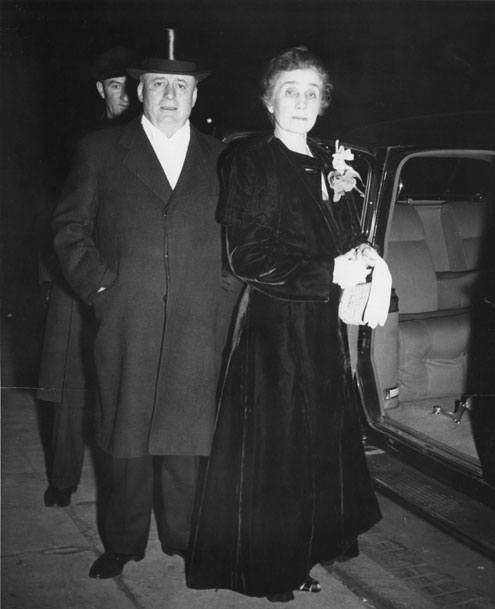 Sam Rayburn escorting Lucinda to President Roosevelt's inauguration in Washington D.C. in 1941. photo courtesy of Sam Rayburn Museum, Dolph Briscoe Center for American History, the University of Texas at Austin
In March of 1956 she underwent surgery for cancer. While recovering at home on May 16 she became very ill. As her health continued to decline, Rayburn flew home from Washington D.C. to be at her bedside.
Lucinda's illness came at a time when Rayburn was heavily engaged in campaigning for Lyndon Johnson's (unsuccessful) bid for Democratic candidate in the Presidential election of 1956. Rayburn was to lead the Texas Democratic Convention on May 22, 1956 but was only able to attend the opening rally. He left the convention early to be with his ailing sister.
In a letter he wrote, "I felt it was my duty to be with my sister rather than to be in a big crowd like that where I would have been unhappy."
For Rayburn, the duty of political life paled in comparison to the impending loss of his dear sister.
With her family at her bedside, Lucinda Rayburn died on May 26, 1956. Her funeral was held on May 28 at the Wise Funeral Home chapel in Bonham. She was buried in the Rayburn family plot in Willow Wild Cemetery in Bonham. Sam, who died in 1961, would later be buried next to her. Just shortly before her death, Lucinda had asked friends and family to not send flowers for her funeral.
She said, "I have already had my flowers. Please, no flowers."
Hundreds attended the funeral, so many that they could not all fit into the funeral home's chapel.The overflow crowd stood in the hallway, on the porch and in the yard. Congressman Wright Patman, Fort Worth oil baron Sid Richardson and future Texas governor John Connally, among others, attended the services. Telegrams of condolence to Rayburn flooded in from personal friends and political colleagues in Washington.
The loss of his sister, closest friend,companion and occasional advisor was extremely difficult for Rayburn. Seven years his senior, she had been close to him all of his life. Though no one could take Lucinda's place, his surviving sisters, Medibel Bartley and Kate Thomas stepped in to aid their brother as social hostessesin Bonham and Washington.
Join us on Saturday, March 8, 2014 as we celebrate Women's History Month and highlight Lucinda Rayburn's life with an open house from 10 a.m. – 3 p.m. The event will include free, themed tours of the house and a display of artifacts related to "Miss Lou's" life.
The Sam Rayburn House Museum tells the real story of Sam Rayburn, one of the most powerful and influential politicians of the 20th century, in his authentic 1916 home. Preserved as a period time capsule, the two-story home contains all original Rayburn furnishings. The Sam Rayburn House Museum is one of 20 historic attractions operated by the Texas Historical Commission. For more information visit www.VisitSamRayburnHouse.com.