On Sat., March 22 at 7:30 p.m., McKinney Performing Arts Center (MPAC), 111 N. Tennessee St. will host the K3 Sisters Band in #RUready4K3?! The original show is the 4th in a series of original pop & cultural arts shows produced by a cooperative effort of The Garland Opry, Bruce Ray Productions and Double Portion.
"The decision to bring the show to McKinney was logical because our market research for the last two years has shown that although many cities in North Texas claim to have a going nightlife and family friendly downtown scene -- McKinney and a few others really do," says promoter Bruce Ray. "Our staff has visited downtown McKinney dozens of times at all hours, met with city officials, and interviewed residents and tourists, and it was always the same- this is a safe, charming, and fun town to spend quality family time in the evenings, so if our research is correct we'll be back to McKinney for future family-styled shows."
Led by award winning sisters Kaylen, Kelsey & Kristen Kassab on fiddles & harmonies of their original songs, the seven member K3 Sisters Band delivers a family-friendly show.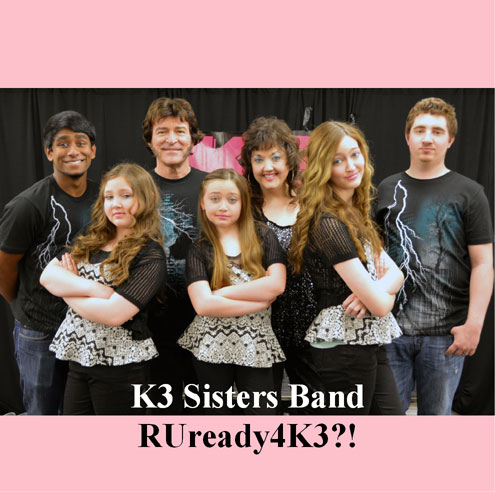 "The practice of going out for an evening of quality musical fun with the whole family at a reasonable price is disappearing from Texas, and we aim to reverse that trend," says CB Luce, owner of the Garland Opry and co-producer of #RUready4K3?! "I've done hundreds of shows all over Texas for years and am confident that McKinney will continue to see growth in their leisure and entertainment life because the mayor, city council, business owners, and residents have intentionally decided to promote, preserve and protect it."
A recent public statement from McKinney's mayor supports this sentiment.
"Residents of McKinney expect us to maintain a quality of life that has resulted in McKinney being nationally recognized as a premier city in the United States," reports Mayor Brian Loughmiller. "One of our goals is to retain our vibrant historic district, an authentic downtown, and family friendly leisure opportunities."
The K3 Sisters Band's producer Jamie Shipman-Kassab is a former all level public school music teacher who doubles as the mother and homeschool teacher of the K3 Sisters, all facts which have enabled the girls to travel and perform professionally together for the last six years.
"As a former public school teacher I am pleased to announce that for the McKinney show any McKinney, Frisco, Allen or Plano public school teacher will get in free if they present their teacher and photo ID at the door," reports Kassab. "As the stewards of our childrens' lives and education, it is a pleasure for me to give a little back to these worthy professionals."
Tickets for the K3 Sisters Band's March 22 showing of #RUready4K3?! are FREE for public school teachers who show their school ID at the door, $15 for adults, $10 for 17 & under and are available in advance at the MPAC by phone, online, or at the door.