A group effort begins to develop strong leadership in Commerce and Hunt County.
(25 January 2014, Commerce, Texas) -- Wednesday morning marked the first meeting of eighteen members making up the twenty-sixth class of Commerce Leadership Institute. The group met for half a day at the local State Farm Insurance office in Commerce to begin a journey of learning about Commerce, Hunt County, and group dynamics. By the end of their journey, they will know more about Commerce and Hunt County than many who have spent their lives here.
The first item on the day's agenda was to learn the history of the organization. Wyman Williams, one of the organizers of the first group explained how CLI began, its purposes, and how the logo was developed.
Dixie Turman, past president, introduced several board members. Kathleen Hooten, president, Donna Tavener, treasurer, Wyman Williams, Blake Shaw and Bonnie Hunter represented the organization's leadership.
Each year, members from the previous class step up to lead the new group. Amber Weaver, chairperson, Kay Hatfield and Andi Miller agreed to be team leaders for the new class. They have already begun planning of future speakers and events for the new class.
"This is a perfect group," stated Dixie Turman. "We have almost an equal distribution of men and women, university and non-university, people that have lived in the Hunt County area for years and some new."
"I'm pleased that this group accepted the invitation to join CLI," Alton Biggs, CLI board member continued. "The class appears strong and confident. I predict that we will hear more from many of them as they assume additional leadership responsibilities in the future."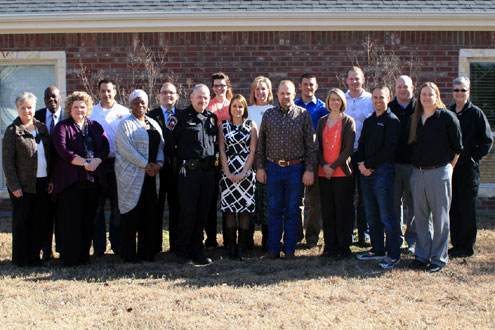 The twenty-third class of the Commerce Leadership poses for their Class Photo. In the back row (left to right) are Noah Nelson, Charlie Alderman, Luis Franco, Bethany Yates, Robin Alexander, Justin Crossland, Adam Norris, Josh Cato and Debbie Hietholt. In the front row (left to right) are Harriet Williams, Cindy Todhunter, Melanie Clayton, Jason Rector, Wendy Morgan, Danny Fairweather, Kristal Rater, Scott Ward and Summer Spurlock.
After a break, class members introduced each other and took a personality style inventory, Ms. Turman explained the various personality styles. She pointed out how they most often interact with one another. For some members of the class, this exercise was an eye-opener that allowed them to understand more about their spouses, family members, and employers. Class members sometimes cite the personality inventory as one of the most interesting parts of the CLI adventure.
The class meets approximately once every two weeks during the spring. After the last meeting, the class takes on a fundraising project. The class graduates in the summer or fall.