Just in time for Valentine's Day, Romance in Bonham is back for the seventh time! Sponsored jointly by the Bonham Public Library and the Bonham Romance Readers Book Club, this event is the envy of neighboring libraries. And no wonder! This February we are proudly hosting nine published romance authors.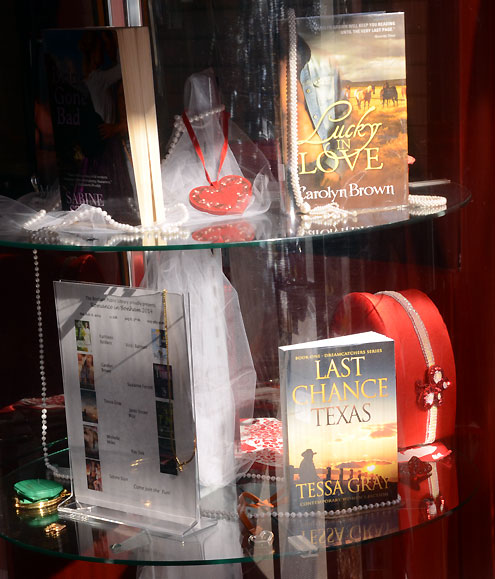 Dividing her writing time between young adult novels and Regency romance is Kathleen Baldwin. Joining us for the second time is Vicki Batman who styles herself as a writer of sassy, sexy and funny fiction. Sounds just right for Valentine's, doesn't it? Coming in from Oklahoma is Carolyn Brown, whose writing schedule must be quite daunting, given the number of new releases she has scheduled for this year.
New to Bonham will be Suzanne Ferrell, Tessa Gray, and Michelle Miles. Suzanne will keep us on the edge of our seats with her romantic suspense. Tessa pens women's fiction and Michelle delves into both the paranormal and fantasy romance worlds.
Janis Susan May returns wearing many writer hats: cozy mystery, children's, and romance. Sabine Starr has mentioned Bonham in several of her Gone Bad series novels set in 1884. While local author Kay Sisk's first self-published book is not a romance, the rest are guaranteed to be Valentine-appropriate.
Please join us Saturday, February 8, at 11 AM at the Bonham Public Library, 305 E. 5th Street, Bonham. Each author will talk briefly about her work and then we'll have time for the audience to visit personally with the authors. Some will be bringing their books to sell, so come prepared!
For more information, please call the Bonham Public Library at 903-583-3128. Visit us the Bonham Public Library on Facebook.
More information about our authors may be found at the following:
http://vickibatman.blogspot.com