Hagerman National Wildlife Refuge -- Birds often flock to the 11,320-acre Hagerman National Wildlife Refuge, but this past weekend it was flocks of people arriving at the refuge to see the birds -- raptors to be exact.
Jonathon and Susan Wood brought their world-class raptor exhibit to the Visitors Center at Hagerman and all five shows were packed.
The Raptor Project featured 36 live birds of prey from across the globe. Even at Hagerman NWR, a sprawling paradise for naturalists with a well-deserved reputation among bird lovers and photographers, this was a show like no other. For one brave volunteer from the crowd, this was a once-in-a-lifetime opportunity to feed a bald eagle. For the remainder of the audience, it was a rare opportunity to see a stunning exhibition of the 4,000-year-old sport of falconry and see it all up close and personal as falcons swooped inches above heads in the crowd.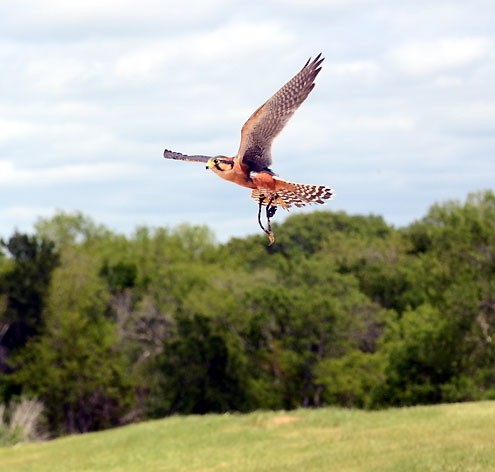 All the while, shutterbugs were capturing the action in digital format for posterity. Fittingly enough, The Raptor Project is sponsored by Nikon, a premier name in optics.
The Woods family is starting a 5 1/2 month series of exhibits with a show Tuesday in Philadelphia. In addition to being ornithologists and educators, and Jonathan and Susan are actually wildlife rehabilitators; many of their birds of prey were seriously injured and unable to survive in the wild. Some birds heal and are released, while others with permanent injuries find a home in the traveling road show known as The Raptor Project.
"We hire the handicapped," Jonathan says of his fine feathered friends.
Uncle Sam, the powerfully built and perfectly behaved bald eagle is a good example. The bird lost a portion of his left wing in an accident -- "He's a right-winger," quips Jonathan -- and could not return to it's native habitat. For two decades now, Uncle Sam has been Jonathan's right-hand man.
"We love our birds," Jonathan states.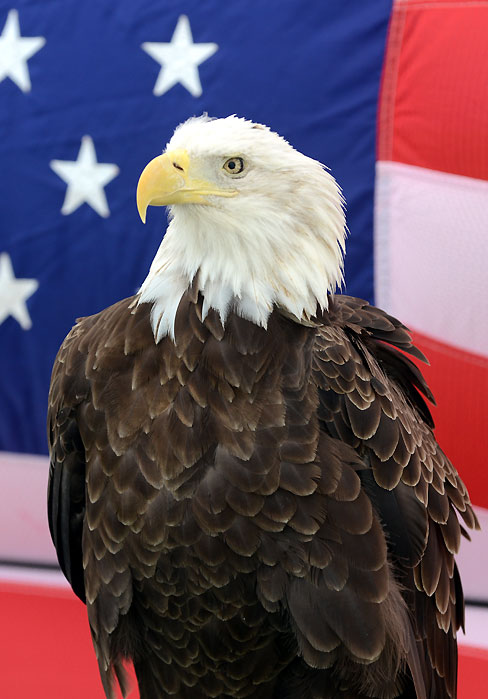 Bald eagles have been an ecological success story. Once down to only 650 pairs in large part because of the affects of widespread DDT usage, experts estimate there are now 13,000 nesting pairs.
Pinhead the vulture couldn't make the trip to Grayson County, but he has a pretty good excuse. Pinhead is in the Big Apple starring in a Broadway production of The Testament of Mary.
The crowd gathered at Hagerman NWR was too busy ducking falcons in flight to miss Pinhead, though.
And the jokes were flying as fast as the falcons. An Artic gyrfalcon, sitting serenely on a perch, was wearing a hood.
The hood keeps them calm and quiet," explained Jonathan, before adding, "we sell kid's sizes after the show."
Owls were a big part of the show and the biggest owl, an eagle owl, is native to Great Britain.
Did you know owls have great hearing and a barn owl's face is shaped like a radar dish in order to pick up sounds that are barely audible?
Did you know a barn owl can eat as many as 2,000 mice a year and even a small screech owl will devour 1,000 mice a year?
"Put up a bird box," Jonathan suggested.
"Every performance of The Raptor Project is dedicated to the men and women who protect us, not just overseas but here as well...like the guys in Boston," Jonathan said in reference to the recent Marathon Bombing.
"How would you describe your job?" Wood was once asked.
"That's easy," he replied. "It's the American dream."