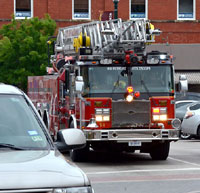 McKINNEY, TEXAS (Mar 11, 2013) –Two recent structure fires in McKinney reinforced the value of fire sprinkler systems. Not only were there no reported injuries, both structures sustained minimal damage. The first fire, in the kitchen of an apartment on Eldorado was controlled by one sprinkler. The second fire, at a dry cleaning store in a two story commercial retail center, which occurred after business hours, was controlled by two sprinklers until fire department units arrived to fully extinguish the blaze.

According to McKinney Deputy Fire Marshal Andrew Barr, "These two successful sprinkler saves demonstrate the effectiveness of automatic fire sprinkler systems in two very different environments – an apartment complex and a commercial building. Had a sprinkler system, or automatic fire suppression system, not been present in either building, the outcome may have been very different."

While fire sprinklers are required in all apartments and townhomes in McKinney, as well as any commercial structure of 6000 sq. ft. or more, most people don't consider installing automatic fire suppression systems in private residences. For a small investment, often less than cabinet upgrades or new carpeting, these life- and property-saving systems can be installed.

Stacie Durham, PIO for the McKinney Fire Department observed that there are common misconceptions about the operation and reliability of these systems. "Many people believe that every sprinkler in the building goes off in case of a fire. This is a myth. In sprinklered residences, 90% of fires are contained by the activation of just one sprinkler flowing 10-26 gallons of water per minute. In a building without sprinklers, by the time the fire department arrives, the fire has likely grown to dangerous levels requiring the use of multiple lines of fire hose, flowing water at 125 gallons per minute from each hose. In addition to damage from flames and smoke, the building is likely to sustain damage from water over a larger area, and is much more likely to endanger lives."

The McKinney Fire Department encourages individuals building a new home, or renovating an existing residence or other property, to seriously consider the installation of automatic fire sprinkler systems. For additional information on fire protection systems, code requirements, or other fire prevention topics, visit www.mckinneyfire.org or call 972-547-2879.