COMMERCE, Texas – Texas A&M University-Commerce athletic director Ryan Ivey today announced the hiring of Colby Carthel as the 19th head football coach in Lion program history.
"We are excited to welcome Colby and his wife, Sarah, to A&M-Commerce," Ivey said. "His pedigree for coaching is well documented, along with his passion and energy to be successful. Obviously, he has been part of some very successful programs and he knows what it takes to win. His work ethic is relentless and I am excited to have him on board and look forward to watching him turn our football program around."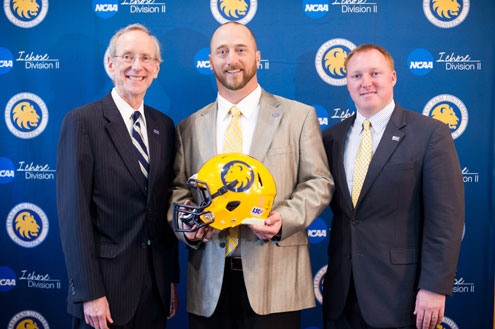 (L-R) Dan Jones, president of Texas A&M University-Commerce, new Lions head football coach Colby Carthel and Texas A&M University-Commerce athletic director Ryan Ivey. photo Jared Horn of the Texas A&M University-Commerce marketing communications department
Carthel comes to Commerce with strong ties to the Lone Star Conference, spending the last seven seasons as the defensive coordinator at West Texas A&M and playing a key role in establishing the Buffs as one of the top teams in the region. During his seven years at West Texas A&M, the Buffs have captured four Lone Star Conference championships while making an appearance in the postseason each year, including a pair of Kanza Bowl championships and a regional championship in 2012.
During Carthel's tenure as the Buff's defensive coordinator, West Texas A&M has compiled a 69-20 record with a 77.5 winning percentage. That win total and winning percentage ranks second among all collegiate football programs in the state of Texas, trailing only Texas Christian University.
In 2012, the Buffs closed out the regular season leading the Lone Star Conference in nearly every defensive category, sitting first in total, scoring and rushing defense while sitting third in pass defense behind A&M-Commerce. West Texas A&M also led the nation in sacks, setting a single-season NCAA record with 44, highlighted by National Player of the Year Ethan Westbrook's 19.5, which is tied for the second-most in NCAA history as the Buffs finished the year ranked fourth nationally.
Since arriving at West Texas, Carthel's defensive unit has consistently ranked among the leaders in the Lone Star Conference. The Buffs have ranked among the top-four in total defense five times during his seven years, including leading the LSC in 2011, where they were also tops in scoring defense and passing defense.
During his time in Canyon, Carthel has overseen a defensive unit that has produced 70 All-Lone Star Conference selections, including 27 first team honorees, with seven LSC Players of the Year. In addition, seven of his players have been recognized with over 29 All-America honors, including four first team All-Americans (Jared Brock, Brandon Swain, Eugene Sims, Ethan Westbrooks).
Carthel has also earned a reputation as one of the top recruiters in the region as he has personally recruited or coached 13 players at the Division II level that have gone on to careers in the National Football League. Carthel's players have not only excelled on the playing field but in the classroom as well as he has had seven of his Buffs earn Academic All-Lone Star Conference honors.
Prior to joining the staff at West Texas A&M, Carthel spent six seasons as the defensive line coach and recruiting coordinator at Abilene Christian. During his time with the Wildcats, Carthel saw his defensive linemen earn multiple accolades, including 13 All-Lone Star Conference selections and four All-Region honorees. He helped bring three-time All-American Danieal Manning to Abilene, who currently plays for the Houston Texans.
Carthel was a four-year letterwinner at Angelo State from 1996-2000 in both football and track and field, starting at middle linebacker for the Ram football team. He helped lead Angelo State to the LSC South Division championship as a senior in 1999 and was a three-time Academic All-LSC selection. Carthel also competed in the discus for the Angelo State track and field program, placing fourth in the LSC Championships as a senior.
A native of Friona, Carthel graduated from Angelo State in 2000 with a degree in biology following his graduation from Friona High School in 1996. During his high school career, he helped lead Friona to its first district title in 29 years as a senior while placing fourth in the discus at the state championships.
Carthel is married to the former Sarah Butler, one of the top volleyball players in Division II history and the current assistant coach for the nationally-ranked Lady Buffs. His father, Don, is the head football coach at West Texas A&M as the duo have coached side-by-side for 11 seasons, beginning at Abilene Christian.