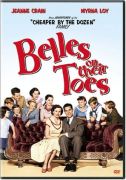 "Belles on Their Toes" was released on DVD by Fox on March 16. Although it's not necessary, viewing the original "Cheaper by the Dozen" is highly recommended. "Belles" is an upbeat family comedy, that features several musical numbers and a central love story, and in my opinion makes for a better picture than its prequal "Cheaper. I have to admit though, it would probably not have the same appeal without viewing the original film first. Hopefully, the release of " Belles on Their Toes" as well as the 1950's "Cheaper by the Dozen" will entice at least a few to read the books upon which these movies were based. Books were written differently in that era. Many of the books written before 1950 are extremely entertaining, but they were meant for a different readership: a readership without television, people who were accustomed to sitting for long periods of time and getting lost in a story without getting up and going to the refrigerator, people who weren't reading while waiting in line to see the doctor or to have the oil changed in their car. Modern readers read in word bites, and authors have learned to accommodate us. "Belles on Their Toes" is the simple story of strong woman's determination to continue in her husband's "male" career as industrial engineer. There is enough going on on many fronts to keep you interested in this remarkable family's life in the early part of the last century.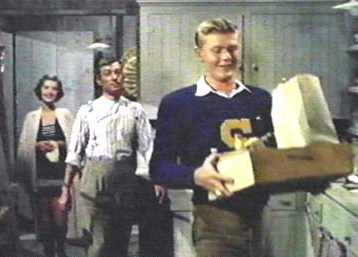 Debra Paget, Hoagy Carmichael and Martin Milner in a scene from "Belles on Their Toes"

This release deals with the story of Frank Galbreth's widow, Lillian (Myrna Loy), who despite being an engineer like her husband was barely alluded to in the first film. To be fair, she gets her due this time as she takes on the Herculean task of keeping the family together in a time and place that devalued working women. In fact, much of the movie is spent reporting on Lillian's attempts to use her degree to earn a decent living--not an easy task in the close-minded '20s. The humor and family antics are still in abundance in "Belles on Their Toes," and the challenges facing a family of twelve make for an entertaining viewing experience. In my opinion, this film provides a stronger, more focused direction than "Cheaper by the Dozen." Belles starts out as a quasi-musical, giving it a different feel from its prequal, and the story has two strong plot lines. Lillian trying to gain acceptance in a man's world is featured in the first segment of the movie while the second half puts Ann front and center in her romance with the young doctor. Lighthearted with some semblance of drama, "Belles on Their Toes" is a touching sequel that is better than the original. "Belles on Their Toes" is indeed "good clean fun," and compared to the comedies that pass for Family entertainment now -- this release is also reeking with innocence, lost in many of today's family films. Cast: Jeanne Crain, Myrna Loy, Debra Paget, Jeffrey Hunter, Edward Arnold, Hoagy Carmichael, Barbara Bates, Robert Arthur and Verna Felton

"Belles on Their Toes" Rating (*** 3/4 out of *****)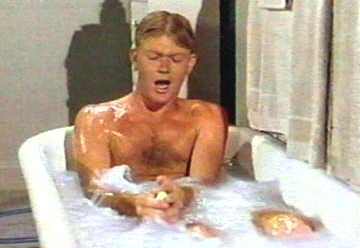 Al Lynch (Milner) kept getting interrupted by the many Galbreth children as he tries to clean up before the dance.
Synopsis: (Courtesy of Fox Home Entertainment) Synopsis: The endearing story of the Gilbreth family continues in this charming sequel to the family classic Cheaper by the Dozen. Screen legend Myrna Loy returns as Lillian Gilbreth, an industrial engineer and now widowed mother of twelve rambunctious children. It's a hilarious but sometimes heartbreaking adventure as Lillian struggles to keep the family together, even as she pursues a career against all odds in the early part of the century. Your family will love the good clean fun of this heartwarming and nostalgic comedy gem. On her own with a brood of kids stretching from college-aged Ann (Jeanne Crain) to tiny Jane, Lillian Gilbreth struggles to make ends meet and keep relatives from breaking up the family. She finally succeeds when factory owner Sam Harper (Edward Arnold) hires her to teach engineering to his employees. Several subplots germinate among the kids. Ernestine (Barbara Bates) is attracted to college goon Al Lynch (Martin Milner) but her romance is sabotaged by the scamps of the family. Frank Gilbreth (Robert Arthur) slowly takes on the mantle of elder male. Singer and dancer Martha (Debra Paget)learns to like being a girl. Faithful family cook and helper Thomas Bracken (Hoagy Carmichael) keeps trying to make liquor in the basement. And Ann finds herself in a bind when handsome doctor Grayson (Jeffrey Hunter) proposes, just as it looks like her family needs her to stay at home.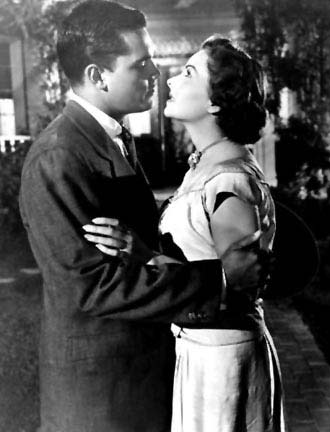 Jeffrey Hunter and Debra Paget from "Belles on Their Toes"
DVD Features:
Length: 89 minutes Screen Formats: Full Screen Languages: English, Spanish Subtitles: English, Spanish Sound: Dolby Digital 2.0 Sides: 1 Extras: --> Scene selection/Jump to any scene. --> Theatrical trailer, "Cheaper by the Dozen" (1950) trailer and "Cheaper by the Dozen" (2003) trailer