The Grayson College Theatre department will perform its first production of the 2012-13 Season which will be the musical South Pacific, by Rodgers and Hammerstein in October and plans on honoring area veterans and their families as part of opening weekend. This award winning musical has entertained audiences for years. It is based on James A. Michener's Pulitzer winning novel, Tales from the South Pacific and has many classic songs such as "Some Enchanted Evening," "Nothin' Like a Dame," and "I'm Gonna Wash That Man Out of My Hair."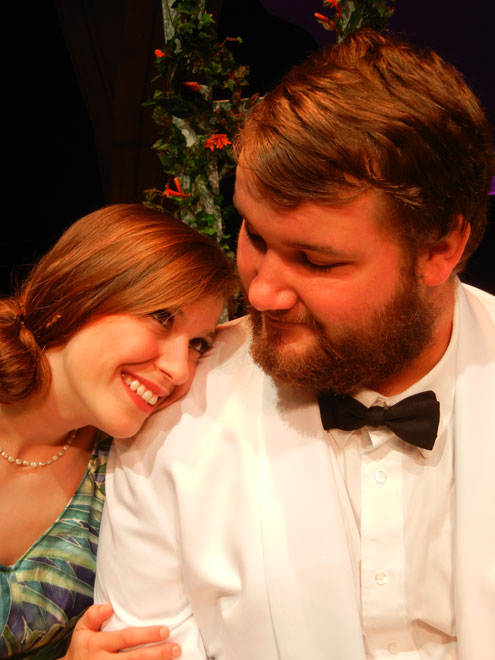 Jessica Huffstetler and Blake Rice in Grayson College's South Pacific
In addition to the performances, there are several events connected to this play that may be of interest to the community. Opening weekend is Oct 12 & 13 at 7:30 p.m. and South Pacific is part of the Denison celebration of Eisenhower's Birthday.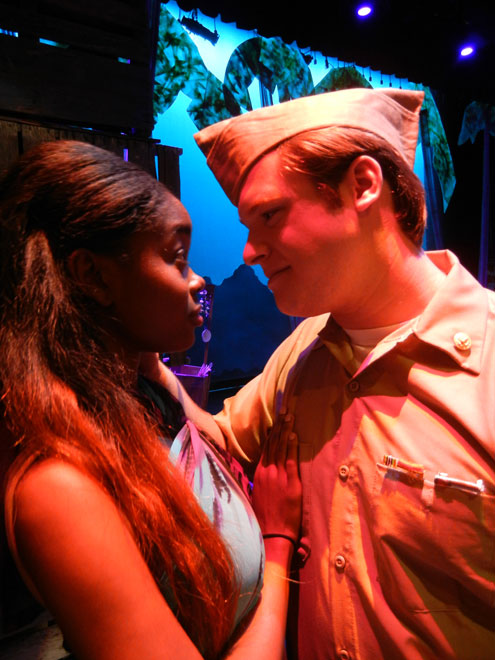 Tatiana Maxey and Wes Hayes in Grayson College's South Pacific
Therefore, the Grayson College theatre department is honoring veterans and their families for the opening weekend in several ways.
· First, all veterans and family members are invited to attend for free.
· In addition to the free admission, there will be a reception on Oct 12 from 7-7:30pm in the lobby of Cruce Stark Auditorium prior to the performance.
· The reception follows the parachute drop across the street from the college which happens at 6:45 p.m. on Oct 12.
· There will be a short acknowledgement at 7:30 p.m. and a greeting from the new Grayson College President, Dr. Jeremy McMillen to honor the veterans and their families in Cruce Stark Auditorium.
In addition to opening weekend festivities, the second weekend, Oct 19-21 also offers a special treat. The Grayson Culinary Program is offering lunch on Sunday, Oct 21 at 12:30 p.m. in the Culinary Dining Room for audience members who wish to make a reservation and attend the play at 2:00 p.m. The cost for lunch and the show is only $15 and there are only 50 seats available for lunch. For reservations call the Grayson Theatre department at 903-463-8609 or email theatre@grayson.edu for more information.
Tickets for South Pacific for the general public are $5 or free with a Grayson I.D.
Performances of South Pacific are Oct 12, 13, 19, 20 at 7:30pm; Oct 18 at 10am; and Oct 21 at 2pm. Reservations for performances are not necessary, but please reserve seats for lunch on Oct 21.
For more information contact the Grayson College theatre department at 903-463-8609 or email us at theatre@grayson.edu.
Grayson theatre is excited to offer this production and the festivities as a vehicle to honor those in our community who have served our country.