SHERMAN, TEXAS—Scientists Keith Kisselle and Kelly Reed of the Austin College biology faculty will present findings from their 2011 sabbatical research on Wednesday, September 26, at 4:30 p.m. in Wright Campus Center, Room 231, with a 4 p.m. reception in nearby Johnson Gallery. Their talk, "Sneed Prairie Restoration: A look at what's happening belowground," is free and open to the public and hosted by the Johnson Center for Faculty Development and Excellence in Teaching.
The Blackland Prairie once blanketed a vast area from the Red River to San Antonio with beautiful flowers and flowing grasses, Reed explained, adding that less than 1 percent of this ecosystem remains today. "Restoration of the Blackland Prairie has become a priority," she said.
At the Austin College Sneed Environmental Research Center near Hagerman Wildlife Refuge, a long-term experiment was begun in 2002 to determine the best way to restore native prairie grasses to this former farm. Understanding the belowground interactions among soil microbes, soil, and plants is a major step toward achieving prairie restoration, Kisselle said.
During sabbaticals in spring 2011, the two biology colleagues analyzed and compared the soil properties and microbial communities from the different experimental managements at Sneed. In the talk, Kisselle and Reed will discuss the importance of the prairie ecosystem and share the results of their study.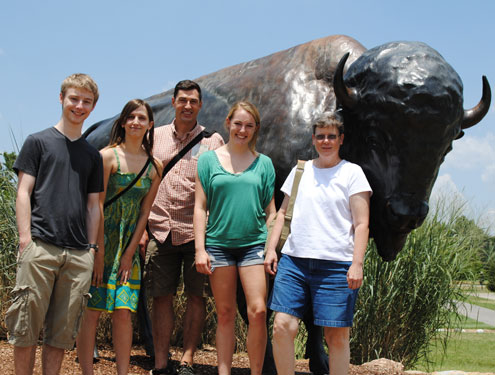 Austin College faculty members Keith Kisselle, pictured at center, and Kelly Reed, at far right, continued study this summer with the help of Austin College research students Spencer Nystrom, Anastasia Krisan, and Michaela Moden while at the University of Oklahoma's Sam Noble Museum of Natural History.
The Robert and Joyce Johnson Center for Faculty Development and Excellence in Teaching, is directed by Bernice Melvin, Margaret Root Brown Chair of Foreign Languages and Literatures and professor of French. Within the mission of the center is the encouragement of 'bold exploration of intellectual frontiers" and "fostering lively intellectual dialogue within and across academic disciplines."
Austin College is a leading national independent liberal arts college located north of Dallas in Sherman, Texas. Founded in 1849, making it the oldest institution of higher education in Texas operating under original charter and name, the college is related by covenant to the Presbyterian Church (USA). Recognized nationally for academic excellence in the areas of international education, pre-professional training, and leadership studies, Austin College is one of 40 schools profiled in Loren Pope's influential book Colleges That Change Lives.