Van Alstyne, Texas -- George H. Elliott, 84, of Van Alstyne, Texas passed away Tuesday September 4, 2012 at the Beacon Hill Care Center in Denison TX. He was born September 14, 1927, in the Elmont Community, West of Van Alstyne, to William Lester Elliott and Vera Mae Brown Elliott.
He was preceded in death by his daughter Elaine, his parents, and brothers; James, J.T., Carey, and William. George is survived by his loving wife Joan, and numerous nieces, nephews, and a host of friends.
He was a very active member of the First Baptist Church of Van Alstyne where he served many years as a Deacon. He was a member of the Mantua Masonic Lodge of Van Alstyne where he was a 50 year member of the lodge. He worked many years for AT&T, which later became Alcatel / Lucent. He was involved in several areas of the company, including the Human Resources Department and the Accounting Department.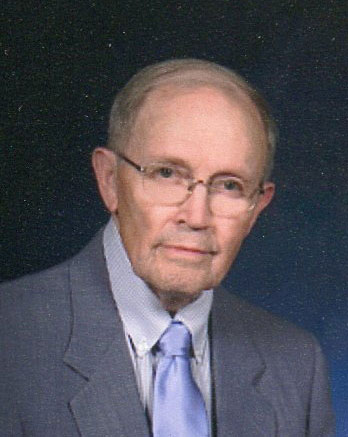 Funeral services will be held Saturday, September 8, 2012, at 1:30 p.m. at the Scoggins Funeral Home Chapel in Van Alstyne. Rev. Jimmy Tarrant will be officiating. A military graveside will follow at the Elliott Cemetery.
Serving as pallbearers will be Roy Adams, Tom Smith, Orville Blankenship, Bob Stutzman, Dan Stephens, and Jack Washington.
The family will receive friends Friday, September 7, 2012, from 6:00 to 8:00 p.m. at Scoggins Funeral Home. You may sign the online guest book at www.scogginsfuneralhome.com