Durant, Oklahoma resident Durant, Oklahoma resident Sally Papin has been named Photographer of the Month for September by the Friends of Hagerman. Papin says she started out photographing sports shots of animal and dogs, and moved to an artistic approach as she studied the work of other photographers. Today her goal is to get each image to tell its own story, and reflects her and her love of nature and composition.
Now in the 4th year of the program, the featured Photographer of the Month has a virtual album of twelve photographs that have been taken at Hagerman National Wildlife Refuge, on the Friends website, friendsofhagerman.com/Gallery. In addition the USFWS National Wildlife Refuge System has begun linking to the Friends Photo Gallery, for their Facebook page.
Papin says about her equipment, "I use a Canon Rebel Xti, with a dedicated Macro lens a Signa 150 mm, and a Sigma zoom 100-300. I have a great street lens, a Tamron 28-75." She uses Lightroom, processing and deleting images before she moves on to Photoshop Elements 10 and the artistic work.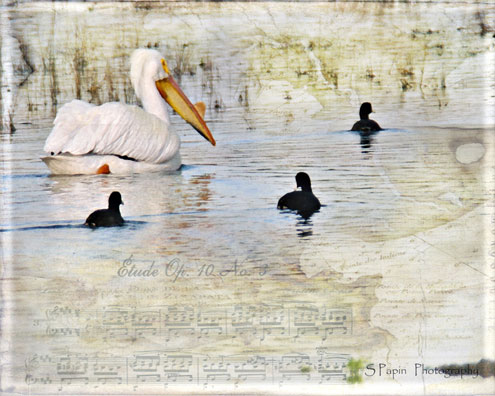 Calling her work "Chine-colle," Sally says it is a take-off on a printmaking technique; she provides a background color behind the image that is different from the surrounding background, and uses digital pasting, papers and ephemera. To view Sally's virtual album, go to www.friendsofhagerman.com/Gallery.
The Friends of Hagerman Nature Photography Club meets bimonthly at the Refuge, which is located at 6465 Refuge Road, Sherman. The next meeting is set for September 8 at 12:30 pm. Visitors are welcome, and for those wishing to join, memberships are available at nominal cost. For more information, contact fohphotoclub@gmail.com.