A 130-mile trail stretching across northeast Texas and designed for bicyclists, walkers, runners, hikers, horse-back riders, bird watchers, families, tourists and nature lovers -- the fifth longest trail in the U.S. -- is taking shape between Farmersville and New Boston.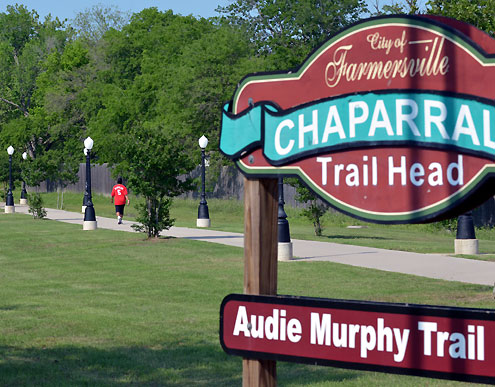 From the trailhead in Farmersville, 13 miles of trail extending to Celeste are now open.
"It combines physical exercise and economic development," remarked Adah Leah Wolf, Farmersville Main Street Manager. "How can you lose?"
The potential for economic development will be discussed at length in Roxton on Friday, August 10 at the quarterly meeting of Northeast Texas Trail Coalition when Dawn Frederickson, of Missouri Department of Natural Resources, will talk about success along the 237-mile Katy Trail that stretches across much of Missouri.
Communities that are interested in economic development along their section of the trail are getting help from volunteer groups. The Arlington Geocache Club held the club's fourth "Cache In - Trash Out" along the trailhead in Farmersville. At this event, club members searched for geocaches in the morning and returned to the trail in the afternoon to carry out any trash they had spotted along the trail. A spokesman for the club said members would certainly help clean along the section of trail that runs through Fannin County if the community would welcome their assistance in the same manner Farmersville does.
In Lamar County, approximately six miles of the trail have been completed from Paris to the eastern city limits of Reno. Indications are that the trail will soon extend east through the City of Blossom.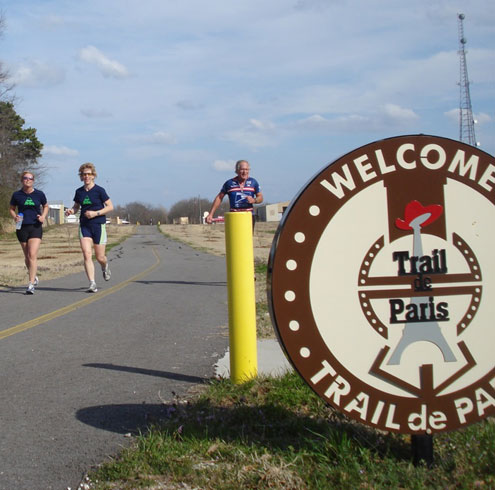 photo by Earl Erickson
The entire 130-mile section of trail is contigiously railbanked, a provision of the national Trails Act enacted to protect railroad corridors that are no longer active for future use. Railbanking has been a federal program since 1983. The program details a "national policy to preserve established railroad rights-of-way for future reactivation of rail service, to protect rail transportation corridors, and to encourage energy efficient transportation use."
Opponents to the trail suggest there are certain to be conflicts between bikers and hikers, but that is not the case according to Mark Vincent, an outdoor enthusiast who rides the trail every week in the Farmersville area.
"We're all just trying to get healthy in harmony," says Vincent.