A couple days before deadline for this article, I joined Lake Tawakoni catfish guide Larry Thomas for some red hot action on spawning blue catfish. If you're looking to stock the freezer with plenty of good eating, snow white blue catfish fillets, there is no better time to go than right now!
"Blues begin moving shallow each spring when water temperature reaches seventy degrees or, thereabouts; channel catfish wait for a water temperature in the mid seventies before they make the big push into the shallows," says Thomas. "With the warmer-than-normal winter, the blue catfish began moving into water 3-4 feet deep a couple weeks ago and the bite couldn't be better."
"Blues have a big overbite, their upper jaw extends well past the lower jaw," tips Thomas. "This bit of knowledge alone will make you a better catfish angler. As a general rule, Blues are not bottom feeders like channel catfish. It's important to keep baits suspended up from bottom, making it much easier for the fish to pick up the bait."
To accomplish this, Thomas has devised a modified Santee Cooper rig which employs a 3-ounce pyramid sinker on the end, a circle or J hook about a foot above and a floater that keeps the bait up off bottom. It's important to fish this rig on a slack line to allow the float to keep the bait up off bottom.
The sinker keeps the bait anchored and the floater positions the bait about a foot up from bottom. It's a deadly rig for catching blues any time of the year but especially when they are shallow.
We began fishing on the windward side of a long, submerged point. Thomas uses a bow and stern anchor to keep the boat stationary. This is very helpful in detecting strikes and keeping baits in proper position.
"Blues are spooky fish so, let's make long casts," he instructed as we heaved our rigs baited with fresh cut shad out from the boat.
We were fishing with eight rods and about the time the last bait hit the water, one of the rods strained in its rod holder. We had our first 'taker' of the morning! We enjoyed nonstop action for the first hour of the trip in the eight foot water near the end of the submerged point. Thomas had been telling us about how useful his side-imaging sonar is for locating big schools of spawning catfish in shallow water. We headed toward the back of the cove and the sonar unit began marking big schools of fish off to the right side of the boat, about 75 feet out.
Again, both anchors were lowered and the boat was in perfect position for casting to the big school of catfish. The bottom was hard clay, as evidenced by the clay that stuck to each of our anchors; spawning catfish deposit their eggs on a clean, hard packed bottom such as clay, rock or gravel. We rounded out the makings of our upcoming fish fry from this anchor. As the saying goes, "we left them biting!"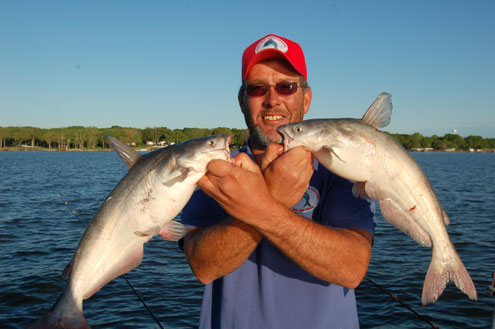 Guide Larry Thomas with a couple of the many blue catfish landed last week at Lake Tawakoni. photo by Luke Clayton
The vast majority of our late March catch was blue catfish but we did boat a few channel catfish that had moved shallow early. Thomas predicts the blues will remain in the spawn mode well into May and expects the very shallow water bite to slow when more and more fish move to adjacent points, humps and ridges in water 8-12 feet.
The spawn for channel catfish will probably begin a bit early this year, possibly in a couple weeks if the warm weather continues. Our trip last week produced a couple of egg-laden females that had already moved shallow. With the influx of runoff water from heavy rains this spring, the shoreline of most of our lakes is full of flooded willows, weed beds and brush, all prime areas to catch spawning channel catfish. Thomas changes rigs when fishing for channel cats.
"We catch spawning channels in water as shallow as 2 feet," he says. "The channel catfish will spawn in the thickest of cover. I switch to 'Catfish Candy,' a prepared cheese bait I make for the channel cats, but any good, smelly bait that stays on the hook well will work just fine. I use the punch bait on a treble hook set below a quill floater. Since most of the channels will weigh about 1.5 to 3 pounds, I also switch to lighter spinning rigs."
Baiting areas with soured grain or cattle range cubes is a very effective method of quickly concentrating spawning channel catfish. Shorelines with heavy vegetation exposed to wind are great spots to begin the quest for spawning channel catfish. Anglers fishing from the bank do very well this time of year.
Catfish are cavity spawners and rock rip rap along bridges are great spots to catch them. The trick when fishing these tackle-eating rocks is to present baits vertically into the water. Casting into the rocks is a definite no-no.
It's a good bet when driving over bridges in a few weeks, you'll see plenty of folks fishing with long Calcutta poles from the shore. While this type of fishing might not be as comfortable as fishing from a boat, it is very productive.
TAWAKONI CONTACTS: Guide Larry Thomas 940-229-0288, www.tawakoniguide.com
Cedar Cove Marina 903-447-2169, RV and tent camping with hook ups, good boat ramp, store and fish cleaning station.
Listen to Outdoors with Luke Clayton at www.catfishradio.com.
Email Luke via the web site with hunting and fishing information or to be a possible guest on the radio show.