Commerce -- The crowd poured into Ferguson Social Science Auditorium at Texas A&M University-Commerce March 7 to hear a living legend, Tuskegee Airman Army Lieutenant Calvin J. Spann, tell of his experiences as one of the first black military aviators in United States history and one of the original 996 pilots who trained at the Tuskegee Army Airfield between 1941 and 1946.
"Lt. Calvin Spann is not just a part of history, but one who shaped history," said Dr. Dan Jones, president of Texas A&M University-Commerce, adding that the accomplishments are even more noteworthy because it came in an era when segregation was accepted, not challenged.
"It is an honor to present to you a true American hero," echoed Dr. Keith McFarland, president emeritus at Texas A&M University-Commerce.
Dr. McFarland recalled a lecture during his college years that perhaps wasn't as well-attended as the one Wednesday in Commerce.
The following day a professor properly admonished those students by asking, "Are you too busy pursuing a diploma to pursue an education?"
The many students in the auditorium Wednesday had no intention of letting that happen.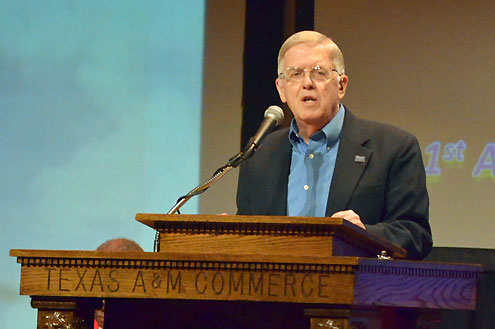 Dr. Keith McFarland
"World War II was the biggest external threat the U.S. ever faced," McFarland told the audience. "Fifteen million served in the armed forces when their country was in need and they served it very well. A lot of stories came out of World War II, but none more compelling than that of the Tuskegee Airmen. One day you will be able to say, 'I heard one of the Tuskegee Airmen speak.'"
Every trait that made a young man from New Jersey named Calvin Spann into one of the true success stories in U.S. history was still evident as Lt. Spann, now in his eighties, made his way to the podium as the audience rose to their feet for the first of many standing ovations. The dignified, intelligent, perceptive, articulate gentleman opened his talk with perhaps the most valuable trait of all: honesty.
"I am a good pilot and a tolerable speaker," Spann said in opening, "but I'd rather make another run over Berlin than stand at the speaker's podium."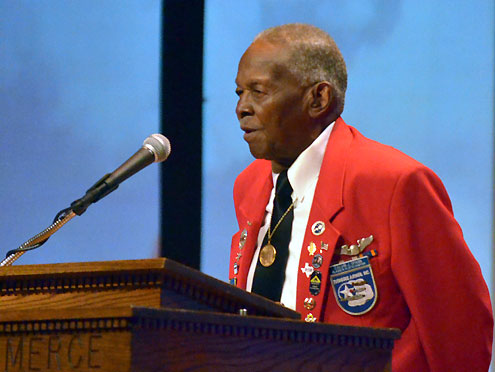 Lieutenant Calvin J. Spann
Spann told how he grew up in the shadow of New Jersey's Teterboro Airport, located only a dozen miles from midtown Manhattan, and the oldest operating airport in the New York City area. As was the case with many young men in the area, Spann was fascinated by the aircraft coming in and out of the airport everyday.
In those days, it only took a dollar to get a ride with one of the barnstormers operating out of Teterboro, but that was a dollar Spann didn't have. His father had died and every penny went to provide food for the family. However, a sister of Spann's had learned to fly in the Civil Air Patrol and she had given her younger brother a little "stick time" at the controls. He wanted to be a pilot.
An important message reached Spann from some older friends who had been drafted as WWII got underway. If you wait to be drafted, they wrote from Texas, you'll end up being a Buffalo Soldier. We thought we would be riding horses, his friends explained, but mostly we're just walking behind them.
Spann took an enlistment exam, basically a two-year college exam that was heavy with science and math, two of his strongest subjects. He passed the test, but now found himself needing his mother's permission to enlist.
"Son, if that's what you want to do, go ahead," Spann's mother told him. "I'll pray for you."
Spann went on to log 26 missions, including 20 high-altitude bombing runs over Germany.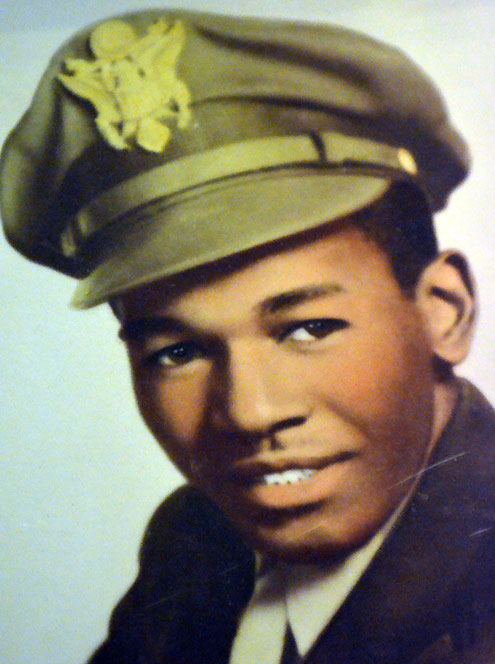 Back in the U.S., Jim Crow Laws mandated racial segregation. Even the military was segregated. There was a lot of name-calling, but the U.S. pilots flying bombers had their own special name for the skilled black fighter pilots escorting the dangerous missions. They called the Tuskegee Airmen "Red-Tail Angels" because of the red tails on the P-51 Mustangs and the tenacity with which these men went after the German fighter pilots attacking the U.S. bombers.
The Germans introduced the first jet-powered fighter aircraft in aerial warfare and Spann recalled the first time he saw a Messerschmitt bearing down on one of his bombers. Orders forbid leaving assigned spots in the formation, but Spann and a now-famous Tuskegee Airman, Captain Roscoe Brown, went after the jet as it circled back at the bombers.
"It's just like a big, fast car," said Spann. "It takes more room to turn."
The smaller, more maneuverable Mustangs cut inside the circle and cut loose with the guns. As doggedly as the Tuskegee Airmen protected the bombers and as much as any pilot longed for the "kill" that sent an enemy aircraft spiraling to the ground in flames, Spann said pilots didn't want to kill other pilots. After all, they were also skilled professionals and their mothers were home praying for them, too. Spann said his partner's bullets riddled the aircraft, but Brown told him later the pilot punched out.
"If Capt. Brown says he parachuted out, I'll second that," Spann told the audience in Commerce.
Still, the consequences of this deadly game of cat and mouse made you wonder if he really believed it or just wanted to believe it.
Capt. Brown was one of only 15 pilots credited with shooting down the highly advanced German jet fighter aircraft.
After the war, Roscoe C. Brown, Jr. went on to become a professor at New York University and later was named president of Bronx Community College.
Calvin J. Spann had dreams of going on to be a commercial pilot, but one thing stood in his way; they weren't hiring black pilots.
"That was one of the most disappointing things in my career," Spann said as he stared stoically into the audience. "I thought I was one of the best pilots, but I couldn't get a job because of the color of my skin. I just try to forget that period. And it was the same for women, too. They had the same discrimination policy against women. But I have seen the changes. I am proud to say I lived through some of the great changes that made this country the great country it is today."

The crowd was on its feet before he could finish the last sentence.