The dawn of a new era. Vogue magazine announced that trendsetting maverick milliner turned rock star, Nick Smith, who spent a decade making couture hats for the esteemed heads of Royalty to Michael Jackson, among other icons, now answers to the name NIQUE. With his debut music performance on the Mac Millan catwalk of New York Fashion Week to critical acclaim in front of hawk-eyed fashion editors; the London It-boy is determined to make it as an entertainer for children with cancer.
Smith is scheduled to host an intimate Mad Hatter's Tea Party benefit at Delish Bubble Tea, McKinney on February 29. Tickets only $10 and include Bubble Tea and Austintatious Couture Cupcakes. Patrons attending this exclusive affair will also preview Smith's capsule collection of inspired couture pieces due to be used in the Rock Runway.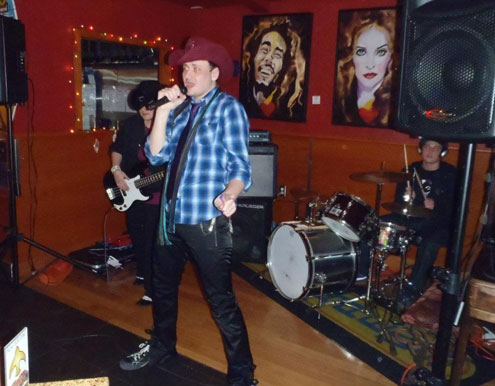 His career in millinery followed a sharp upward trajectory after his talent was discovered at the London Institute's London College of Fashion by American Vogue. While still a student New York's Bergdorf Goodman snapped up his entire debut collection. Vanity Fair said, "Nick Smith has added a new meaning to millinery," Harpers Bazaar declared him the "Crown Prince; the most sought after milliner," Los Angeles Times boasted that he is "Madonna's favorite hat designer," Vogue recognized him as a "global trend-setting milliner," InStyle boasted that each season he creates the "must-have accessory," and The Times of London describe his creations as "sexy headgear."
March 18, 2012 - The War of Love Tour: Rock Runway launches in McKinney, Texas. Benefiting children with cancer via the Hamilton Smith Foundation; the evening hosts a unique fashion and music event that fuses haute couture, high-end fashion from the world's top designers, alongside performances from NIQUE and Dallas Cowboys Official DJ SC, Studio 74's dance crew and Dallas Pride Cheer Squad who are choreographed in synergy with models to create the most exciting fashion show that Texas has experienced.
When it came to establishing himself as a recording artist; NIQUE's only qualification was a head full of catchy tunes, profound lyrics and a little help from award-winning choreographer Luis Camacho. Responsible for many of Madonna's signature moves including Vogue, and was a lead dancer on her Blonde Ambition Tour.
"Children are the seeds of our future," says Nique. "They need to be loved and nurtured to grow organically and blossom. For some, life isn't taken for granted and each day is a battle. Young victims of cancer find that when they live a nightmare it's hard to dream. For a parent without insurance, the nightmare becomes even more devastating, and hope seems far away."
In partnership the Hamilton Smith Foundation strive to turn negative into positive bringing a new realm of prospect.
"We're actively fundraising to support local and national charities, to help the underprivileged in their journey to recovery," NIQUÉ said. "This is our declaration to bring Love, Light and Hope to a new era of public service."
Editor's Notes:The WAR OF LOVE TOUR is an altruistic charitable endeavor benefiting the Hamilton Smith Foundation, a Texas 501(c) (3) non profit organization; raising funds to distribute to charities who assist Children with Cancer.
Texas: McKinney, Austin, San Marcos, San Antonio, Houston, Dallas, Fort Worth and nationally including Miami FL, Vegas NV, Los Angeles CA, New York NY, with more dates being added shortly.
Press Contact: Susan / Maria / Shilah
McKinney TX Mad Hatter's Tea Party scheduled for Wednesday, February 29, 2012 / 6:30 PM. Tickets $10.00 214-838-1555 /tickets@waroflovetour.com 8930 State Highway 121, McKinney, Texas 75070
McKinney TX ROCK RUNWAY shows are scheduled for Sunday, March 18, 2012 / 6:30 PM and 08:30 PM. Tickets from only $15.00, BOX OFFICE: 972-547-2650 , and from $25 for VIP – 214-628-2088 / tickets@waroflovetour.com 111 N. Tennessee St, McKinney, Texas 75069
(Sponsored by Austintatious Cakes, Jane Clark Realty Group, John T. Clark Nationwide Insurance, That Elegant Spa & Salon, Hutchin's BBQ, The Pub, Brooklyn's Pizza, The Guitar Sanctuary)