Greenville High School Lion Pride Band, with financial support from the Greenville Chamber of Commerce, is launching a Band Instrument Donation program to provide instruments to needy band students. Currently a number of Greenville students cannot be in band because they cannot afford to buy or rent expensive music instruments. Many former band members have instruments hid away in closets and attics collecting dust. By donating used instruments to the GHS band, donors can help GHS students and potentially receive a tax deduction. The instrument donation and reclamation program will enable more students to participate in the band receive music education.
While the band is eager to receive all types of band instruments, flutes, clarinets, trumpets and trombones are in high demand. To donate an instrument contact GHS Band Director Kyle Treadwell via phone at 903-453-3624 or email at treadwellk@greenvilleisd.com.
More information can also be found at GHS band website ghslionprideband.com or GHS Band Parent website sites.google.com/site/ghsbpa/home.
The GHS band student leadership team, under band director supervision, will manage the instrument donation and reclamation program. Students will take care of refurbishing the instrument to playing condition with the assistance of local instrument repair technicians.
As part of executing an instrument donation and reclamation program, students gain real world exposure to marketing, public relations, inventory management, instrument maintenance and instrument service repair.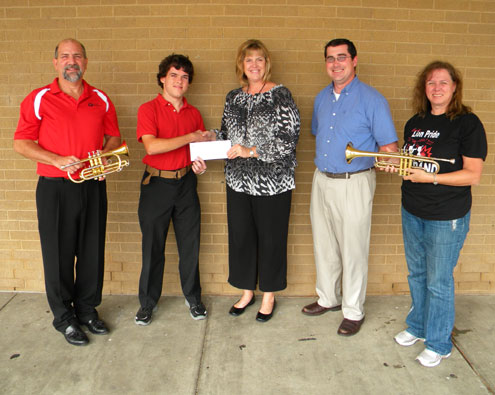 (L-R) Kevin Phillips, Band President Tyler King, Chairman of the Board for the Greenville Chamber of Commerce Amy Tarpley Wade, Kyle Treadwell and Treasurer of the GHS Lion Pride Band Parents Association Kim Cartier
Point of Contact
Kyle Treadwell
GHS Band Director
treadwellk@greenvilleisd.com
903-453-3624
3515 Lionís Lair Road, Greenville, TX, 75402