Bonham -- The Bonham Police Department has teamed up with area businesses to take a proactive approach to prevent car burglaries. Red River Regional Hospital in Bonham has already installed signs with three simple tips that can discourage thieves who target parking lots.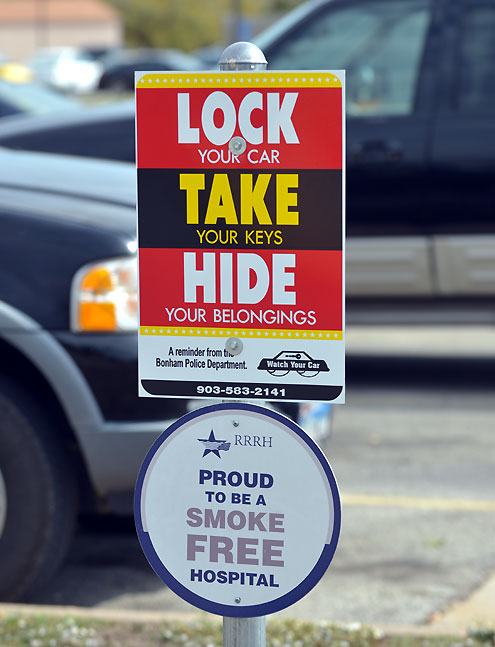 "These signs are a reminder to ask people to help us take care of their property," stated Bonham Police Chief Mike Bankston as he discussed the colorful, eye-catching signs. "Red River Regional Hospital is the first area business to be part of this program."
Chief Bankston advises all local business with a parking lot to contact Bonham Police Department at 903-583-2141 to obtain a sign that proclaims:
Lock your car
Take your keys
Hide your belongings
The boom in personal electronic devices -- GPS systems, laptop computers, cameras, etc. -- coupled with the fact that rural Texans are less likely to lock their cars can make local residents easy prey.
"We find that people are far more likely to lock their car and take the keys when they go to Dallas, but we all tend to be a bit more lax in our hometown," Chief Bankston added.
He also stressed the importance of making sure all valuables are out of sight even when the car is locked.
"Remember the adage, 'Out of sight, out of mind,'" said Chief Bankston.
As the Christmas shopping season gets underway, make it a habit of taking valuables with you or keeping them out of sight.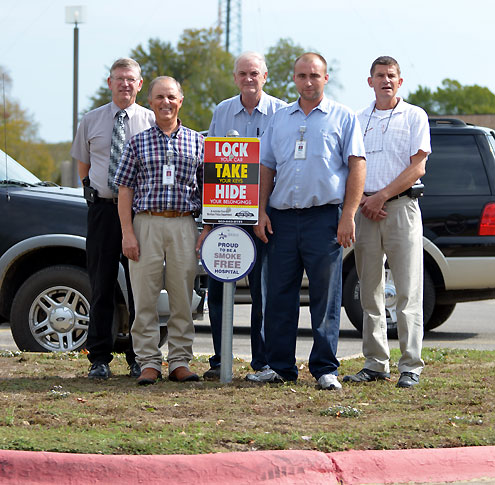 Bonham Police Chief Mike Bankston (left) and Red River Regional employees stand behind one of the signs recently installed in the hospital parking lots.