Fannin County becomes part of a national event this week as National Fossil Day is observed in Ladonia and at nearby North Sulphur River fossil beds. The City of Ladonia has proclaimed a week-long Fossil Week that culminates with a National Fossil Day Workshop on Saturday, October 15. Partners hosting with the city include the National Park Service, the Dallas Paleontological Society, Bois d' Arc Chapter of the Texas Master Naturalist, and the Ladonia Chamber of Commerce.
The North Sulphur River in southeast Fannin County is noted for Cretaceous Period marine megafossils such as mosasaurs and plesiosaurs and for Ice Age fossils such as mammoths and mastodons. An international megafossil specialist, Dr. Louis Jacobs, will conduct the workshop. Dr. Jacobs is a noted vertebrate paleontologist, very familiar with North Sulphur River, and is author of a Texas fossil guide, Lone Star Dinosaurs. He is also professor of paleontology at SMU's HuffingtonDepartment of Earth Science.
David Hill, a North Sulphur River fossil hunter since childhood and a member of the Dallas Paleontological Society, will provide tips on finding fossils in the river bed and serve as a guide during the NSR explorations later in the day. Mr. Hill and his son recently discovered and recovered fossils of four ancient sea turtles at the mouth of Merrill Creek and NSR.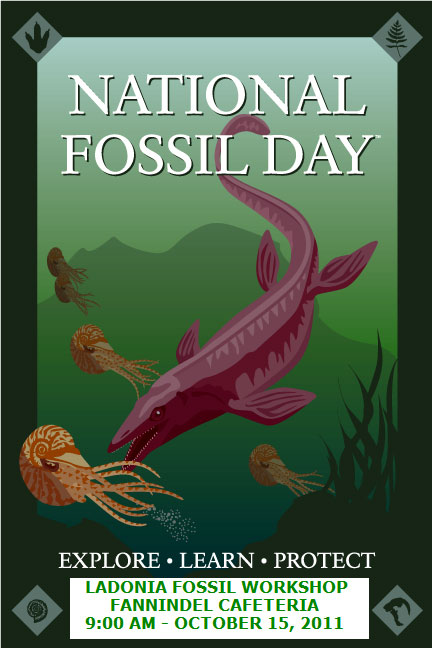 Workshop chair, PK Kirkpatrick, Ladonia's Mayor Pro Tem and an avid fossil hunter of the North Sulphur River for the past 20 years, said she was very pleased to have Dr. Jacobs, Mr. Hill and other noted paleontologists lead this special event in Ladonia. Others on the program include Officer Gregg Rookwood of the Ladonia Police Department who will talk about safety at North Sulphur River and Texas Master Naturalist Doug Franklin giving history of the river.
"While workshops of this caliber are usually with significant fee, this National Fossil Day Workshop is free," PK Kirkpatrick said.
After morning break, the workshop will reconvene at Pete Patterson Fossil Park, AKA Ladonia Fossil Park, on Highway 34 to give guided exploration on foot for workshop attendees. In event of heavy rainfall, the river excursion will be postponed. Event leader Kirkpatrick said those going on the excursion need to pack water, wear mud boots or mud wading shoes if the area should be so lucky to have had recent rainfall, and those with arthritic knees, ankles, backs, and mobility problems may want to stay topside at the park and not enter the river bed due to steepness and height of steps at the park.
For more information on the event, call Ladonia City Hall at 903-367-7011.