First of 1,100 new Priefert horse stalls now available to show attendees
Infrastructure improvements continue on schedule
Public art approved for equestrian-themed tile mosaics on new Equestrian Multi-Purpose Facility
FORT WORTH, TX – Dust continues to fly on the $32 million construction and infrastructure improvement campaign at Fort Worth 's Will Rogers Memorial Center , with the first tangible benefits available nearly a year before construction is complete on the new Equestrian Multi-Purpose Facility.
Partial delivery of 132 new Priefert horse stalls was received and made available in time for attendees of the Arabian Horse Association Region 9 Championship Show (June 15 - 18) and the American Paint Horse Association Youth World Championship Show (June 24 – July 2).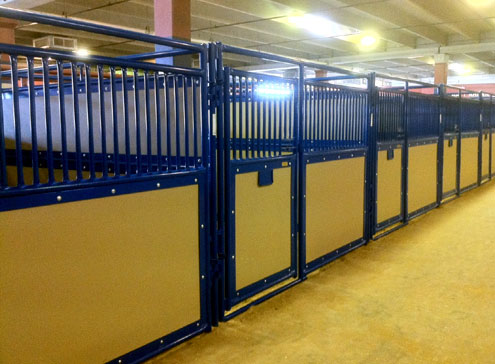 A total of 1,100 new premium stalls will be delivered in phases by the middle of August for set-up in the Moncrief Building as well as temporarily in the livestock barns along Harley Avenue. More than 700 new stalls will eventually be housed in the new Equestrian Multi-Purpose Center, which is scheduled to be completed by summer 2012.
Besides the recent Arabian & Paint Horse shows, the next equestrian shows to have the opportunity to use the new stalls will be:
National Cutting Horse Association Summer Cutting Spectacular (July 12-30, 2011)

National Reining Horse Association Cowtown Classic (August 23-27, 2011)

Reichert Celebration (September 2-11, 2011)

American Miniature Horse Association World Championship Show (September 23-October 1, 2011)
Critical infrastructure improvements continue along University Drive and Harley Avenue that will provide significant benefit to the overall complex. Reconfigurations of streets and intersections allow for better traffic flow. A proposed retaining wall – in some places as high as 25 feet – will have decorative precast panels and landscaping.
The wall is the first step towards stabilizing the site for an additional 2,000 parking spaces, including room for approximately 200 recreational vehicles, while providing protection for the Fort Worth Botanic Gardens. The parking lot will reroute the flow of storm-water runoff away from the gardens and into the storm-water drainage system. A new equestrian and golf cart path will also provide convenient access to the competition arenas from the additional parking lot.
"Fort Worth is making an additional $32 million investment for enhancement to Will Rogers Memorial Center that will ensure that our complex remains competitive to the largest and most visible equestrian events in the world," said Kirk Slaughter, public events director for the City of Fort Worth. "Our strong commitment to improvement is exemplified by providing early installation of our new Priefert horse stalls and infrastructure improvements that are ahead of schedule."
The most significant part of the center's expansion package is the new Equestrian Multi-Purpose Facility being constructed along the east side of Will Rogers at the corner of University Drive and Harley Avenue.
Approximately 740 new horse stalls will reside on the lower level of the new building, while two 100'x200' indoor exercise/warm-up arenas will be above. An expanded underground tunnel system will allow livestock to be transferred throughout the complex without interfering with traffic or exposing the animals to inclement weather.
Artist Mike Mandel has been selected by the Fort Worth Arts Commission to design a series of porcelain and glass photographic tile murals for new Equestrian Multi-Purpose Center.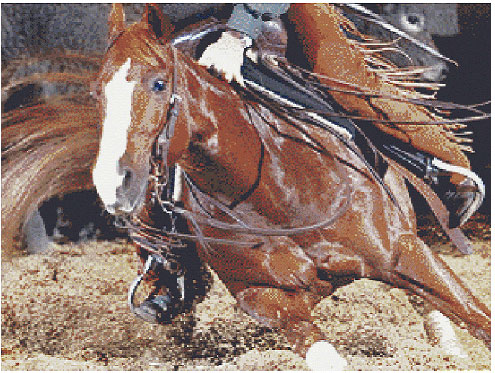 Similar to his work on the parking garage next to the Museum of Science and History, Mandel's tile murals will depict horse breeds (Appaloosa, Arabian and Paint) and equestrian disciplines (Quarter Horses in reining and cutting horse events) as well as honoring two historically significant horses:
Wimpy – the 1941 grand champion of the Fort Worth Fat Stock Show, bred on the famous King Ranch, and

Soapsuds – humorist-philosopher Will Rogers' favorite horse and the horse on which he taught his children to ride
The tile murals are expected to be installed in the spring of 2012.
Established in Fort Worth in 1936 to house events near downtown and in the Cultural District, the Will Rogers Memorial Center now attracts in excess of 2 million visitors each year. This 85-acre facility plays host to an extensive variety of cultural, educational, recreational and sporting events and has become a premier destination for national and international equestrian events.
http://www.willrogersmemorialcenter.com/
The Fort Worth Convention & Visitors Bureau is the official destination marketing organization of the 16th-largest city in the United States. The organization is dedicated to promoting Fort Worth as a premier business and leisure destination, with thriving centers of culture and commerce. www.FortWorth.com