DALLAS—Twenty students sit on the floor in a long hallway at Louise Wolff Kahn Elementary School in Oak Cliff one hour after school is dismissed on Tuesday; most students have already left for the day, but these excitedly wait for their next "class" to start.
Kahn Elementary Counselor Ricky Puente visits with the children as 11 students from the University of North Texas at Dallas counseling program set up video cameras and get their classrooms ready. It is 4 p.m.; almost time for "group play therapy."
Somewhat typical of the at-risk kids staying late is five-year-old Paris Solis, a kindergartner at Kahn. Sporting a long ponytail and the school's navy blue top and khakis uniform, Paris nods her head when asked if she enjoys coming to class with Miss Herlonda Dotson.
"Every day I like to play over here. She's a nice teacher. We draw some pictures and give them to her and put some stickers on them." Paris likes to color pictures and play with toys, dolls and babies, too. "I'm still a little daughter, and I'm still a big sister," she says proudly.
UNT Dallas Associate Professor and Chair of the Department of Counseling and Human Services Jennifer Baggerly asks Paris how she is getting along with her brother. "Yesterday we rode on the bike together," Paris responds. She says she used to fight with him but not anymore.
Her mother, December Solis, signed Paris up for play therapy because her daughter always has been very bossy and pushy. In the six weeks since the play therapy sessions started, she has seen progress.
"She's not as pushy as she was. She's playing a little bit better with her brothers at home. It makes me feel pretty good because it's something that I haven't been able to do with her in five years," Solis says.
"In just six sessions with the kids, I can tell a big difference," says UNT Dallas graduate student Misti Nichole Hagemann. "Talking with my classmates—we talk after each session—they all have seen significant differences from day one to day six. That's really encouraging to see. To be able to walk in and help empower these kids is really fulfilling."
Joshua Church, a UNT Dallas senior, describes group play therapy as a non-threatening, non-judgmental time for young children who are too young to have the words to say what they're feeling, so they communicate through play. Children experiment, interact and express themselves through playing, which is how they learn to cope and socialize. The counseling students watch and collaborate with the parents to spot any behavior patterns that they can help work on.
"Our goal as counselors is to just help empower the child. We're there to make the child feel safe; we're there to make the child feel loved," Hagemann adds. "We really believe that if you create this certain environment of unconditional positive regard, the child will grow in that environment."
Play therapy is helpful for children struggling with such things as shyness, bullying or sibling conflict, Baggerly says. Play therapy is needed at Kahn, Puente says, because some kids, especially in the neighborhoods near Kahn, go through a lot, from parents divorcing to custody battles to just not getting enough attention because their parents sometimes have to work multiple jobs.
"I don't know if it's because of the economy or not, but there's a lot of stuff that goes on in these kids' lives. I think more goes on than when we were kids," Puente says.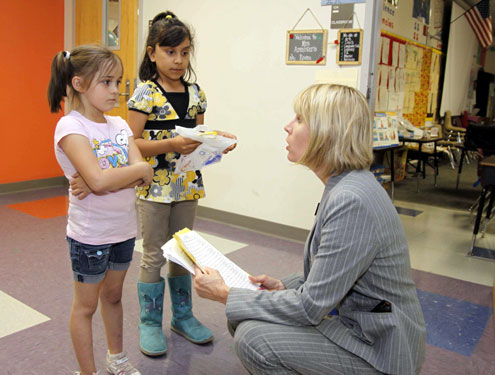 Photo 7230 Cutline: Photo 7245 Cutline: University of North Texas at Dallas graduate students Chenell Mosley (left to right) and Camille Green and Chair of the Department of Counseling Jennifer Baggerly watch as David Alvarez and Savant Taylor play during play therapy time at Kahn Elementary School.
After receiving play therapy, research shows that behavior problems decrease and children's self esteem, their ability to get along with other kids and their social skills improve, Baggerly says.
"What I've noticed is that it's done in a way where it's kind of fun, and the kids really don't realize that there is some type of therapy going on," Puente observes.
Hagemann will complete her master's in counseling in December. The Poteet High School graduate has wanted to go into the mental health field since she was nine years old.
"I've always felt this deep need to help others. I went through a lot of hardships when I was a child, and I had a counselor who helped me through that," Hagemann says. "My mother has this amazingly huge heart, and she worked at convalescent homes. We'd go up there and would volunteer once a week. We would put on plays. We'd go and give out hugs and stuffed animals. We volunteered in so many different areas that I feel like she handed on that passion to me."
Church, an Arlington Bowie High School graduate who hopes to graduate from UNT Dallas in May 2012, says it is extremely rewarding to help children.
"It's a great privilege. When I walk in that room, no matter what's been going on in my day, I can put that aside and get engaged in what these kids are doing. Not everything is happy go lucky, but for to be able to work with these children is a great thing," Church says.
Baggerly and Puente call the play therapy a "win-win situation" for the master's-level class and for Kahn Elementary because UNT Dallas students get to work with at-risk children in need at a local school who otherwise might not be able to seek counseling.
"It's an added benefit that this school is about 95 percent Hispanic, so our students get an opportunity to learn about Mexican-American culture," Baggerly says. "I think it fits very well with UNT Dallas' overall goal to be engaged in the community and to benefit Hispanic children."
Church and Hagemann use terms such as "awesome" and "amazing" to describe Baggerly and the other UNT Dallas counseling faculty. "The staff is incredible. Dr. Baggerly, Dr. [Yu-Fen] Lin, Dr. [Eric] Green—they're phenomenal teachers. I don't feel that they're just professors; I think all three of them are mentors, friends.
"Dr. Eric Green is one of the top guys in the nation." When a massive disaster occurs such as Hurricane Katrina or the recent earthquake in Japan and children are in need, Hagemann says, the Association for Play Therapy sends Green. "So it's really cool to work under them and to get to learn from them."
Hagemann gushes about the counseling program at the nation's newest university. "We went from learning to become good test takers and good students to learning how to become counselors who change our community," she says. "I've done so many experiential activities. I've created projects. I've created programs to go out and do with sexual abuse survivors … children.
"I'm not sitting in a classroom learning about how to talk to kids. I'm out there doing it. We videotape ourselves and the professor goes over the video with us." That immediate feedback is extremely helpful, she says. "I can't imagine a better program to be in than this."
Solis and Puente say the children look forward to the weekly visits. Especially nowadays with schools being so focused on academic development, "A lot of younger children don't have time to play and are not given the opportunity to develop their social and emotional skills, so this is a really good adjunct to the learning process," Baggerly says.
Solis says it is nice to have a counselor work with her daughter and "really neat" that UNT Dallas students come every week to work with the children. "She enjoys it. [My kids] talk about them for days after, so obviously they're doing something good with them."
UNT Dallas counseling students will meet with Kahn students three more Tuesdays before the end of the semester for a total of 10 visits.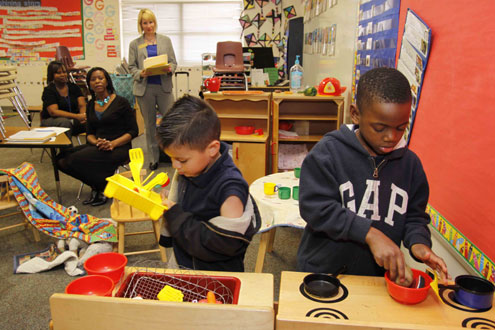 University of North Texas at Dallas graduate students Chenell Mosley (left to right) and Camille Green and Chair of the Department of Counseling Jennifer Baggerly watch as David Alvarez and Savant Taylor play during play therapy time at Kahn Elementary School.
The University of North Texas at Dallas is a 21st century teaching institution and a component of the University of North Texas System. The University's goal is to train citizens to be productive and lead in a global environment and to promote the values of virtue, civility, reasoning and accountability.