Prairie restoration project benefits reclaimed landfill
DALLAS, Texas -- Student volunteers from the University of Minnesota-Crookston in the STLF (Students Today Leaders Forever) program will be at Bluestem Nursery in Arlington, Texas and at Trinity River Audubon Center in Dallas, Texas March 15.
Forty students from University of Minnesota-Crookston are traveling through the U.S. during spring break, "paying it forward" by doing a variety of volunteer service projects along the way. On March 17, they will visit Bluestem Nursery, a native grass nursery in Arlington, Texas, to dig native plants. Bluestem Nursery owner, John Snowden, will then supervise this student volunteer crew in installing these plants for property restoration projects at the new Trinity River Audubon Center, located on the site of a reclaimed 120-acre landfill in south Dallas.
When: Tuesday, March 15, 2011 8 a.m. – 9:30 a.m. – Bluestem Nursery, Arlington, Texas; 10a.m. – 1p.m. - Trinity River Audubon Center, Dallas, Texas
Sustainably built and a LEED-certified gold candidate, the Trinity River Audubon Center is situated on 120 acres of the Great Trinity Forest, the largest urban bottomland hardwood forest in the U.S. TRAC represents a combined $37 million restoration and capital improvement project that was funded and built by the City of Dallas.
The Center is a partnership between the City of Dallas and the National Audubon Society. Located just eight minutes from downtown Dallas, TRAC is the flagship for Audubon's science education and conservation initiatives in Texas. The Center is located at 6500 S. Loop 12, Dallas, TX 75217.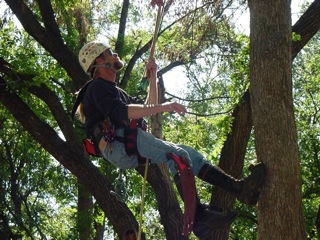 On March 15, from 10 a.m. to 2 p.m., one of the teams from the state tree climbing championships will be at the Trinity River Audubon Center practicing climbing the large pecan trees. There will be arborists leading tree identification walks, too.

Now in its second century, Audubon connects people with birds, nature and the environment that supports us all. Our national network of community-based nature centers, chapters, scientific, education, and advocacy programs engages millions of people from all walks of life in conservation action to protect and restore the natural world.

For more information: