A special photography project, a cave photography workshop and a cave conservation workshop will all be taking place the weekend of April 9 & 10 this Spring at Cave Without a Name in Boerne, Texas.
Planned around the idea of benefitting disabled veterans, the photo project will create Virtual Reality (VR) panoramic "movies" that can be viewed on a computer projection screen and allow the viewer to experience the cave vicariously without ever leaving the comfort of daylight. The benefit is immeasurable to those who would otherwise never get to see the hidden beauty below the surface of the earth.
In addition, a special hands-on cave conservation workshop will be presented by Jim Werker and Val Hildreth-Werker, Chairmen of the Cave Conservation Section of the National Speleological Society.
Cave Without a Name is a commercial cave in the rolling Texas Hill
Country just northwest of San Antonio. Beautifully decorated with
unique dripstone formations and a flowing stream, the 66 degree cave offers a cool respite from Texas summer heat year round. Entry to the cave is 122 steps down a spiraling stairway that creates a barrier to visitation by the disabled, but all that is about to change for the better...
On a recent trip to the annual Convention of the National Speleological Society (the world's largest caving organization, headquartered in Huntsville, Alabama) in Burlington, Vermont, Cave Without a Name owner Tom Summers met photographer Peter Jones. Jones, who has been specializing in cave photography for 42 years, was giving a presentation on spherical panoramic photography and how it applies to caves. This photo technique involves using a special tripod head that rotates not only 360 degrees horizontally, but 180 degrees vertically as well. This allows for a series of overlapping photographs to be stitched together using specialized software and turned in a "movie," of sorts.
When viewed on a computer, the image can be panned all
around the entire scene, including straight up to the ceiling and down
to the floor, captured in the overlapping photographs. Think of viewing
an image pasted on the inside of a beach ball with you standing in the
center of it. Unlike a movie, which was panned during the original filming and is thus constantly moving based on the photographer's decisions, the VR display can be shifted to a specific area of the image and viewed in that location indefinitely or until it is moved again. Real estate companies post similar VR movies on their websites to show the interiors of houses to potential buyers.
Cave scenes certainly invite such presentations and the idea of creating spherical panoramas for his cave was immediately apparent to Tom Summers. Summers has an abiding respect for the disabled veterans of our foreign wars and realized that just because they cannot physically enter his cave does not mean that they can't enjoy the experience of seeing it from on the surface. Shown in conjunction with a verbal presentation by a knowledgeable cave guide, veterans can experience everything that cave visitors see when touring the cave. The only thing missing is the occasional drop of water falling from an overhead stalactite to complete the experience!
Peter Jones is part of a very small group of people who specialize in
cave photography and all its attendant difficulties. For one thing, a
cave photographer has to be a cave explorer to begin with and that
alone limits the number of people who might otherwise consider doing it. Jones seemed to have an innate interest in caves from the earliest days of his childhood, but didn't enter his first wild cave until 1968 while a freshman at the University of Denver. A year later, he bought his first camera with the intention of using it for cave photography in particular. That was the same year during which he began exploring the caves of the Guadalupe Mountains in New Mexico and West Texas.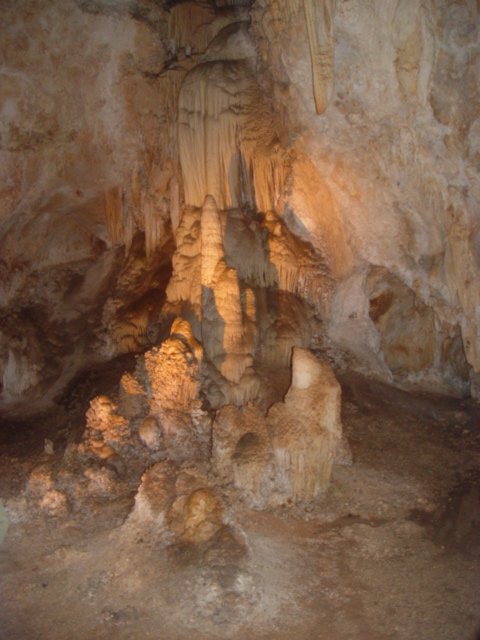 photo by Tammy Skidmore Rich, Carlsbad Cavern
Home to world famous Carlsbad Caverns National Park, there are over 400 known caves within that fifty-mile-long mountain range, many of which he has explored and photographed. In his 42 years as a cave photographer, he has worked for National Geographic Television, as photographer and coordinator for a NOVA filming project, as photographer for Carlsbad Caverns National Park for their Public Domain Photo Gallery and many more projects. Prints of his work are now part of the Cavern Arts Project Gallery display in the Visitors Center at that same Park. He has also taught numerous cave photography workshops over the years at Carlsbad Cavern.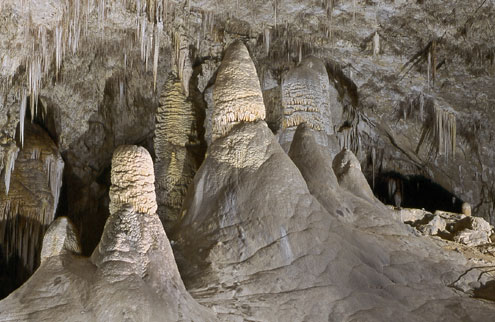 Hall of the Giants, Carlsbad Cavern in New Mexico. These massive stalagmites, rising as much as fifty feet above the floor, are a common sight in The Big Room of Carlsbad. photo by Peter Jones
Coordinating those talents with Tom Summer's vision for benefitting
our foreign war veterans and physically challenged citizens has led to a planned photo shoot in early April of 2011. During the shoot as many as twelve different photo locations will be chosen from which to take the spherical panoramic series of photographs. Special lighting will be brought in to evenly illuminate the cave scenes. With the camera securely mounted on the special tripod head, as many as 32 shots or more will be taken from that one central point.
The lighting location must be shifted as the camera rotates so as not to include any images of the lights themselves. Extreme care must be taken throughout the entire shoot that there is no movement of the camera other than its rotation, nor any shifting of focus or aperture settings. It would be virtually impossible to come back at a later time and re-shoot the one scene that didn't come out properly, so it must be done correctly from the very beginning.
With all the scenes properly captured, they will later be stitched together in the computer to generate the final VR movie.
The unique nature and difficulty of cave photography, as well as the
unparalleled opportunities to capture incredible images of some of nature's finest presentations, has led Jones to teach Cave Photography Workshops at Carlsbad Caverns National Park over the years. He is extending that opportunity to those who are interested by teaching a two day Cave Photography Workshop at Cave Without a Name on Saturday and Sunday, April 9 & 10, 2011, at the end of his shooting schedule.
The workshop will be limited to 12 participants. Preregistration is strongly suggested as the class is expected to fill up quickly.
For more information about the workshop and to register, contact
Jones at pjcaver@gwi.net or by calling (207) 236-6112 or (207) 542-
5228.
In conjunction and running concurrently with the photo workshop, an
important cave conservation, restoration and photomonitoring workshop will also be taking place in Cave Without a Name on Sunday, April 10, 2011. Cave conservation specialists Jim Werker and Val Hildreth-Werker have spent much of their lives in the restoration and conservation of caves all across the country. Wanton vandalism of a cave through the intentional breaking of formations, spray painting on cave walls or the killing of bats is becoming rarer these days, due to education of the public through Jim and Val's work as Cave Conservation Chairmen of the National Speleological Society. Using special techniques which they have developed, many caves are being restored to their former beauty where possible. Spray paint is carefully removed from cave walls with a minimal amount of destruction to the face of the underlying wall.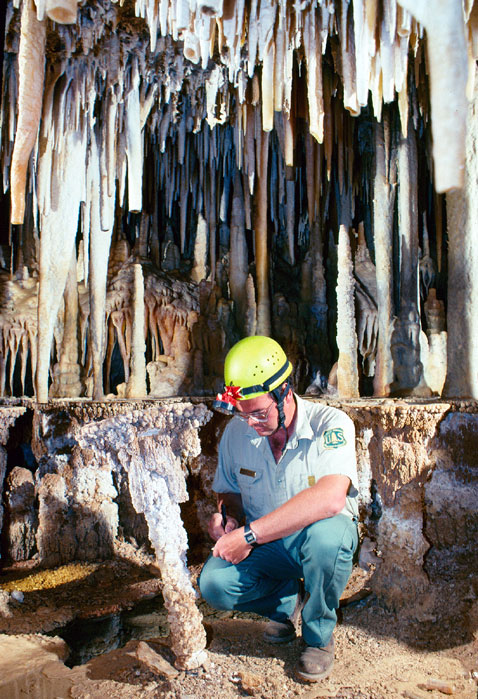 Ranson Turner, a Cave Specialist for the US Forest Service, inspects damage to one of the Candle Tables in Cottonwood Cave in New Mexico. Using special techniques developed by Val and Jim Werker, the table was later restored to its upright position. Note the broken stalactites that hang from the ceiling. photo by Peter Jones
Broken formation parts are collected and reattached using special archival epoxies and stainless steel support rods to hold them in place until nature can take over and continue the growth process. Their outstanding work in this endeavor led to the production in 2006 of Cave Conservation and Restoration, a book written by Jim & Val and published by the NSS. They received several international awards for their work and the book, which is considered the gold standard for cave conservation techniques.
But that, in a sense, is only the beginning. While vandalism is abhorrent to nearly everyone, it is the inadvertent damage that has been done to caves that they are trying to stop by teaching better caving ethics to cavers themselves. Throughout much of history, well-intentioned cave explorers have pretty much run all over cave surfaces in their desire to see what is around the next corner. This has often meant that boot and hand prints have sullied the otherwise pristine surfaces of the cave, leaving behind dirt and grime that can ultimately become part of the formations as they continue their slow growth.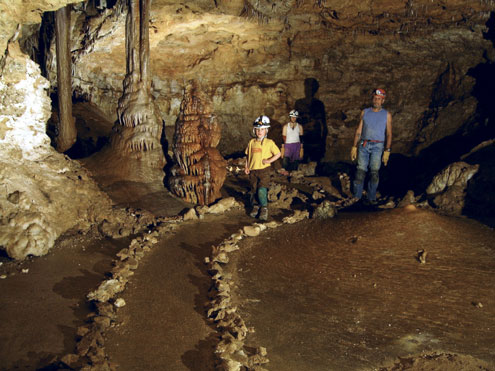 Young cavers follow the trail laid out in cave breakdown materials to limit the traffic to a narrow path and thus prevent further trampling of cave formations. photo by Val Hildreth-Werker
Certainly people will leave behind evidence of having visited the cave by their footprints, but cave conservation suggests that it would be better to leave only a single file trail of that visitation, rather than trampling all over everything willy-nilly! As the motto of the National Speleological Society says, "Take only pictures, leave only well-placed footprints and kill only time."
These conservation efforts have taken hold within the caving community, but there is a lot of cleanup work that still needs to be undertaken in nearly all caves that were ever visited in the past. As such, many cavers now spend their time with brushes, sponges, water buckets and a lot of elbow grease, cleaning up the damage done by otherwise well-intentioned individuals. Once cleaned, trails built of the
natural cave materials help to direct traffic through delicate areas. In
some caves, flagging tape is laid down as a way to keep traffic down to single file movement throughout the entire system. As a result of this hard work, many caves are being kept in as pristine a state as they were when the cave was first discovered.
The best way in which to spread this new caving ethic to those who are most likely to visit caves is through Cave Conservation Workshops that Val and Jim have been teaching for years. Cave Without a Name is fortunate to have them come and teach a workshop on Sunday, April 10, since part of their class time will be spent cleaning up portions of that very same cave!
Their workshop will begin with a presentation on the history of cave damage, whether unintentional or deliberate, and move on to current methods of repair. They will also talk about special techniques of photomonitoring that they have developed to record changes in cave systems over time. Time lapse photography can show in detail how minute changes can build up into macro damage that seems otherwise imperceptible. After the morning presentation is completed, participants will spend the remainder of the day putting those methods to good use inside the cave under the tutelage of Jim and Val.
This cave conservation workshop is free to participants. However on
Saturday evening, Cave Without a Name is hosting a Cave Conservation Fundraiser Barbecue for participants in both the photography and conservation workshops which is also open to the public. A suggested donation of $15, all profits of which will be donated to cave conservation causes, will get you all the burgers, beer and fixin's you can eat. Attendees will get to talk with the workshop leaders and other participants in an informal atmosphere.
To register for the Cave Conservation and Restoration Workshop, contact Val and Jim at werks@windstream.net, 575-895-5050 or
575-740-0186. Class size is limited, so register early.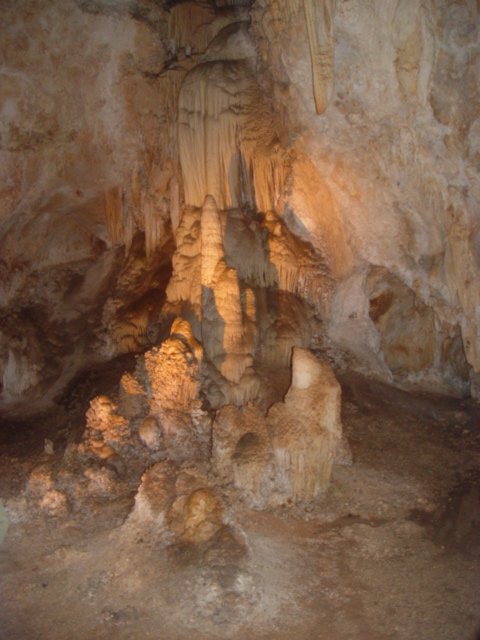 photo by Tammy Skidmore Rich, Carlsbad Cavern