McKINNEY, TEXAS - - Brian J. Magnuson has managed once again to catch a rare glimpse of the life of a modern day cowboy in one of the few remaining places where cowboys still work full time. In March, Magnuson traveled to the Grand Canyon and continued his ongoing photography series. Magnuson's personable style proves to connect anew with these seasoned cowboys allowing an insider's look at their daily routine. This exhibit of over twenty black and white images at Laura Moore Fine Art Studios beautifully captures a different scene of the rugged Arizona cowboys without rodeos or cattle drives, but rather working the mules down the steep canyon descent.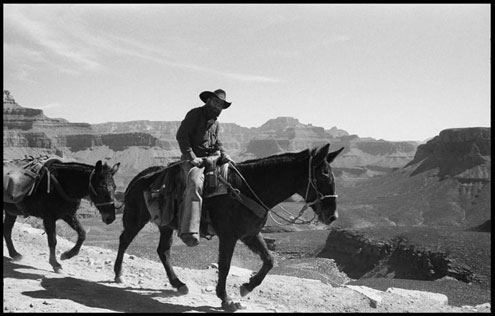 Photo by Brian J Magnuson
Magnuson's stunning classically hand printed darkroom images take the viewer behind the scene for a detailed look at what goes on in the life of a Grand Canyon cowboy from the early preparations of the packers, well before sunrise, to fellowship of the cowboys at the end of the long hard day. The viewer will be placed in front of the farrier shoeing difficult mules, the saddle maker making repairs and dramatic views as riders on the backs of the mules climb out of the deep canyon.
Magnuson, an artist and educator in Plano, has been photographing things of interest and importance for fourteen years and has held many one-man shows across America as well as been included in several group showings. His work has been promoted on Good Morning Oklahoma television program, Dallas Morning News Guide and other publications.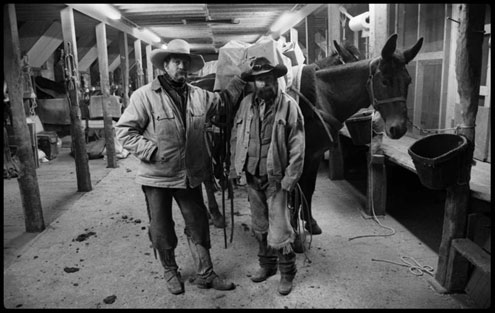 Photo by Brian J Magnuson
"Cowboys of the Grand Canyon II" will open with an artist's reception on Saturday, December 12th from 7 p.m. - 10 p.m. Through January 6, 2010, at Laura Moore Fine Art Studios, 107 S. Tennessee in historic downtown McKinney.
Hours: Mondays through Saturdays from 1 p.m. to 5 p.m.
Free admission.
This is a family friendly exhibition and all are welcomed. 214.914.3630. www.lauramooreart.com.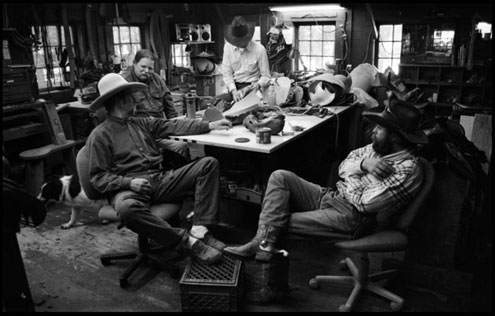 Photo by Brian J Magnuson