Hot on their heels of their successful conversion of a truck from an internal combustion engine to an electric-powered motor, the Bonham High School ag class of Clint Minnick has an even more fascinating project in mind. With your help, this just might be the first high school ag class in the nation to convert a small farm tractor to electric-powered drive.
What can you do to help?
Well, to start with, the class is looking for someone that would be interested in donating something along the lines of a 20hp tractor with an engine that no longer works.
This would be a great chance to make a tax deductible contribution and help this class make history at the same time. In a case such as this concerning the donation of physical equipment, a letter can be obtained from the CFO regarding the donation.
And, secondly, the class is looking for someone willing to donate an electric forklift.
Any electric forklift would be fine. Often the owner will park them when the battery pack quits working because it can sometimes be cheaper to just buy a new one than replace the battery itself. The BHS ag class needs the motor and electronics from the electric forklift to convert the tractor from gas or diesel to electric.
Anyone that might be interested in donating either the tractor or electric forklift is encouraged to call (903) 640-9153 or email mike.barkley@bonhamisd.org
This class is the talk of the town after converting a small truck to electric and community donations were a big part of making that project happen. BHS computer analyst Mike Barkley is now using the truck almost every day as his duties take him from campus to campus. The truck is performing great and the only noise it makes is the buzz from bystanders.
Mr. Barkley's expertise with electric-drive vehicles was a valuable asset to this project, so no doubt he feels a bit of pride when he hears people say, "Hey, did you see the electric truck outside?...the Bonham High School students built it!'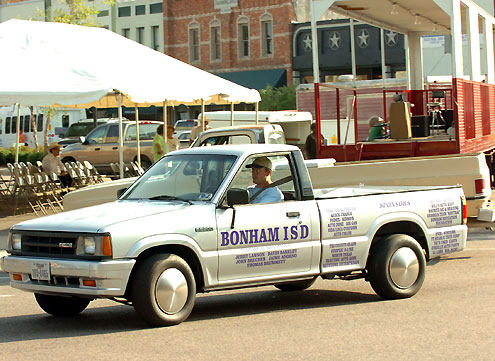 Barkley is quick to credit BHS ag - mechanics teacher Clint Minnick for being the driving force that got this first conversion project completed in a timely manner.
"Everyone at Bonham ISD, from teachers to the school board, has been more than supportive of the project," Barkley says. "Students showed more and more interest as the project progressed, and now that the truck is being seen in the community, the local community is talking about it."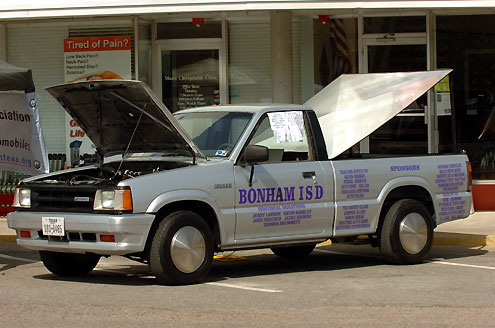 As exciting as last year's truck conversion was, this tractor conversion has even greater potential.
A tractor is the perfect application for this technology for two reasons. First, the weight of the batteries converts to increased traction. The ballast is a plus with a tractor, as opposed to a car of truck conversion where battery weight is a hindrance. Second - and this is the part students will enjoy - the DC motor will have great instant torque, which should give their new creation tremendous pulling power from a dead stop.
The class plans on using older technology (golf cart) batteries, as they are heavy, relatively inexpensive, and great for ballast.
The tractor could be recharged either by a small solar array mounted on the tractor cab or by plugging into an electrical outlet, depending upon the cycle time between usage.
"If you're not going to use the tractor but once in awhile, having a small affordable solar array can keep it charged between usage, not to mention keep it fully topped off during off seasons," Barkley explains. "Having a plug in charger will give you the ability to recharge every night, so it's ready for the next day if needed."
Other items the BHS ag class will need include: structural steel for brackets and adapter plates to help replace the engine block which is usually an integral part of the front end of the tractor; 12 to 15 6-volt golf cart batteries; 2/0 cable for battery interconnects and lugs. The remaining electronic items that aren't already in a forklift would most likely have to be purchased from electric vehicle (EV) part suppliers, and that is where monetary donations would be very helpful to complete this project.