SHERMAN, TEXAS — Nearly 30 foreign language teachers of German, French, and Latin from around the state are spending July 19-24 at Austin College for the college's annual Richardson Summer Language Institute. Frank Kelland of Whitesboro, a Latin teacher at Piner Middle School in Sherman, is one of the participants.
The institute provided a residential immersion opportunity for teachers to refresh language skills and to develop new cultural and technology resources for their students. Teachers in French, German, and Latin participated in the week of seminars led by the faculty of Austin College's Department of Classical and Modern Languages. The Austin College faculty provided workshops on culture, literature, and computer technology in the curriculum. Films, musical evenings, dance performances, and other activities supplemented the workshops. Participants spoke their target language at all times during the institute.
Elena Olivé, assistant professor of Spanish is the director for this summer's conference. Austin College faculty for the conference are Robert Cape and James Johnson, professors of classics, leading the Latin section; Truett Cates, professor, and Kai Diers, assistant professor, led the German group; and in French, DeDe Hosek, adjunct instructor, and Marie-Christine Jacquet, visiting instructor.
Austin College's Jordan Family Language House was closed for repair this week so the group set us residence in the college's Johnson 'Roo Suites, turning the residences into something of an international village. During the academic year, Jordan Family Language House provides students of Chinese, French, German, Japanese, and Spanish opportunity for language immersion and cultural interaction as primary aspects of the living and learning environment. Native speakers live in the house to assist in the learning process for Austin College students. Austin College students speak target languages in all common areas of the residence.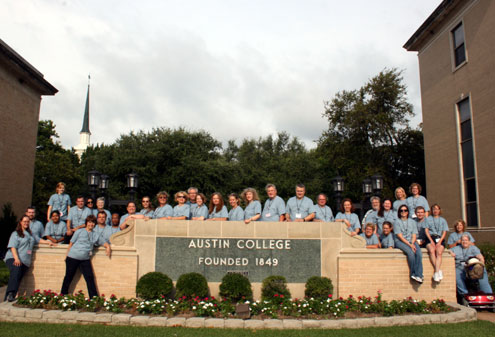 Teachers represent from all parts of Texas—coming from as close as Piner Middle School in Sherman and as far as Corpus Christi's F. H. Moody High and Veterans Memorial High in Mission. Several teachers from in and around the Dallas-Fort Worth metroplex area are participants, representing Arlington High, St. Peters Classical School, Flower Mound High, Richardson High, Keller High, Grapevine ISD, Hebron High, North Crowley High, W.T. White High, Fossil Ridge high, Jesuit College Prep, and R. L. Paschal High. Other individuals represent Killeen High, Cypress Springs High, Robert E. Lee High in Baytown, Brackenridge High in San Antonio, St. Gabriel's Catholic School in Austin. Teachers also represent Aldine high, Memorial High, Klein Collins High, and St. Thomas High from the Houston area.
Selection for the institute was by application with required support from the teachers' principals and assurance that foreign language students will have access to computers for language coursework.
All fees, including room and board, were provided by a grant from the Sid W. Richardson Foundation. For information on future foreign language institutes, visit the Austin College Web site.
Austin College is a leading national independent liberal arts college located north of Dallas in Sherman, Texas. Founded in 1849, making it the oldest institution of higher education in Texas operating under original charter and name, the college is related by covenant to the Presbyterian Church (USA). Recognized nationally for academic excellence in the areas of international education, pre-professional training, and leadership studies, Austin College is one of 40 schools profiled in Loren Pope's influential book Colleges that Change Lives.