As a young angler, I read about catching northern pike and muskie in the cold, pristine waters of lakes in the northern US and Canada. Something about these toothy critters perked my angling interests. Years later, I had the opportunity to fish for pike in lakes along the Canadian border but never caught a really big one.
I recently began fishing for a very similar species here in Texas that also comes equipped with plenty of teeth, grows to gargantuan size, is very numerous, makes great table fare and, with a little training, is relatively easy to catch! Southern waters are full of three species of gar, the Longnose, sometimes called needle nose, spotted gar and in rivers or pockets of water near rivers, alligator gar.
Throughout my fishing career, which now spans a half-century, I've caught lots of gar, all by accident while running trotlines, bass fishing or using live bait for catfish. I usually cut the line at the boat and released the fish. Until recently I simply didn't know what to do with them. Now I do, thanks to a lot of research on the internet, watching YouTube videos on catching gar and learning how to prepare them for the table. I've also spent some time visiting with the Kirklands, a father/son team that have become famous putting clients on big alligator gar in the Trinity River and Lake Livingston.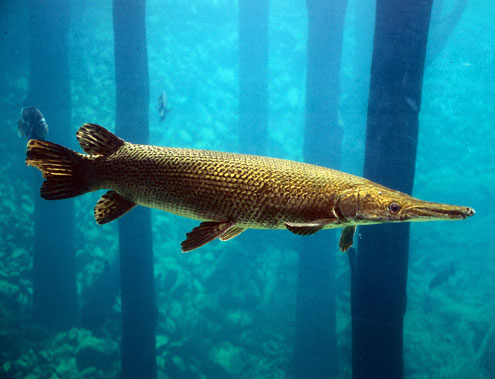 Gar are hard fighters and excellent eating. The three species common to the US are the alligator gar (pictured), spotted gar and long nose gar. photo courtesy of TPWD
If you are looking for a very sporting freshwater fish to challenge your angling skills and, if you enjoy a good fish dinner after your outing, consider fishing for gar. I can guarantee you won't be disappointed in either the battle they supply in the water or the flavor of the snow white meat when grilled, blackened or fried.
Please don't mistake me for an expert gar fisherman. I most definitely am not, but I'm learning. I've learned that consistently catching gar requires some specialized gear and techniques; it's not rocket science but without the right gear, gar cannot be landed with regularity.
When I began quizzing the Kirklands about technique, they first asked if I would be targeting monster alligator gar in the rivers or smaller long nose or spotted gar in still waters. I remember they referred to the later two species as 'smaller' gar, fish weighing between 5-25 pounds. I was quick to point out that fish in this size category were definitely what I planned to target. Long nose and spotted gar provide exciting fights on medium tackle and are great for eating.
"For these fish, you will want to use live bait, minnows or small bream on 10-ought circle hooks," I was instructed. "Gar often suspend near the surface, so rig with a floater, use heavy swivels and set the baits so they will be about 2-3 feet under the surface. Fish the live bait weightless so they will dart around more to entice strikes."
The primary reason many gar are lost after they take the bait is that fishermen usually jerk the bait out of their tough, toothy mouths without getting the hook set. Circle hooks 'set' themselves when the fish picks up the bait and begins to swim away; by design, they corkscrew into the corner of the fishes mouth.
My first gar adventure took place on my friend Donny Rice's place, located a few miles east of Cedar Creek Lake. Donny offers waterfowl hunts during the fall and fishing for bass, crappie and catfish on his over 700 acres of private waters which, incidentally, happen to be chock full of gar, thanks to stockings from the nearby Trinity River. Donny's gar fishing experiences, until we began employing our newly learned techniques, was largely the same as mine; he'd caught lots of gar accidently on trot lines and occasionally while fishing for other species.
When we launched my little Buster Two-man boat at daylight, I noticed Donny eying the rigging I had on our rods. He and his kids had done a bit of 'perch jerking' the day before and he had an abundance of small sunfish for bait. Before our trip, he was 'pumped' and, I'm sure, hoping Ole' Luke had done his homework and actually gleaned enough information to put some a 'mess' of gar in the boat!
"I don't think getting a gar to hit our baits will be a problem, I tipped as we used the Torqeedo electric outboard to quietly push us toward some open water where I'd seen an abundance of gar on previous trips. "The trick will be not jerking the bait out of the fish's mouth before the circle hook has the chance to work its magic and thread itself into the fishes lip."
With polarized sunglasses, spotting gar just under the surface is easy and after motoring a few hundred yards from shore, we began seeing the long, slender forms of Spotted and Long Nose Gar darting in front of the boat. I eased the throttle back on the Torqeedo and quietly slipped the anchor to bottom. Following Kirkland's instructions, we pinned the small sunfish just below the dorsal fin with the circle hooks (after widening the gap a little, to facilitate easier penetration of the barb).
Making long casts to place the baits in undisturbed waters, we soon had our frisky sunfish dancing a jig just under the surface. My plan was for us to use a couple of rods each, placing more baits in the water, and increasing our chances of catching gar. I quickly learned that one rod each would suffice! My bait had been in the water maybe twenty seconds when the cork disappeared and I did what came naturally, "SET THE HOOK."
I didn't follow my own advice and allow the gar to run with the bait and let the circle hook work as it was intended to do. I pulled the bait from the fish's mouth and began reeling in to re-bait. I cast an eye toward Donny's floater and saw it disappear under the surface.
"Let him run with it," I instructed, probably in a less-than-calm tone. "I just lost one by trying to set the hook too quickly. When you feel pressure on the rod, THEN pull back...hard!"
Donny probably didn't need my hasty instructions, he calmly waited for the bow in his rod, and then he applied pressure and was hooked fast with the first gar of the day!
Our morning gar fishing produced hook ups with several gar, the biggest probably weighed around 25 pounds. Heavy gloves are necessary when landing the gar but a piece of burlap with two wooden handles do a better job of 'scooping' gar into the boat. I'm planning on making one of these landing devices before our next outing. Two 4-foot pieces of dowel rods connected to a 4-foot piece of burlap makes a great 'landing net' for gar.
This first 'shake down' gar fishing trip proved to Rice and I that these monster fish are pretty easy to trick into taking a bait but a real challenge to bring to net. We'll remain busy researching this brute of a fish and hopefully will refine our techniques in the next couple of outings! I promise to keep you tuned in as my learning curve gets steeper!
Outdoor tip of the week- Shark fishing peaks about this time each summer along the Texas coast. Capt. Mike Williams at Galveston (www.galvestonfishingguides.com) reports his clients are enjoying lots of action. Fishing is within sight of Galveston, 2-4 miles offshore.
Best baits are big chunks of shad floated under balloons behind shrimp boats. "Down lines" fished below the boat are accounting for lots of redfish. The kingfish bite has also been excellent and anglers can expect to catch an occasional tarpon while fishing for shark. Capt. Mike Williams can be reached at 713-723-1911.
Listen to Outdoors With Luke Clayton Radio show at www.catfishradio.com