The Little Mermaid and the Prince
Word of Mouth Productions
Based on the story by Hans Christian Andersen
Adapted by Sheila Smolensky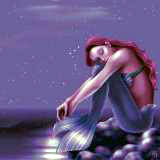 King Neptune has given Princess Despina, the little mermaid, a birthday gift allowing her to journey to the surface of the sea. Princess Despina, who has been infatuated with a statue which fell to the ocean floor, anxiously swims to the surface with her friend, a sea nymph, hoping to find the man who resembles the piece of art.
Unfortunately, Malvina, the beautiful yet evil witch, is insulted at not having been invited to the little mermaid's birthday party. When she hears of Princess Despina's ventures, she follows, hoping for an opportunity to exact revenge. When a sailing ship carrying the handsome, young prince resembling the statue is sighted by the mermaid and her companion, Malvina seizes the opportunity and conjures up a threatening storm.
In desperation to save the prince from drowning, the mermaid is forced to trade her beautiful voice to Malvina for the prince's life. Malvina is finally vanquished and true love wins out.
THE LITTLE MERMAID AND THE PRINCE
June 18 at 10am
June 19 at 7:30pm
June 20 at 3:30pm and 7:30 pm
Tickets: $8 adults, $7 seniors/students, $6 kids 12 and under