Jerry Asher believes it is time for America to kick gas.
Mr. Asher rolled out of Washington, D.C. on Earth Day 2008 to begin a nation-wide tour that promotes energy independence and conservation by touting many advantages the next generation of vehicles will offer, beginning with a less expensive and cleaner fuel source than carbon-based fuels. Asher plans to complete his Plug-in Hybrid Electric Vehicle All Around America (PHEV3A) tour by rolling back into Washington, D.C. on the weekend before Earth Day 2009 to be featured in the Environmental Protection Agency's 5th Annual National Sustainable Design Expo.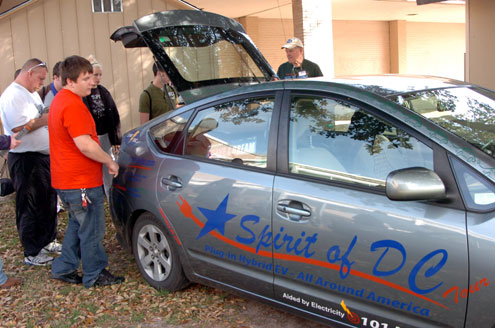 The vehicle that is making believers at every stop along the tour is The Spirit of DC, a sporty plug-in hybrid electric vehicle that Asher modified by installing a second, larger battery pack and a plug outlet that lets this vehicle charge the added battery pack with household electricity. This well-traveled plug-in hybrid electric vehicle can run on electricity alone for the first 10 miles before reverting back to performing like a typical hybrid.
The cost? Adding this secondary battery pack costs approximately $5,000. A lithium battery kit has weight and energy storage advantages, but costs about twice as much. But while Asher shows how simple it was to add the plug and secondary battery pack, plug-in hybrid vehicles are not available yet from major automakers.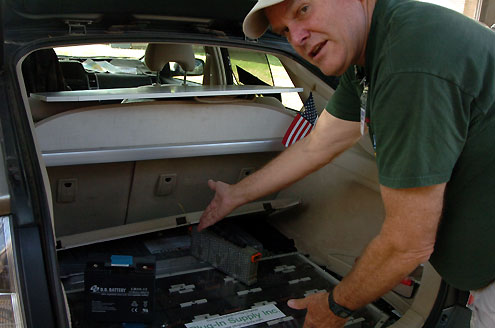 Jerry Asher shows how simple it was to add the second battery pack.
He says consumers have to tell car dealers, "No plug, no deal."
"This is the future," Asher tells students as they gather around The Spirit of DC. "This is the car that can recharge America."
The PHEV3A mission is to educate America one town (or, in this case, one school) at a time about the path to energy independence by moving away from imported oil to using home grown electrons, preferably from renewable energy sources like solar, wind and hydro-power.
Listening to his presentation at Bonham High School on Friday, you got the feeling that Mr. Asher truly hopes, for the good of generations that will inherit the planet and environment we leave behind, that we are living at the end of the ice age.
More precisely, Asher hopes the I.C.E. (internal combustion engine) age can wash into the S.E.A (Solar and Electric Era).
If Asher's vision is accurate, middle-aged adults will one day tell their grandchildren what life was like when people carried bulky checkbooks instead of debit cards and powered their vehicles with fossil fuels.
He even has a pretty good idea how those grandchildren will react.
"Dad...you mean you burned oil in your car?" Asher predicts with a laugh.
Before you think this scenario far-fetched, please understand that Bonham High School students, under the tutelage of instructor Clint Minnick have already converted a Mazda pick-up into an electric vehicle that is in use now by the school district. Bonham ISD technology computer analyst/technician Mike Barkley shared his ample expertise in electric conversions with Mr. Minnick before the work began.
Plano ISD has a similar project in the works; Richardson ISD plans to launch their electric vehicle project next year.
But the vehicle built by Bonham ISD students is already cruising along at 55mph and has a range of at least 30 miles. Bonham High School even has a chance to be the first high school in the nation to become a charter chapter of the Electric Vehicle Association.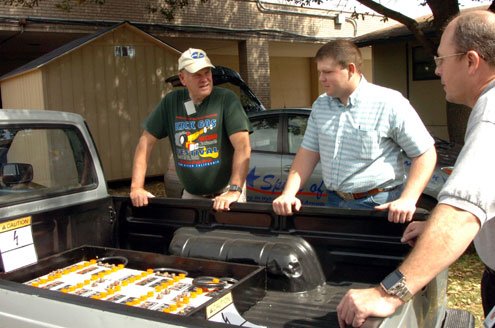 (l-r) Jerry Asher, Clint Minnick and Mike Barkley
To see the impressive Bonham High School EV Project, visit: www.shrunkin.com/ev and click on the link to the photo archive; there you will see the EV conversion as it progresses. The last page of photos are always the newest photos.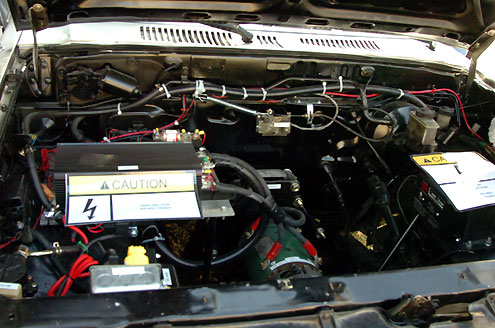 BHS students should be very proud of the professional look of their electric conversion
And now BHS students are fascinated by the prospect of building a solar-powered tractor. Oddly enough, a tractor would make the prefect conversion project. After all, the added battery weight is necessary for traction, the engine compartment is extremely accessable and the roof of the tractor would hold the solar panels.
To learn more about the "Spirit of DC" tour, visit www.spiritofdc.com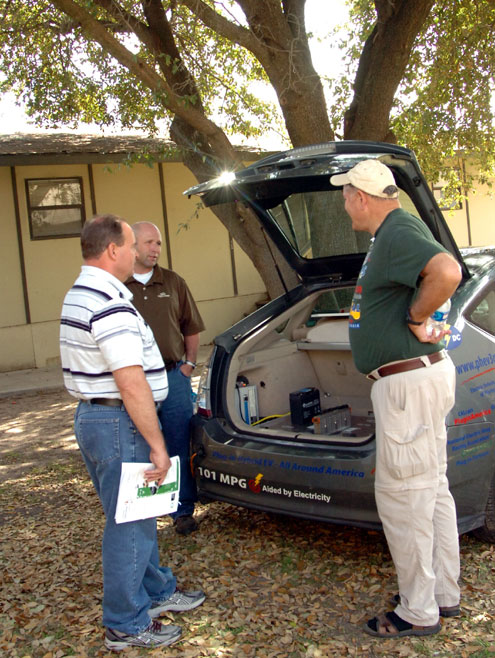 (l-r) BISD Superintendent Sonny Cruse, BHS Assistant Principal Brian Bymaster and Jerry Asher
This is an educational tour sponsored by the Electric Vehicle Association of Washington, DC and the chapters of the Electric Auto Association and is
free
to schools and other groups who wish to learn about Plug-in Hybrids.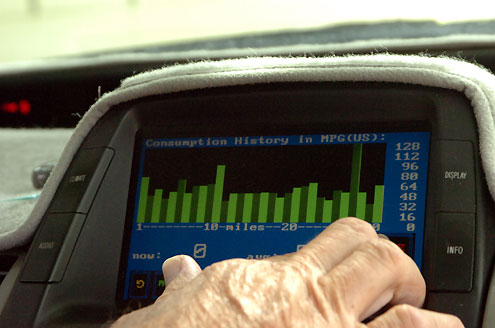 Jerry Asher shows one of the computer readout screens in the vehicle.
If you want EVJerry and the Spirit of DC to visit your school, use the contact information below. This informative tour is free to schools and other groups who wish to learn about plug-in hybrid vehicles.
Contact:
Joseph Lado,
PHEV3A Co-chair
http://www.spiritofdc.com/
joelado@yahoo.com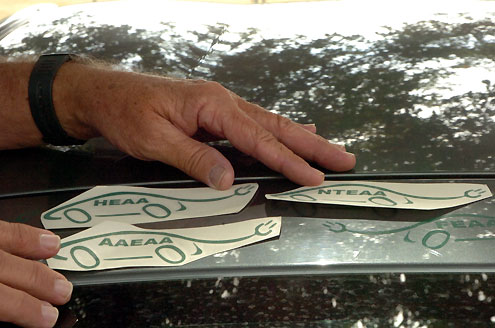 With ever stop at electric vehicle associations, Mr. Asher earns another decal for The Spirit of DC.
Plug-in Hybrid Electric Vehicle All Around America Tour
Monday, 9 February, Costa Mesa, CA area
Tuesday, 10 February, San Diego, CA
Thursday, 12 February, Yuma, AZ
Saturday, 14 February, Flagstaff, AZ
Sunday, 15 February, Phoenix, AZ
Monday, 16 February, Tucson, AZ
Tuesday, 17 February, Bisbee, AZ
Friday, 20 February, Tucson, AZ
Sunday, 22 February, Bisbee, AZ
Wednesday, 25 February, Columbus, NM
Thursday, 26 February, El Paso, TX
Saturday, 28 February, Albuquerque, NM
Sunday, 1 March, Santa Fe, NM
Wednesday, 4 March, Amarillo, TX
Thursday, 5 March, Oklahoma, OK
Friday, 6 March, Bonham, TX
Sunday, 8 March, Dallas, TX
Wednesday, 11 March, Austin, TX
Thursday, 12 March, San Antonio/Alamo, TX
Friday, 13 March, Houston, TX
Sunday, 15 March, Baton Rouge, LA
Monday, 16 March, New Orleans, LA
Thursday, 19 March, Jackson, MS
Friday, 20 March, Little Rock, AR
Saturday, 21 March, Memphis, TN
Sunday, 22 March, Nashville, TN
Wednesday, 25 March, Knoxville, TN
Thursday, 26 March, Chattanooga, TN
Friday, 27 March, Atlanta, GA
Saturday, 28 March, Montgomery, AL
Sunday, 29 March, Tallahassee, FL
Tuesday, 31 March, Tampa, FL
Wednesday, 15 April, Sanford, FL
Thursday, 16 April, Lorton, VA
On Friday, April 17 in Washington, D.C., the "Spirit of DC" will be featured at the EPA 5th Annual National Sustainable Design EXPO on the National Mall in front of the Capitol.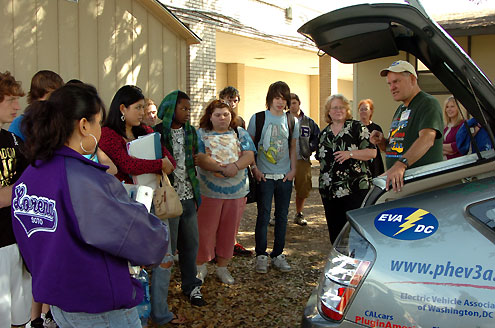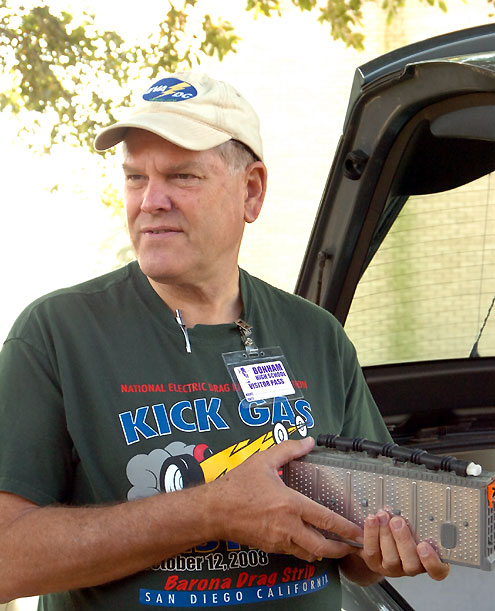 Jerry Asher demonstrates how light the nickel batteries are.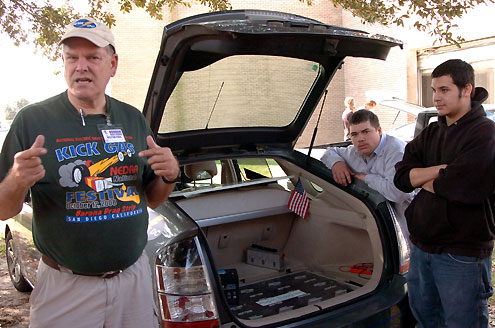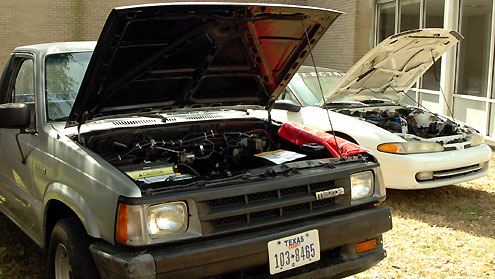 BHS students converted this pick-up to an electric vehicle. To the right is Mike Barkley's first electric conversion.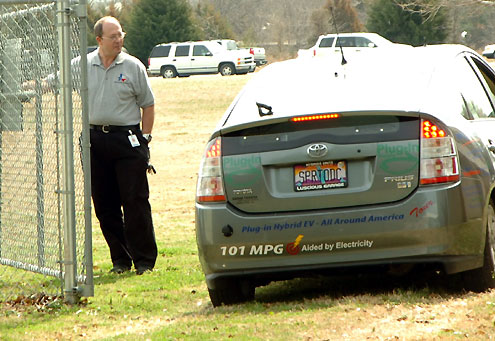 On the road again. Mike Barkley opens the gate and thanks Jerry Asher for a very informative presentation.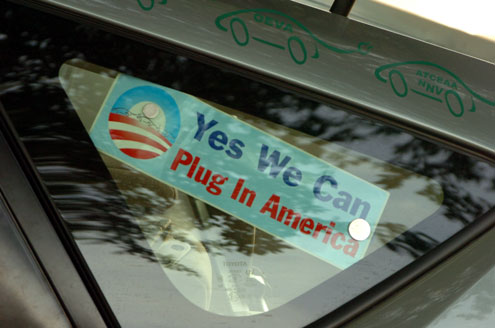 Previous article on BHS electric conversion program: http://www.ntxe-news.com/artman/publish/article_51476.shtml