Imagine being inventive enough to replace that gas-guzzling engine you've got under the hood with an electric motor that will run for the next 20 years or one million miles. That is exactly what Clint Minnick's students are doing at Bonham High School.
If the conversion seems a bit intimidating, consider the advice Bonham ISD technology computer analyst/technician Mike Barkley gave to the class of VoAg teacher Clint Minnick before the work began.
"This isn't rocket science," Barkley explained. "In fact, we are replacing a gas engine that has about 200 moving parts with an electric motor that only has one moving part."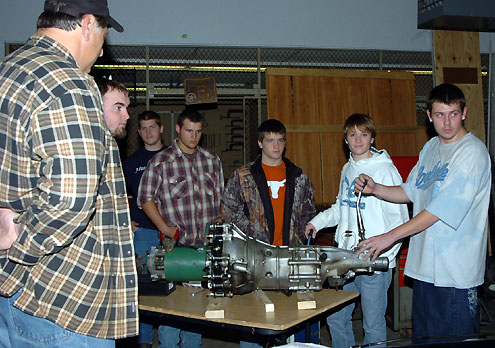 Mr. Minnick's class show Phil Pozderac the electric motor and transmission they have ready to install in their electric vehicle.
If recent auto shows are a true indicator, the entire automotive industry seems to be undergoing this same conversion. So how did the Bonham High School ag class become involved in this timely project months ago? Much of the credit should go to Barkley for having the vision to understand electric motors, coupled with solar panels and wind generators, are the most practical long-term answer to energy and environmental issues.
Still, none of this could have taken place without an amazing display of resourcefulness. With the support of the school district and donations from a variety of sources, Barkley began piecing together his four-wheel puzzle.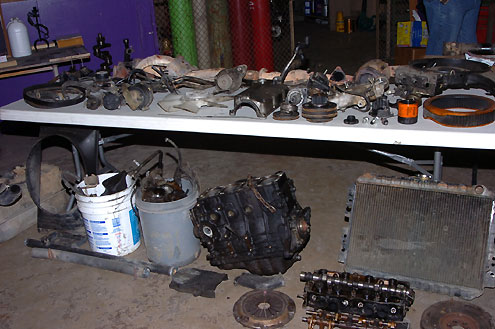 Removing the gas engine, part by part, was also a valuable learning experience. This is the disassembled gas engine that came out of the Mazda pick-up.
Bonham Chrysler provided a Mazda B2200 pick-up for the sum of $1 and Bill's Auto Body of Bonham towed the vehicle to Bonham High School.
Daubitz A/C & Heating of Midlothian, Texas donated the electric motor and 22 nickel cadmium batteries needed for the project were a genorous gift from Georgia Tech University.
Mr. Minnick's class had a little extra help this week when retired Dallas Cowboy Phil Pozderac and another proponent of electric vehicles, Daryl Zermick, stopped by to talk shop. Pozderik and Zermick are in the midst of a very similar project own. The two entrepeneurs are converting a 1995 BMW 318IC into an electric vehicle and they are considering opening an automotive shop that specializes in total electric conversions as well as turning typical gas-powered vehicles into hybrids.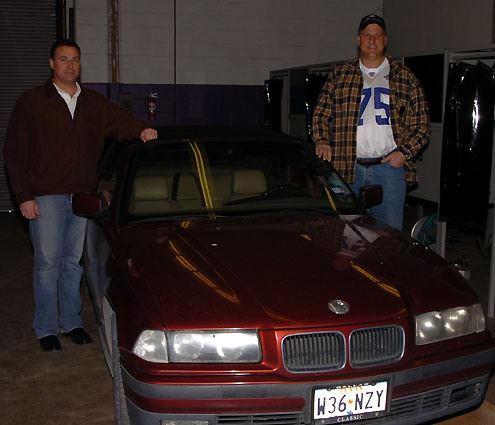 Daryl Zermick (left) and retired Dallas Cowboy Phil Pozderac stand beside the 1995 BMW318IC that is also being converted into an electric vehicle. Pozderac predicts the electric motor's low-torque capabilities will translated into three or four times as much power to propel the vehicle up to highway speed.
In addition to his knowledge and experience regarding electric vehicles, Pozderac captivated the class with a wry sense of humor. When the retired Dallas Cowboy questioned a particular wiring set-up, students explained the alteration had to be made because when they first hooked up the electric motor to their power source, they were surprised to find out they had five gears in reverse and only one gear that propelled the vehicle forward. Pozderac admitted that would be one solution, although he suggested a switch could have also solved the problem. Then, he joked you could always just turn the driver's seat around backwards or at least install a large rear-view mirror.
Barkley, Pozderac and Zermick all belong to the North Texas Electric Auto Association (www.NTEAA.org). In fact, Barkley is vice president of the organization and he installed a hydrogen boost system on his PT Cruiser that increased the vehicle's gas mileage from approximately 15 mpg to 30 mpg.
Under Barkley's guidance, this electric conversion project has Bonham High School on the forefront of this fascinating advance in technology. While Plano ISD is considering a similar project, Minnick's class has already removed the old gas engine, installed batteries and prepared the Mazda pick-up for its new electric motor. On the East Coast and West Coast, high schools have taken this idea to the next level and regional competitions are commonplace.
The paradox is that, while this seems like such a recent innovation, the first automobiles were actually powered by electricity. The major drawback then remains the major drawback now--finding a practical and efficient way to store energy. But advances in batteries have made statistics that once seemed out of reach a reality.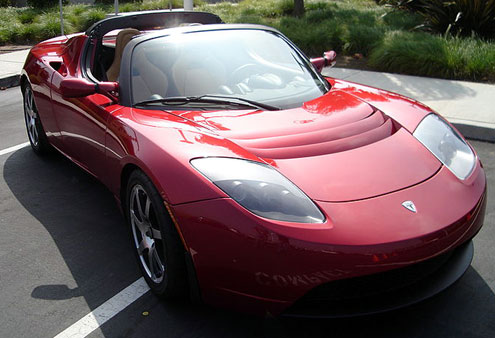 For example, by utilizing lithium-ion batteries, the Tesla Roadster can go up to 220 miles between charges and the vehicle is capable of going from 0-60 in under four seconds.
Not only has this been an excellent hands-on learning experience for the students in Mr. Minnick's class, but Bonham IndependentSchool District may very well reap benefits from this project for years to come. The vehicle will be utilized by the Bonham ISD technology department.
Once the conversion is complete, students plan the give the vehicle a colorful NASCAR-type paint job that promotes the sponsors that made this project possible. O'Reily Auto Supply has already donated the paint and now the class is trying to line up someone with experience in bodywork to help them prepare the vehicle for the paint job. A professional paint shop will also be needed to apply the donated paint.
Below is a list of parts and expertise the students will need to complete the conversion and renovation. Anyone that would like to be a part of this fascinating project should contact Mike Barkley at mike.barkley@bonhamisd.org.
Still needed:
1. Welding Cable, size 2/0 - 30ft = Used as wiring from the battery pack to the electric motor.
2. 20ea - Connector Lugs for 2/0 welding cable, with 5/16" holes.
3. Bench Seat Upholstered, and floor carpet.
4. Experienced help, to train students on preparing a vehicle for repainting. IE: Body Repair.
5. Professional painter for the vehicle, with paint that has already been donated by O'Reily Auto Supply.
6. Pickup bed toneau cover - protection for the battery pack.
7. 2 each: 6-volt golf cart batteries, used to power the 12volt electrical system. IE: Lights, Heater, Air Conditioning, etc.
8. Decals of all the sponsors, for application to the pickup once painted, to resemble a NASCAR truck.
9. Emergency Cutout Switch - turns off main power in the event of an emergency

Ultimate goal after the EV is complete:

1. Solar Panels to help recharge the pickup with truly green power.
2. Wind Generator to help recharge the pickup with truly green power.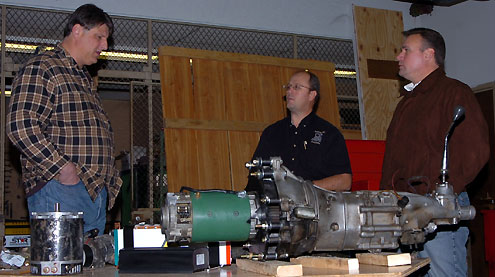 (l-r) Phil Pozderac, Mike Barkley and Daryl Zermick