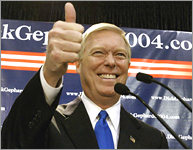 The bio page on his website is titled 'A Man of Principle'. He has been in the House of Representatives since 1977. He has seen Presidents come, and Presidents go. In 1988, he was a candidate for President. In 2003, he is completing the political life cycle. He has been conservative, populist, a liberal, and now, moderate, not necessarily in that order. One can say that Dick Gephardt has been there, and had the opportunity to do that with respect to every national issue for more than a quarter century. Dick Gephardt is a career politician.

Born Richard Andrew Gephardt, on January 31, 1941, he is now, 62. He was raised by his working class parents in south St. Louis, Missouri, the city he has called 'home' all his life. Gephardt graduated from the University of Michigan Law School in 1965. He married Jane Byrnes in 1966. They have three adult children.

Their son, Matt, was diagnosed with cancer at age two. Gephardt is, to this day, thankful for the good health insurance coverage he had that allowed him to get quality care for his son, and from that experience, has continued to be an advocate for health insurance for all Americans.

Conflicting reports state that he immediately began a private practice in Missouri following his graduation from law school, joined the firm Thompson & Mitchell and chaired the Young Lawyer's Section of the Bar Association of Metro St. Louis, to joining the National Guard in '65, and working for the Judge Advocate in the 131st Combat Support Squadron in St Louis. It is possible that he did all of these things. However, biographies are many, and they flex with the changing times.

1971 saw a beginning in his political career when he was elected an Alderman in St. Louis (Precinct Captain of the 14th Ward), a post that he held twice, at which time he was the leader of a group of aggressive young reformers known as the "Young Turks," who strived to implement bold policies to revive the city. He has been the Democratic US Representative of Missouri since 1977, winning the open seat handily, and was the House Leader from 1989 through 2002, when Nancy Pelosi took the post after he stepped down. The 1994 elections brought a new regime to Washington. Through four failed attempts to recapture the majority in the House, Gephardt was assigned and took on the task of rooting out the Republicans that had not had an opportunity to control since Eisenhower.

His most memorable drives on issues are the 1993 Clinton economic plan success in the House, raising of the minimum wage, and the securing of labor and environmental regulations in trade agreements. But, if you look closely, there are many outstanding positions marked in the career of Representative Gephardt.

He is a faithful member of the Democratic Party. He is cast as a populist that is a derivative of the working class, shares the same since of values, and believes in community deep roots. It has been said that to this day, Dick Gephardt will walk his district talking to the constituents, door-to-door.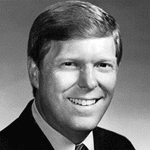 During his first term, he was tapped for a position on the Ways and Means and Budget Committees, which was a monumental accomplishment for a Freshman Representative. He rose through the ranks and eventually became the Chairman of the House Democratic Caucus in 1984. He was the first to announce his candidacy for president for the 1988 elections, but was forced to withdraw due to a lack of funds before the 'Super Tuesday' primaries. During that run for office, his campaign received an unsecured $125,000 loan from the Federal City Bank, Washington, D.C., founded by "Democratic Party stalwarts", who drew on a client base of political connections. It was an unusual event, but Terry McAuliffe, the current Democratic National Committee Chairman, was part of both ends of the deal for the loan. McAuliffe sat on the board of the financial institution and was Gephardt's finance director at the time.

It has been written that the Democratic Party is a bit afraid of Howard Dean, who has become a formidable opponent in this race. Gephardt is touted as a 'New Deal' Democrat, and though his record for many years was read as liberal, his pallor seems to be moderate in this event. Then again, there are issues of concern in the area of finances for Mr. Gephardt. There are five top contending Democrats in this race, and of the five, Gephardt's contributions ranked fifth as of the end of July, ending the second quarter of this year. In August, his campaign received a letter that his report did not balance and was approximately $100,000 from reconcile. Given until September 11th to amend the filing, the Gephardt financial staff submitted an amendment that is available on-line and is evaluated to be 1706 pages in length. The outcome of the review of the amended filing was not yet available at this writing.

In recent days, Mr. Gephardt has taken to Dean bashing. Though it goes against his stand on the 'politics of personal destruction', he has continued to wail away at his party populars. Apparently serving the Party interests instead of continuing to deliver his message, the crator begins to deepen. The Republican National Committee reports on their website, that Mr. Gephardt has been absent from three weeks of voting in the House as of March 7th, but those kind of allegations have not been hurled his way. In fact, little if anything, has been said against Gephardt by his fellow Democrats, to date.

Now serving his 14th term as the US Representative from the 3rd District of Missouri, Gephardt has said that this will be his last. He announced his candidacy in January, 2003, and has been considered a top contender. His political ties and network span the nation, and those include key contacts in primary states. His long run and National recognition should give him an edge over the freshman contenders. He was recently endorsed by the International Brotherhood of Teamsters, Jim Hoffa General President.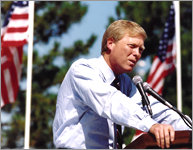 Richard Andrew Gephardt is a dedicated Democrat who champions the causes of the impoverished and oppressed, the sick and the elderly, and has a remarkable talent for flexibility in strategy. He has counseled with world leaders, been a staunch supporter of HIV/AIDS issues for Africa, and continually strives to keep the assurance of Medicare and Social Security benefits on the front burner. But, first, Dick Gephardt is loyal to the Party.

"Opportunity, responsibility, and community isn't just a slogan, it defines who we are as a party," said Gephardt.

Copyright 2003 by DS Gands, ALL RIGHTS RESERVED D.S. Gands is a freelance writer living in North Texas. The opinions of this article do not necessarily reflect the perspectives of this publication. If you would like to see this or other articles by D.S. Gands appear in your favorite publication, ask the editor to contact editor@ntxe-news.com regarding available reprint or syndication rights.