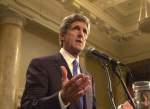 He has lived a life of privilege, and dreamed of being President of the United States since childhood. John Forbes Kerry was viewed as a threat by Richard Nixon and is an accepted member of the elite in Massachusetts and certain circles. He once dated Jackie Kennedy's half-sister, and he sailed on a boat with President Kennedy in the summer of '62. Fifteen months later, he got word that Kennedy had been shot. It riveted his direction.

Raised Catholic, he only recently learned that his paternal grandfather, Fritz Kohn, was of Czech Jewish decent. To escape the wrath of Nazi Germany, Fritz Kohn and his wife chose a new name, converted to Catholicism, and came to the United States. He became Fredrick Kerry and was reasonably successful in the United States, but at some point must have become overwhelmed and took his own life.

John Kerry apparently had known for several years that his paternal grandmother was Jewish, and from the Austrian Empire. His mother's ancestry includes the Forbes'. His life has been filled with blessings bestowed by a doting aunt who financed his early education, and, eventually, with drama, pain, and sharp challenges. He is a decorated Viet Nam war Navy boat Captain and an ardent supporter of United States Veterans.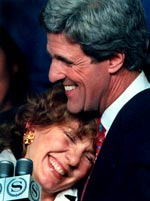 Married to two darlings of the elite, his current wife, Teresa Heinz Kerry, serves on many boards including Environmental Defense, the Alliance to End Childhood Lead Poisoning and the Advisory Council for the Center for Children's Health and the Environment at Mount Sinai School of Medicine. Teresa Kerry is a trustee of the Brookings Institution and sits on the Visiting Committee for the Kennedy School. She, also, is in the committee of the school-wide environmental committee for Harvard University, serves on the board of the American Institute for Public Service (Jefferson Awards), and is a fellow for the American Academy of Arts and Sciences.

Born and raised in Mozambique, Mrs. Kerry earned a Bachelor of Arts degree in romance languages and literature from the University of the Witwatersrand in Johannesburg, South Africa. Additionally, she graduated from the Interpreters School of the University of Geneva. Formerly Teresa Simões-Ferreira, she is married to Kerry and has three sons. Of course, we all know she is the chairman of The Heinz Endowments and the Heinz Family Philanthropies.

John Kerry has never really had roots, until now. In reading his most recent biography, you come to know him as the educated, elegant transient, who follows, like a shadow, the paths and life of John Fitzgerald Kennedy. He has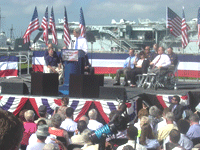 been campaigning for approximately a year for the 2004 Presidential elections, and until recently, has been slipping in the polls. Last week, in the CNN/TIME Poll of Democrats, Kerry took an announcement bounce and came out on top, ahead of Lieberman and Dean. A simultaneous report showed another CNN/TIME Poll in which 41% of voters polled were against electing Bush with another 25% undecided. Kerry and others may have the opportunity to move ahead in the minds of the American people.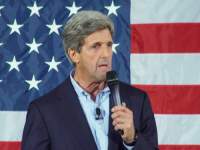 There isn't really much else that can be written about John Kerry that has not already been picked to pieces or available at every turn in the press or his website. He has, however, had a furious and obviously tiring campaign schedule this year. He is 59 years of age and a fixture in Washington as a United States Senator. There is an edginess about him, and he does not seem to be a great orator, if you partake of the speeches given in his campaign. That spark, that enthusiastic energy, that excitement and thrill of running for the office of President of the United States just does not seem to come through. He's got that Harley thing happening on the banner of his website, but it is difficult to find that vein in him. He doesn't appear to be a hard charging rebel.

John Kerry just 'fits' as a Massachusetts Senator. One of those lifers. He sounds like them and looks like one. He has that distinguished and eloquent thing happening. One reporter wrote recently about listening to John Kerry speak '…audiences always have to wade through to get at whatever it is Kerry is trying to say: Nuggets of nothing, wrapped in pretentious rhetoric, compounded by the pretense of plain speaking.'

However, a couple of quotes from this past week seem to stir a bit of hope about the quiet, thin man from Massachusetts. In his announcement speech he directly labeled Bush 'radical' and said:

"I reject George Bush's radical new vision of a government that comforts the comfortable at the expense of ordinary Americans, that lets corporations do as they please, that turns its back on the very alliances we helped create and the very principles that have made our nation a model to the world for over two centuries. An economic policy of lost opportunity and lost hopes is wrong for America. An international policy where we stand almost alone is wrong for America.

"George Bush's vision does not live up to the America I enlisted in the Navy to defend, the America I have fought for in the Senate -- and the America that I hope to lead as President."

He followed that opening, three days later with a tougher analogy:

"Five thousand years ago, Moses said "Hitch up your camel, pick up your shovel, mount your ass and I will lead you to the promised land."

"Five thousand years later, Franklin Roosevelt said "Light up a camel, lay down your shovel, sit on your ass. This is the promised land!"

"Today, George Bush will lay off your camel, tax your shovel, kick your ass and tell you there is no promised land."

Now, that's a Harley kinda guy, but I think it has already been used by another candidate in recent years.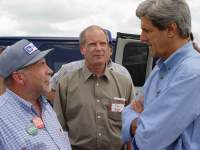 Kerry has said that he had walked and talked with the people on the street. People that had sold their homes, sold their cars, and live in trailers, like living in a trailer was a punishment rendered by the middle class. In a great deal of America, people have lost their homes and cars and are living in the spare room of someone else's trailer, these days. Someone should probably tell John Kerry that a lot of decent, hard-working, middle class folks live in trailers in America, and it wouldn't hurt to consider them if he is looking to champion the causes of those other than the wealthy, as he has said.

One of the last comments in Kerry's Announcement Speech was something has pretty much been the founding truth of this nation from her beginning. The Senator said: "I believe the courage of Americans can change this country."

There's a great deal of information on his website for all to view and consider. It's worth a look if you are shopping Democrats. It's worth a look, even if you aren't.
---
Photos Courtesy of johnkerry2004.com Photo Gallery
---
Copyright 2003 by DS Gands, ALL RIGHTS RESERVED - D.S. Gands is a freelance writer living in North Texas. The opinions of this article do not necessarily reflect the perspectives of this publication. If you would like to see this or other articles by D.S. Gands appear in your favorite publication, ask the editor to contact editor@ntxe-news.com regarding available reprint or syndication rights.