Located 'On the Square' in Sherman, Texas, one can span the four sides and count upwards of seventeen or more attorney offices. The one on the northeast corner is the Dispute Resolution Center at 101 South Travis Street in Sherman, Texas.
Opening just this year, Addison and Nancy Terry had a vision to bring alternative dispute resolution to the North Texas region, and offer an alternative to lengthy and costly litigation.
The Dispute Resolution Center offers a neutral site for conducting mediations, settlement conferences, and other alternative dispute resolution services. The facilities are open to all mediators, arbitrators, and dispute resolution neutrals.
The concept of dispute resolution offered by the center is based on affordable and equitable services provided by certified, qualified professionals who maintain their credentials through ongoing education.
The Dispute Resolution Center is designed to consistently deliver a valid product of alternative dispute resolution outcomes that will enhance the overall North Texas and Southern Oklahoma demography and their related communities.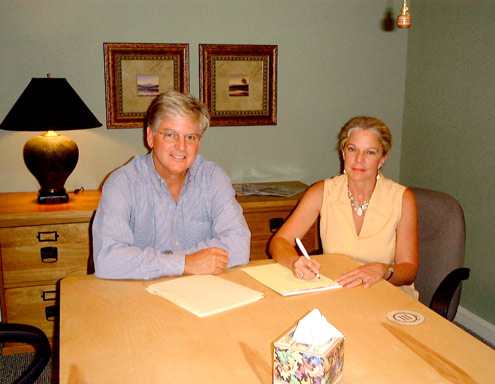 Addison and Nancy Terry
What exactly is mediation? Mediation is a process in which a trained, impartial person - a mediator - helps people look at their mutual problems, identify and consider options, and determine if they can agree on a solution.
The process is strictly confidential.
A mediator has no authority to decide what is right or force anyone into anything.
Successful mediation always results from the cooperation and participation of all parties.
Once an agreement is reached, the mediator makes sure that the agreement is written and signed by all parties.
If an agreement is not reached, the matter is closed and all parties are advised that they are free to pursue their other legal remedies.
Over 80% of all mediations are successful.
Mr. Terry says, "Virtually any type of disagreement can be resolved through the mediation process. However, the only people who have the ability to resolve a conflict are the parties themselves.
The role of a mediator is that of guide and facilitator, getting to the roots of the conflict and looking for answers that work for everyone. If all parties can accept responsibility for their part in any given situation, they can work together to find a solution that respects the dignity of each person."
Some examples of disputes that can be resolved through mediation are: divorce and child custody issues; disputes among families regarding the care of the elderly and infirmed; disputes over the division of estates; landlord tenant controversies; in the educational environment, disputes between students, between students and faculty or among faculty and school administration; intergovernmental agency disputes, employment disputes, sexual harassment and discrimination claims; homeowners association disputes and any other dispute among neighbors that is not appropriate for the courts.
Addison and Nancy Terry have combined remarkable individual journeys in education and experience to join in a truly focused partnership dedicated to success for their clients in the field of dispute resolution.
Mr. Terry graduated from the University of Oklahoma with a degree in business and a law degree from the University of Tulsa.
What he brings to the mediation table are twenty-nine years of legal experience, eleven of which were served as General Counsel of Vernon Savings and Loan Association and as Vice President Counsel of Fannie Mae giving him a very broad business and management perspective.
Mrs. Terry, who graduated from Ohio State University with a degree in psychology, brings twenty-three years of experience as a communications specialist working with and advocating for families in crisis.
Collectively, they have successfully resolved disputes over real estate, construction, personal injury, employment and family law issues.
Mr. Terry has arbitrated construction issues and umpired insurance claims, as well.
Mediation is often referred by the courts. Many times the court will determine
that the parties, or the dispute, may be better served by mediation, and that resolution can be achieved by this process.
Family Law courts are so overburdened in North Texas that the mediation/arbitration process is a welcomed relief to the dockets, and a reasonable alternative for parties.
Generally, since mediation is often extremely successful in resolving issues and attaining agreement, the cost of a dispute becomes less burdensome for the parties.
The opportunity for a dignified and reasonable solution period for a suit or a dispute allows for the parties to alleviate stress over the process, conclude the matter, and move forward, often times with a positive perspective.
Unlike in a court setting, particularly in a trial, the parties have the opportunity to discuss and share viewpoints and perspectives to compromise in a mediation setting.
The actual effect of being allowed the time to compromise and accept what is clarified can give the parties the opportunity to function with an improved perspective following the settlement of their situation or suit.
In Family Law cases, mediated cases have proved to produce an atmosphere of understanding between parents that is often not achieved by the adversarial court process.
Separate negotiations with the parties working through their attorneys with the mediator offering proposals from each party to the other is also a consideration, when the parties elect to have separate and private consultations apart from the other, but the result is essentially the same - Agreement without the stress and strain of a trial or adversarial experience.
Mediation is a civil and dignified way to resolve any dispute. The Dispute Resolution Center is a welcomed and needed service to the North Texas area.
Open Monday through Friday from 8:30am to 5pm, in Sherman, Texas, with flexible hours available upon request.
The immediate service areas for the DRC include Grayson, Fannin, Cooke, and Collin counties, in this region, and Bryan County in Southern Oklahoma, however, these services are available to any party contracting with them anywhere in Texas or Oklahoma.
You may call them at (903)957-0295, facsimile to (903)95-0257 or e-mail Mr. Terry at addison@theDRC101.net.
---
(c) 2003 by S.M. Starkey - All Rights Reserved
Photo by S.M. Starkey
---