COMMERCE, Texas -- On Saturday, Aug. 9, Texas A&M University-Commerce summer graduates will receive their diplomas.

Approximately 450 graduates wearing caps and gowns will walk on stage in the University Auditorium to be awarded their diplomas from A&M-Commerce President Keith McFarland.

There will be the pomp and circumstance and snapping of photos by family members to mark the occasion.

But what was graduation like 100 years ago at East Texas Normal College (ETNC), from which A&M-Commerce traces its roots? In that Class of 1903 with its 13 graduates was Sam Rayburn, who went on to a career in politics and is recognized as the university's Most Distinguished Graduate.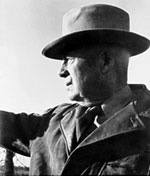 After graduating, Rayburn of Bonham ran for a seat in the Texas House of Representatives and, at the age of 29, became the youngest person to be chosen Speaker of the House. After six years in Austin and passing the State Bar exam, he was elected to Congress and served in the U.S. House of Representatives from March 4, 1913 until his death in 1961.

Rayburn, who held the powerful position of Speaker of the House for approximately 17 years during his long career in Washington, D.C., earned his bachelor of science degree from ETNC on July 29, 1903.

In the 1903 class graduation photo, Rayburn is standing in the back. The story has been told that Rayburn was on the back because he was "concerned about his well-worn suit," said Dr. Patrick Cox, director of the Sam Rayburn Library located in Bonham.

Son of a farmer, Rayburn like many in the early 1900s had to work and save to pay the $4 per month for college tuition and $8 per month for room and board at ETNC. "Better than half the population in northeast Texas were tenant farmers and they were going to be lucky if they had $8, $10 or $20 in extra spending money in a whole year and that's the kind of background Sam Rayburn came from," Cox noted in a speech at the end of the spring semester to the Phi Alpha Delta Pre-Law Chapter at A&M-Commerce.

To graduate with a college diploma is an achievement, but particularly in 1903 when many young people in rural northeast Texas did not have the opportunity to gain an education.

Professor William L. Mayo, founder and president of ETNC, evidently wanted to make graduation a special occasion with activities taking place over a two or three-day period, according to Dr. Jim Conrad, A&M-Commerce archivist.

One graduation was held each year at ETNC, also referred to as Mayo College, at the end of July since students were required to complete the summer term. Today, A&M-Commerce holds graduation ceremonies three times a year.

In the early years at ETNC, each graduate delivered a commencement address in one of a series of special public gatherings before the awarding of diplomas, writes Dr. Ralph Goodwin, A&M-Commerce Professor Emeritus of History in an unpublished manuscript on the university.

Rayburn, who went by his initials "S.T." while in college, gave his speech on "Shakespeare -- The Man." He had played Brutus in a college production of "Julius Caesar," Goodwin states.

Rayburn would recall this acting role more than 50 years later during a press conference on Jan. 29, 1958, according to Goodwin in his research on the history of A&M-Commerce.

Mayo thought it important each graduate be given the opportunity to speak and be in the spotlight at the graduation activities, Goodwin said. Later, as graduation classes became larger, several students were selected to give graduation speeches.

The Commerce Journal highlighted ETNC graduation in 1901 with an account of the activities. On Saturday night in the college auditorium, a program of speeches and music ended with a debate by the college's Philomathean Literary Society and two Commerce attorneys, G.O. Green and William B. Hamilton, on the question, "Resolved, that England has contributed more to modern civilization than has America."

On Sunday morning, a baccalaureate sermon was given by a former faculty member who was ministering a church in Paris.

On Monday morning and evening, students gave their graduation speeches. On Tuesday morning, graduation photos were taken and more students gave speeches followed by the conferring of diplomas by Mayo.

In the evening after the graduation ceremony, the annual meeting and dinner of the Alumnal (now referred to as Alumni) Association took place. Several years after his 1903 graduation, Rayburn served as association president.

It is interesting to note that the 1903 ETNC graduation class included four women who are wearing long white, lacy dresses in the graduation photo. That women were being educated in the early 1900s at ETNC was significant, Cox said.

However, it was not unusual at that time for women to be attending private schools like ETNC, according to Conrad who pointed out that the college in Commerce trained many teachers and teaching was an acceptable career for women.

Also, there were numerous private schools in that era and they were interested in increasing their enrollments and admitting women was an important way to do this, Conrad noted.

However, in the early 1900s, the Ivy League schools did not admit women and neither did the Lone Star State's Texas A&M in College Station, he added.

Faculty members at ETNC included a few women, namely the president's wife, Etta Booth Mayo, who taught music and gave private music lessons.

Mrs. Mayo's interest in the arts is well known in Commerce and at the university. She wanted the ETNC student body to be exposed to the finer things in life, especially music, and invited musicians and singers to give concerts on campus.

While ETNC emphasized teacher education, the college had a broad curriculum that included the sciences and laboratory work as well as mathematics, debate, business, economics, social studies, history, literature, Greek, and Latin.

As an ETNC student, Rayburn was especially interested in history and biography. He participated in the Oratorical Association and the Philomathean Literary Society. These student organizations served a serious purpose promoting public speaking and literature, but also gave the students opportunities to socialize, Conrad said.

Rayburn found the classes taught by Professor William Mayo challenging.

Dr. William E. Sawyer in his "History of East Texas State University" quotes Rayburn as saying, "'We students had to keep on our toes in Professor Mayo's classes. He encouraged class discussion and debate.'"

Having the money required to go to college meant most students, including Rayburn, had jobs on campus or in Commerce, which is not that different from today. The Bonham area student received $25 from his father to use in attending ETNC when he boarded the train in Ladonia to make that first trip to Commerce.

For spending money, Rayburn rang the school bell to signal the end of classes and swept out Commerce public school buildings. He earned $3 a month with these jobs, Sawyer writes.

Before completing his bachelor of science degree, then a three-year program, Rayburn left ETNC to earn money by teaching public school at Greenwood in Hopkins County. At that time, a college degree was not required to teach in the public schools.

While teaching, Rayburn roomed at a farm house near Cumby that was bought by Clarence and Thelma Lytle in 1939 and is now owned by the Lytles' daughter, Beverly, and her husband, Jack Pirkey.

The Lytles have been told that the family who owned the house agreed to let Rayburn have a room there while their son, who went to Bonham to work, stayed with Rayburn's family in Fannin County.

After earning some money, Rayburn returned to college and continued his studies.

The ETNC students incurred costs with graduation as do students today. For those receiving a bachelor of science degree, a diploma cost $5. Rayburn's diploma, much larger than today's diplomas, can be found at the Rayburn Library.

As a graduate of ETNC, Rayburn maintained his ties to the college.

The Mayos and other faculty invited numerous speakers to come to campus and, in 1904, several graduates, including Rayburn, returned to hear a humorist, Goodwin found in his research. The next year ETNC students heard "saloon smasher" Carrie Nation who had been invited by Mrs. Mayo to speak.

Also graduates, including Rayburn, returned to speak at the college's Chapel Service, which began the school day. Chapel had some religious overtones, but the 8 a.m. meetings focused primarily on character building and positive messages that the rural student body could excel in school and make contributions to the world in which they lived, according to Conrad.

Attendance at chapel was not mandatory, but most students attended because they enjoyed hearing Professor Mayo speak and they could find out the news of the campus, he noted.

Rayburn, like many graduates, thought highly of William L. Mayo and gave the last eulogy at the educator's funeral in 1917.

Through the years, Rayburn continued to show an interest in his alma mater and just a year before his death in 1961, he wrote: "If it hadn't been for Mayo's college, his credit system and his inspiration, I don't know where I'd be today. Professor Mayo instilled in me the importance of a man's having an objective in life, of the need to have a
program and to bend every energy to it."