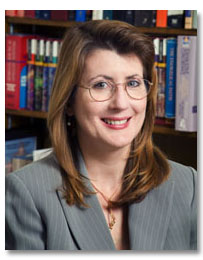 SHERMAN, TEXAS — Cynthia Rigby, W.C. Brown Professor of Theology at Austin Presbyterian Theology Seminary, will present Austin College's Cunningham Lectures November 13-15.

Rigby's lecture series, "A Theology of Play," will include lectures Thursday, November 13, at 11 a.m. in Wright Campus Center Room 231, "A Theology of Play;" Friday, November 14, at 7:30 p.m. in Wynne Chapel, "Imagining the Kingdom;" and Saturday, November 15, at 10 a.m. in Wynne Chapel, "On Earth as in Heaven."

The lectures are free and open to the public. For more information, contact Austin College Chaplain John Williams at (903) 813-2220.

"Swiss theologian Karl Barth said that, when done before the sovereign God, all of our work is actually play," Rigby said. "Too often, in our overextended culture, we conceive of 'play' as a 'break' from work that renews us to be able, once again, to work. But what if we understand our play as a creative enterprise?" she asked. "It is a problem when we view our play as 'merely reproductive' rather than 'productive' activity, Rigby explained. "It is precisely through playing (in this specific, theological sense) that we are able to imagine God's Kingdom/God's will in such a way that God's desires become our desires. It is through imagination, founded in play, that we are able to participate in and even contribute to the coming of this Kingdom to earth as it is in heaven."

Rigby joined the faculty of Austin Presbyterian Theological Seminary in 1995. In an article in the Dallas Morning News, on March 28, 2006, Rigby was cited as one of the great theologians of our time. In that article, William McKenzie wrote about 12 contemporary theologians who can "span the gap between church and society. Attention to theology, politics, and sociology allows these thinkers to shape the world, not just follow in its wake." Rigby's special area of interest is setting Reformed theologies in conversation with theologies of liberation, particularly feminist theologies.

Rigby is the author of more than thirty articles and book chapters. She is currently completing two books, The Promotion of Social Righteousness (Witherspoon Press, forthcoming) and In Fullness the Faith: A Christian Feminist Theology (Baker Academic, forthcoming). She is the co-editor (with Beverly Gaventa) of Blessed One: Protestant Perspectives on Mary (Westminster John Knox Press, 2002) and editor of Power, Powerlessness, and the Divine: New Inquiries in Bible and Theology (Scholars Press, 1997). Rigby is working on two additional projects, one focused on the doctrines of "sin and salvation" and the other on developing a systematic theology especially for pastors.

Professor Rigby is the co-chair of the Christian Systematic Theology Section of the American Academy of Religion, where she has been an active member since 1993. She is the "Continuing Resource Theologian" for the Central United States for the pastor / theologian program sponsored by the Center of Theological Inquiry in Princeton, New Jersey. Professor Rigby is a sought-after speaker who enjoys lecturing and teaching for academic, church, and denominational events both domestically and internationally. She is the editor of Insights, the faculty journal of Austin Seminary. Dr. Rigby is actively engaged with congregations, teaching adult education classes and leading church conferences. Among her most popular series topics include "Deep and Wide: Living Into God's Amazing Grace" and "Why Doesn't God Do Something? The Love of God and the Reality of Evil." and An ordained minister in the Presbyterian Church (U.S.A.), Professor Rigby most recently served as a member of the General Assembly taskforce that authored "The Trinity: God's Love Overflowing," a document that articulates the relevance of Trinitarian doctrine to our lives of faith today.

In 1998, Professor Rigby received a doctorate in systematic theology from Princeton Theological Seminary, where she was awarded a doctoral fellowship and the Wildrich Award for Excellence in Homiletics. She earned her master's degree in divinity from Princeton Theological Seminary in 1989, and her bachelor's degree, magna cum laude, from Brown University in 1986, where she was inducted into Phi Beta Kappa.

Prior to her appointment to the Austin Seminary faculty in 1995, she was co-instructor and visiting lecturer at Princeton Seminary, Princeton University, and New Brunswick Seminary. She served on the ministerial staff of the Community Presbyterian Church of Edison, New Jersey, and the Lawrence Road Presbyterian Church of Lawrenceville, New Jersey, and spent a year as pastor of Special Ministries with the United Church of Christ in the Philippines in Cagayan d'Oro City, Mindanao.

The 2008 Cunningham Lectures are the 44th in the series, established by a gift from Mr. and Mrs. Shem Cunningham of Wichita Falls so that the Austin College community might benefit from the visits of distinguished speakers. Mr. Cunningham was a 1920 alumnus of Austin College.

Austin College is a leading national independent liberal arts college located just north of Dallas in Sherman, Texas. Founded in 1849, making it the oldest institution of higher education in Texas operating under original charter and name, the college is related by covenant to the Presbyterian Church (USA). Recognized nationally for academic excellence in the areas of international education, pre-professional training, and leadership studies, Austin College is one of 40 schools profiled in Loren Pope's influential book Colleges that Change Lives.