Dallas, Texas, July 22, 2008 – Dallas architecture firm t. howard + associates (THA) has acquired Wells Janousek Architects, bringing the principals, Mike Wells, AIA, NCARB and Larry Janousek, AIA, and their staff to the firm.
Wells and his team bring their experience of designing childcare facilities for corporate, healthcare and university clients. He now leads The Early Childhood Studio at THA, a division within the firm. Wells and his team have led feasibility studies, site evaluation studies, and managed the design of both new facilities and renovation projects locally and nationally.
Todd C. Howard, AIA, LEED AP and principal of THA, said, "This merger will enhance what we can offer our clients and potential clients. In addition to having strengths in healthcare, education and ecclesiastical design, our firm has vastly expanded its early childhood experience."
Interestingly, Wells and Howard met years ago when Howard took a course from Wells at the Harvard Graduate School of Design Child Care Design Institute.
"I've known of Mike's firm for years as he's one of the best known childcare designers in the country. When I took this course, we became reacquainted. About six months later, we met again in Dallas to talk about our firms. Mike was looking for a succession plan, and so we began talking. Our firm has designed a lot of Head Start centers, schools and educational facilities, and his firm has designed dozens of childcare centers, so it seemed like a perfect fit. Plus, there are nuances to this type of work that we both understand."
Wells added, "This merger will work because our firms are similar in philosophy and approach. Our depth of knowledge in early childhood education plus Todd's leadership in sustainable design is going to take environments for children to an important new level."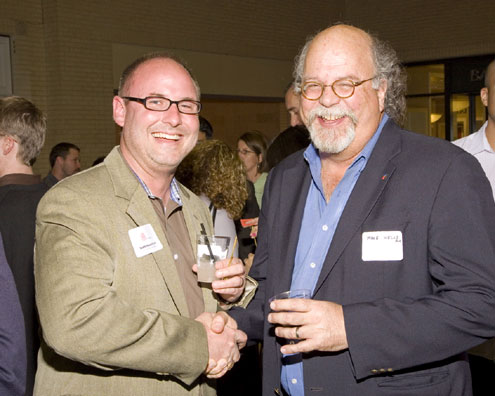 Todd Howard and Mike Wells
Established in 1998, THA is an award-winning architecture firm specializing in healthcare, educational, early childhood and ecclesiastical design. Committed to quality, the THA team includes licensed architects and interior designers. In addition to architecture design, THA offers a multitude of services including pre-development analysis, sustainable building/design consulting and LEED certification. The firm also offers sustainability consulting services and is committed to designing as environmentally sound as possible. More information can be found by calling 214.522.1100 or visiting www.thaarch.com.