Sherman High School Final Exam Exemption Policy
ONLY Sophomores, Juniors, and Seniors Are Eligible for Exemptions – NO EXCEPTIONS!
The four categories of eligibility requirements are: 1. students with an 80 semester average and 0 absences, 2. students with an 83 semester average and 1 absence, 3. students with an 87 semester average and 2 absences 4. Four or more absences, no exemption regardless of grade point average! Exempt Students Must Check in at the following times and locations: WHEN? Monday, June 2, (6B), 9:22 a.m. and Tuesday, June 3, (3A) 9:22 a.m. WHERE? Seniors – auditorium, Sophomores and Juniors – big gym. ALL FRESHMEN MUST BE PRESENT for all classes even if an exam is not given.
Heroes Among Us
What started twelve years ago as an event to honor veterans has become an annual appreciation day to include current military, firemen, police officers, EMT and Red Cross – the heroes among us. Their service to our country and community is a great sacrifice and Hero Day gives us an opportunity to show our gratefulness. It is a time when students and faculty feel a unity and patriotism for America and many students show off the heroes in their own family. Without the support of the Sherman community, Dillingham's annual Hero Day would not be possible.
Dillingham students, faculty, and P.T.A. wish to thank the following contributors – Tyson, Black-Eyed BBQ, Mr. John Elkins, American Bank, Faith Church and Debbie Oswalt, Sam's Club, Grace United Methodist Church, and United Rentals.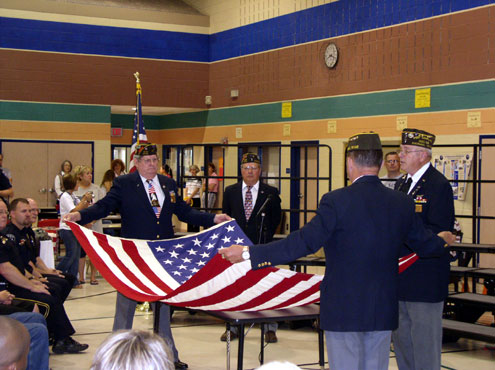 Shown here is the very meaningful flag folding ceremony during the opening presentation.
Texas Scholars
The Sherman business community gave their best to the eighth grade students at Piner during the recent Texas Scholars presentations.
Special thanks to Rick Arnold, Mike Barnes, Paula Bennett, Lana Bernardin, John Boswell, Joe Brown, Joe Brhlik, Marci Bond, Traci Carlson, David Cortinas, Laura Gibson, Colleen Grafa, Roger Hererra, Steve Kimberlin, Adam LeCrone, Lisa Livermore, Bill Magers, Nat McClure, Rim Nall, John Nix, Cathy Renshaw, Terrence Steele, Lee Terrell, Wendell Williams.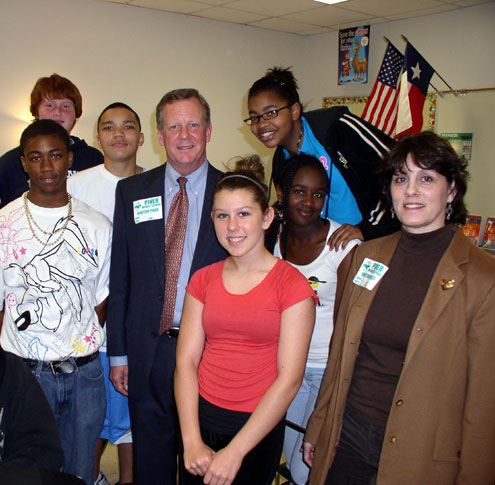 Shown here are students from Danny Green's history class posing with presenters' Cathy Renshaw and Rim Nall.
Career Fair
Washington counselor, Judy Hathcock pulled together an incredible Career Fair for Washington students.
"It is never too early to begin thinking about your future career," she said. "This gives the students an opportunity to see a wide variety of career opportunities and increase their knowledge about the community in general."
Lots of hands on activities and souvenirs were provided by the career volunteers. A Washington Tiger thank you to the Sherman Firemen - Sexton, Kenney, Jones, McIntire, Kathy Williams at the Herald Democrat, Gwen Kirk from the Grayson County College Dental Assisting Department, Terry Loughry at GCC Auto Collision Repair Department, Hairo Pena at Chase Bank, Joshua Gurski at Landmark Bank, Roberta McPherson at Jason's Hair Design, Debra Boren from the GCC Automated Computer Assisted Drafting and Design Technology Department, KXII's - Megan Kranning, Nele Rogers with Big Brothers, Big Sisters, Brian Esmaili-Doki at the Texas Department of Transportation, David Plyler and April Latimer at Plyler Construction, Lauren Bellows at Bella Fontana Spa, Karen Cabaniss at the Child Guidance Center, Riley Day with the Sherman Police Department, Shirley Greenway at GCC Nursing Department, and Keith Scorsone and Kevin Stephens at K&K Custom Cabinets.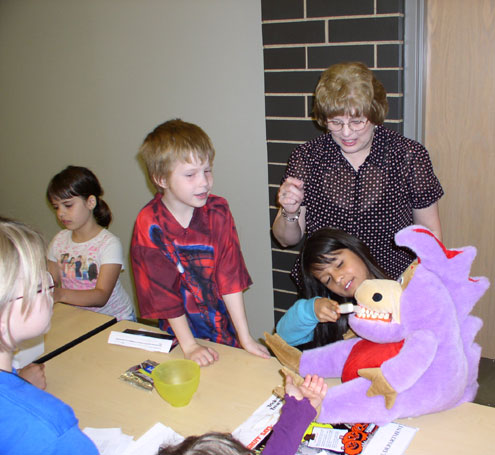 Shown here is Gwen Kirk teaching dental hygiene career responsibilities.
FFA Officers
The newly elected FFA officers were presented at the end of year banquet.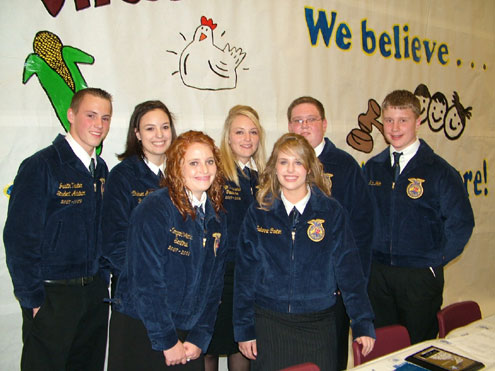 They are (back row, l-r) Justin Vawter, President; Chelsea Ashby, Vice President; Paige Vandeventer, Secretary; Jeff Sanderson, Reporter; Jacob Irvin, Student Adviser; (front row) Morgan Pilcher, Sentinel; Julianne Carter, Treasurer.
Sign Language Class
Wakefield students are given an opportunity to sign up for a variety of after-school classes including one that teaches sign language. During the sign language class a variety of related subjects are researched in an effort to help students understand the beauty of diversity and the need for tolerance. The class is taught by Wakefield parent and volunteer, Mrs. Aimee Robertson. Mrs. Robertson has 4 children - Aiden who is in the second grade, CJ - 4, who has mastered sign language because he is deaf, Rachel, 1 year old, and Drezden, 5 months old. On this particular afternoon, students were reporting on famous people who just happen to be deaf, i.e., Helen Keller, Lou Ferrignou, Beethoven, Alexander Graham Bell, Juliette Low-the founder of Girl Scouts, Marlee Matlin, KoKo, the gorilla who can hear but uses sign language to communicate and one student even did her project on CJ and the equipment he uses uses to hear.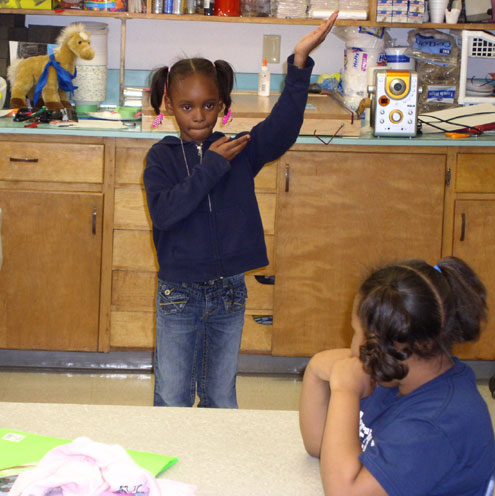 Shown here is Gina Collins who learned a song in sign language and performed it for her project.
Reading Recovery Graduation
Sherman I.S.D. is excited and thankful to announce this year's Reading Recovery graduates.

They are (standing R to L) Standing from R to L, Pam Beck, Joe K.Bryant, Anna ISD; from Sherman ISD: Brenda Brinkman, Crutchfield; Jennifer Collins, Wakefield; Charlene Lyons, Crutchfield; and Janice Waldrip, Fairview. Numerous friends and family, former graduates and SISD administration attended the graduation ceremony.
Reading Recovery is a highly effective short-term intervention of one-to-one tutoring for low-achieving first graders. Professional development for all Reading Recovery professionals begins with an academic year of graduate-level study and continues in subsequent years.
This year's Reading Recovery teachers received professional training from Texas Woman's University.
Reading Recovery Highlight
The highlight of the Reading Recovery graduation is hearing from those students on whom the reading recovery program has had the greatest impact. Under the direction of Carol Sutherland, this program has met with continued success and increase in graduates from across the county.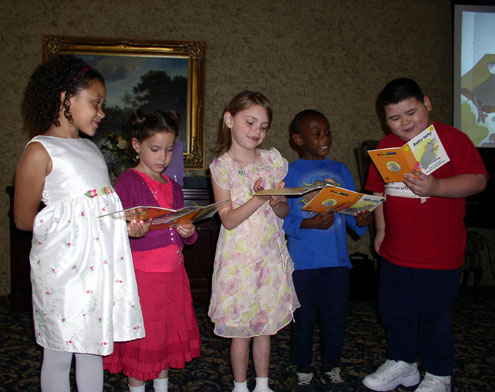 Shown here are first grade students from Washington, Crutchfield, and Perrin showing off their newly developed reading skills.