The Collin County Historical Commission presented a historical marker for the restored Onion Shed in downtown Farmersville on Saturday, November 3. The public was invited to attend, along with the men and women who once worked on the Onion Shed.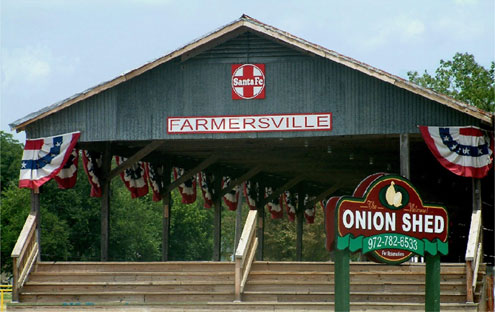 The event was highlighted by a brief ceremony and music was be provided by the Farmersville High School Jazz Band. The dedication coincided with the monthly Farmers & Fleas Market, which began 3 years ago at this location. The Market features produce, plants, crafts, food, garage sale items, and more. Sales hours are 9 AM - 4 PM on the first Saturday of each month.
The 1920s Onion Shed was one of several onion sheds in Farmersville, built by the railroads for the packing and shipping of onions. At one time Farmersville was known as the Onion Capital of North Texas. Its restoration won the Texas Downtown Association's Community Spirit Award in 2003.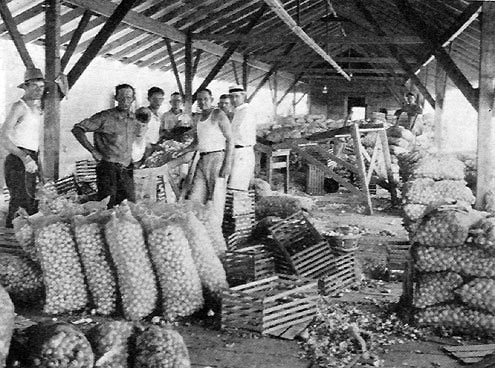 Historic view of men working on the Shed
"The Onion Shed was historically important to our community, and it continues to be the site of activity, with the monthly Farmers & Fleas Market held here, as well as numerous parties, family reunions, fundraisers, festivals, and even weddings," said Loydell Seward, member of the Collin County Historical Commission and Farmersville resident. "We invite folks to come out and discover one of our historical treasures."
The Farmers & Fleas Market is held on the first Saturday of each month and is a project of Farmersville Main Street, which is dedicated to downtown revitalization. For more information, contact Farmersville Main Street Program, 972-784-6846.