Front Page
Bahama Beach waterpark re-branded Hawaiian Falls Dallas
By David Alvey
May 31, 2007


Bahama Beach, the first inner-city waterpark in America, was officially re-branded to Hawaiian Falls/Dallas recently. David Busch, president and CEO of Hawaiian Falls, hosted a group of business and community leaders to celebrate the re-branding and provide a glimpse of the $250,000 in upgrades currently underway at the waterpark, including adding an abundance of shade.
"This park is a great example of a successful partnership between a private enterprise and the City of Dallas. We are both committed to serve the people of Dallas by providing quality, affordable family-friendly entertainment," said Busch. "Hawaiian Falls Dallas provides a wholesome, fun environment to meet their needs. Recognizing the financial challenges of area families, we offer a lower admission price than at our suburban parks, and we have a special '$1 Menu' for pizza, hot dogs and drinks. And, for our guests' convenience, we provide food service throughout the park."
Hawaiian Falls Dallas will offer a weekly "Dive-In" movie each Wednesday evening. The park plans to show family-friendly movies such as "Happy Feet," "Yours, Mine and Ours," and "Charlotte's Web."
The expansion will include new cabanas and an expanded party area plus inflatable bounce houses. Throughout the summer season, the park will feature family-friendly acts each Friday evening, including Midlife Crisis, Ken Savage and his "Best Kept Secret" band, and national Christian entertainers Andy Chrisman, Seventh Day Slumber, and the Robbie Seay Band, plus the Disney Kids and many others. The park also plans a "Battle of the Bands" in August.
Family-friendly acts are encouraged to contact Neal Gorman at ngorman@hawaiianfalls.com for consideration. Admission to Hawaiian Falls Dallas is $12.99 for adults; $6.99 seniors (60 years and older) and children under 48 inches tall. Children two and under are admitted free with a parent or guardian.
For the first time, Hawaiian Falls season passes will be accepted at all three area waterparks for no additional charge. Season passes are now on sale at www.hawaiianfalls.com. Individual season passes, regularly $79.99, are available online and at area Kroger stores at the reduced price of $69.99.
Hawaiian Falls will open daily 10:30 a.m. - dusk from Memorial Day weekend through Labor Day weekend. In addition to the improvements at Hawaiian Falls/Dallas, a $1 million expansion is currently underway at Hawaiian Falls/Firewheel in Garland that includes a new wave pool and concert stage.
Hawaiian Falls/The Colony recently announced a $600,000 expansion that will include the new Honolulu Lulu, a 44-foot slide complex featuring three thrilling flumes, the Tiki Island sprayground, and a concert stage. Hawaiian Falls/Dallas is located at 1895 Campfire Circle, about one-half mile from Highway 67 and South Hampton Road, in Southeast Dallas. More information is available at www.hawaiianfalls.com.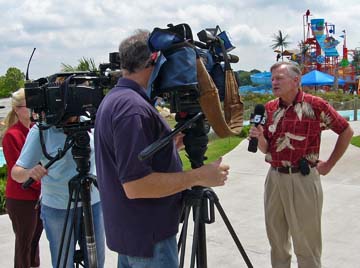 Several TV stations interviewed David Busch, president/CEO of Hawaiian Falls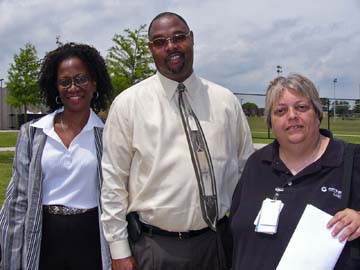 Yolanda Gills, Oak Cliff Chamber of Commerce; Claude Spivey, representing State Representative Yvonne Davis; and Pat Simpkins, Pratt & Whitney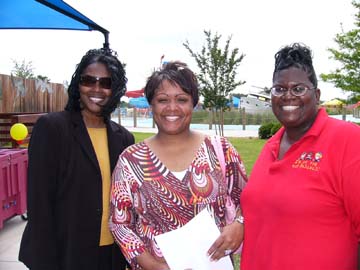 Jeanette Williams, Monique Tyler and Brenda Rice, all with Shirley Murray Learning Center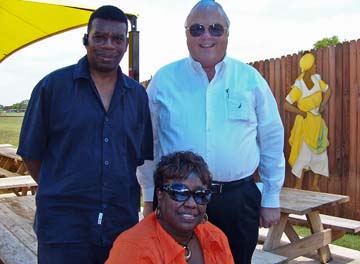 C.W. Whitaker, president of Dallas Parks & Recreation Board with fellow board members Daisy Gafford and Tommy Hines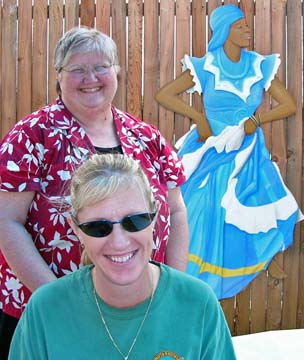 Kathy Clark (standing) and LeeAnn Willis, both Pratt & Whitney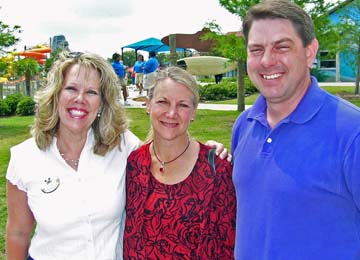 Pamela Wesley, Hawaiian Falls, with Barbara Kindig and Kenneth Ryland, both Dallas Parks & Rec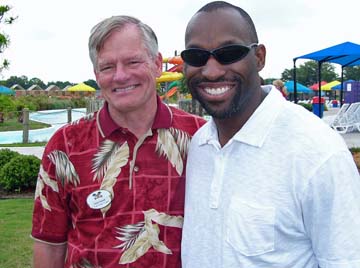 David Busch, Hawaiian Falls, with Shawn Williams, Dallas South Blog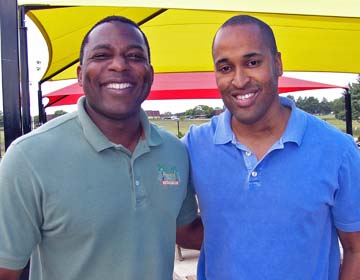 PY Yancy, Hawaiian Falls, with Jaycee Jennings, Christ for the Nations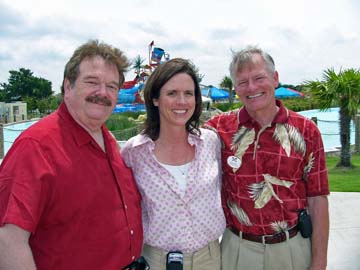 Ken Savage, LeighAnn Hatchett and David Busch, all Hawaiian Falls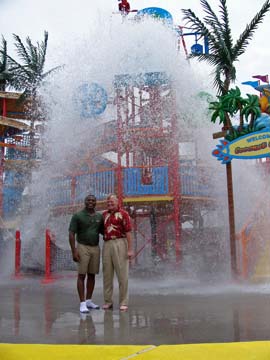 PY Yancy, general manager, and Hawaiian Falls president/CEO David Busch are doused at the christening of Hawaiian Falls/Dallas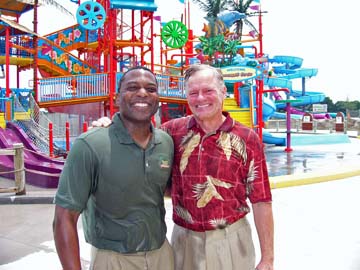 Get wet...at Hawaiian Falls!