The Sam Rayburn House Museum will host an event, ďSam Rayburn and the Fourth Congressional District in World War II Commemorative CelebrationĒ on Saturday, October 14 from 10:00 a.m. to 3:00 p.m.
The event is being held in association with the museumís current exhibit, Together They Won: Sam Rayburn and the Fourth Congressional District in World War II. The event and exhibit are part of the Texas Historical Commissionís Texas in World War II initiative, a statewide program launched on the 60th anniversary of the end of World War II. The event is also part of the American Association of Museumsí Year of the Museum program and Museum Month in Bonham.
Sam Rayburn became Speaker of the U.S. House of Representatives in 1940. As Speaker, Rayburn played an essential role in World War II legislation. The results of his involvement in the war were reflected at both the national and local levels.
Speaker Rayburnís national legislative accomplishments included the Lend-Lease Act and funding the atomic bomb. Rayburnís persuasive powers in Congress, accompanied by his public speaking engagements, secured the successful passage of the Lend-Lease Act on March 11, 1941. The Lend-Lease Act provided war supplies to England, Russia and China. In early 1942, leading government officials approached Rayburn and asked him to work discreetly with Congress to gain funding for the production of an atomic bomb. Later that year, he was able to secure $1.6 billion to fund the Manhattan Project, the code name for the secret project that led to the creation of the atomic bomb.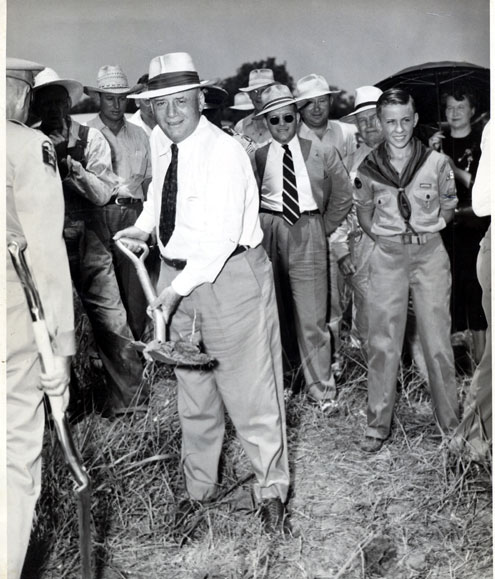 Sam Rayburnís traditionally rural and agricultural district prospered from direct federal spending associated with the war effort. Fourth District constituents asked Rayburn to use his political power to persuade the War Department to locate federal programs in the area. He successfully attracted federal investment to the Fourth District, including military installations. Additionally, enemy prisoner of war camps were located in Kaufman, Farmersville and Princeton. Rayburn also initiated a federal program that brought veteransí hospitals to the Fourth District. In 1943, the U.S. Armyís Ashburn General Hospital opened in McKinney. In later years, Rayburnís influence brought another veteransí hospital to Bonham.
Visit the Sam Rayburn House Museum on October 14 to learn more about Sam Rayburnís involvement in World War II. Enjoy refreshments, musical performances, presentations, childrenís activities, and tours of the historic house. The event is free and open the public. The museum is located at 890 W. State Highway 56 in Bonham.