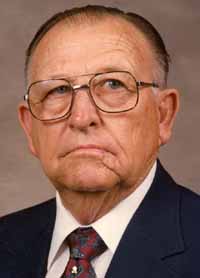 Bonham, Texas - P E Biggerstaff, age 88, passed away on Monday January 16, 2006 at Northeast Medical Center in Bonham, Texas.

Funeral services will be held at 10:00 a.m. on Friday January 20, 2006 at Northside Church of Christ in Bonham, Texas where he was a lifetime member. Mr. Bert Ritchie and Mr. Carl Dye will officiate. Burial will follow in Willow Wild Cemetery. Arrangements are have been entrusted to Cooper-Sorrells Funeral Home in Bonham.

Mr. Biggerstaff was born May 5, 1917 in Randolph, Texas to Ralph G. & Kate Elizabeth Jones Biggerstaff. He married Juanita Cline on September 11, 1939 in Durant, Ok.

P E was instrumental in organizing the Industrial Foundation, a past director of Bonham Chamber of Commerce Regional Vice President of Texas, Society of Farm and Landbrokers, and past director of TAR. He built the first drive-in grocery in Bonham in 1965. He organized the Fannin County Board of Realtors and was in the Real Estate business for over forty years in Fannin County. Preceded in death by his wife Juanita Cline Biggerstaff of 61 years on April 3, 2000. He was the last of three brothers & six sisters.

Survivors include two daughters Brenda Lide & husband Dale, Myrna B. Malone; grandchildren Jeremy Malone & wife Morgan, Tiffany Malone & Tara Fitzwater; great grandchild Brayden Malone; & several nieces & nephews.

Pallbearers will be Jeremy Malone, Stan Baker, Richard Gopffarth, Jim Green, Steve Mohundro, David Trout. Honorary Pallbearers will be Roy Paul Kemp, Patrick Farr, Joe Carpenter, Kenneth Cox, Bobby Vaught, Clayton Victory, Ronnie Latimer, Howard Large, Mack Walker, Marshall Ashby.

The family will receive friends from 7-8:30pm Thursday January 19, 2006 at Cooper-Sorrells Funeral Home.

To send an online condolence go to www.coopersorrells.com.