Printed From North Texas e-News == ntxe-news.com


Sports
Fannin County Sports Hall of Fame inducts new members
By Allen Rich
Jan 27, 2008



Bonham -- An overflow crowd filled Bailey Inglish Auditorium Saturday night to celebrate the induction into the Fannin County Sports Hall of Fame of three outstanding athletes, a coach with just under 750 wins under his belt and a track team that brought home a state title 30 years ago by clocking the fastest 400m relay time that had ever been recorded by a Texas high school team at that time.
Royce Smithey
Fannin County Sports Hall of Fame board president Royce Smithey welcomed the large audience, Kimberly "Jones" Parker performed a moving rendition of the national anthem and the invocation was given by Jerry Christopher.
James Dawson took the podium to recognized the first athlete of the evening to be inducted, Robyn Fuller.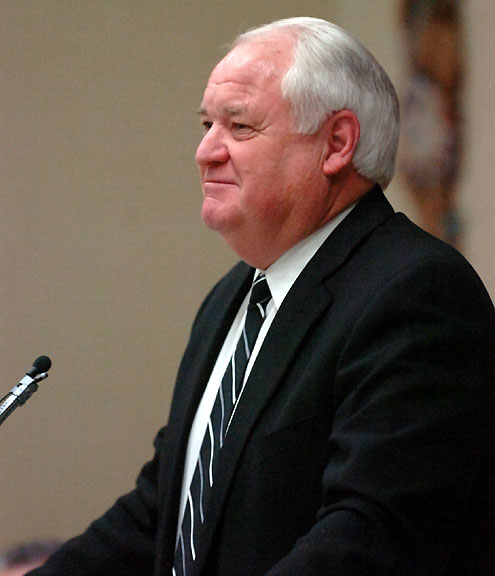 James Dawson
While attending BHS, Fuller was a gifted basketball and volleyball player, but her greatest accomplishments were in track where Fuller led the BHS girls to their first district track title her senior year.
Dawson, a former principal at Bonham High School, remembered Fuller as a caring, polite and sincere student that inspired her peers and earned the respect of the faculty. Fuller was a member of the National Honor Society and served on the student council in addition to excelling in athletics.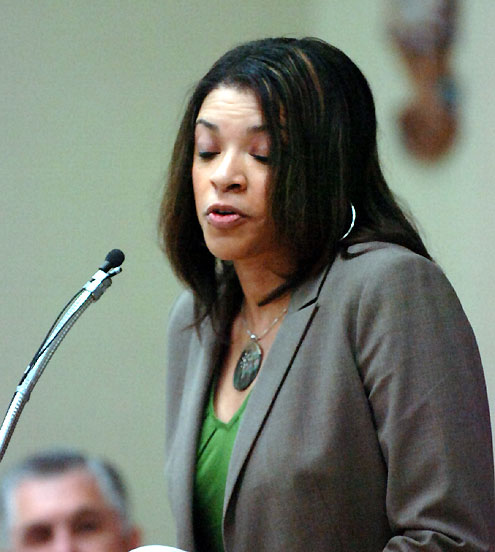 Robyn Fuller
After graduating from BHS in 1987, Fuller went on to play college basketball at Southeastern Oklahoma State University.
Raymond Anderson, a very successful BHS coach and a member of the Sports Hall of Fame, introduced the next inductee, Mickey Wade.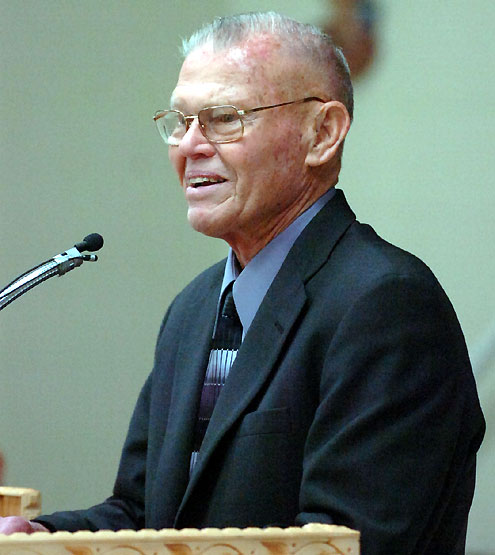 Raymond Anderson
In many respects, Wade raised the bar for the Bonham High School track and field athletes when he came home with Bonham's first UIL State Championship by clocking a state record 1:58.1 880-yard run.
"Mickey has demonstrated great character in all that he has been a part of," Coach Anderson remarked.
Wade was a member of the National Honor Society and graduated first in his class in 1960. After leaving Bonham, Wade attended SMU on a track scholarship where he was the Southwest Conference Mile Champion in 1963.
Wade described Coach Anderson as someone who was always there when you needed him.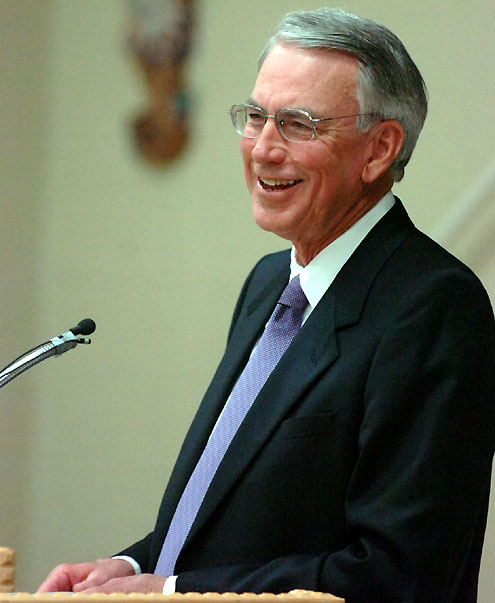 Mickey Wade
"Whether you knew you needed him or not," Wade recalled, " he was always there."
After all, Wade told the crowd, life isn't so much a race as a journey.
"To those who made my personal journey what it is," Wade said in closing, "I say thank you. It has been a great trip."
Jan Cummings introduced the 2008 Coach of the Year inductee, Dan Pate. A native of Honey Grove, Pate attended school in Windom.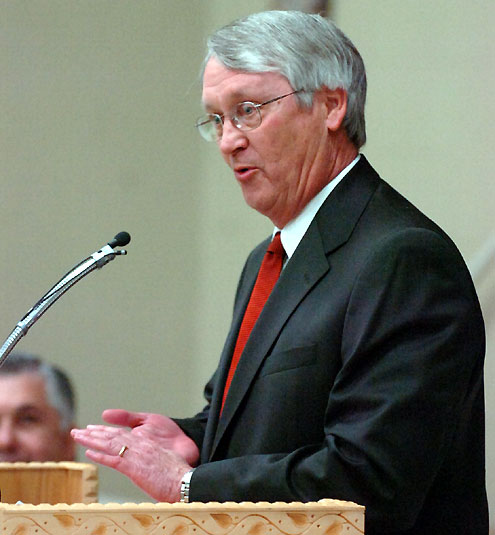 Jan Cummings
"At Windom, Dan participated in all sports...basketball!" Cummings joked.
After beginning his career at Dodd City, Pate taught school one year at Tom Bean and then decided to teach at Sam Rayburn High School one year. Instead, he spent 28 years at Sam Rayburn and guided the Lady Rebels to 20 playoff trips and eight appearances in the regional tournament. He retired after amassing a remarkable 747 career victories.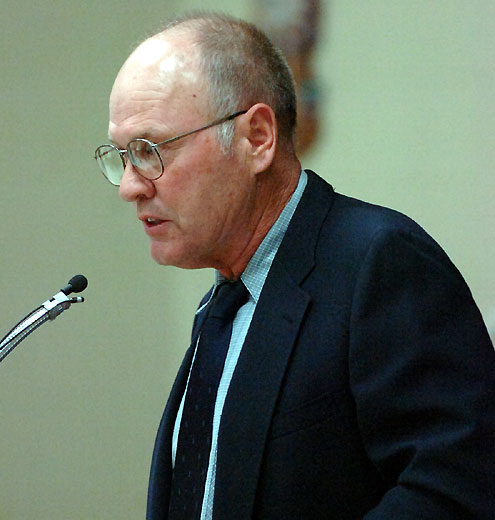 Dan Pate
"I'm not an Xs and 0s coach," Pate explained. "All I know about successful coaching is you go work hard at everything you do."
Cecil Jones introduced the 1978 Bonham High School Men's State Championship Track team with a statement that this group of gifted athletes made come true over and over again.
"When the starter's gun went off," Jones stated, "it was over!"
"They worked hard, they played hard and we had a lot of fun," added the team's coach, Jon Milstead.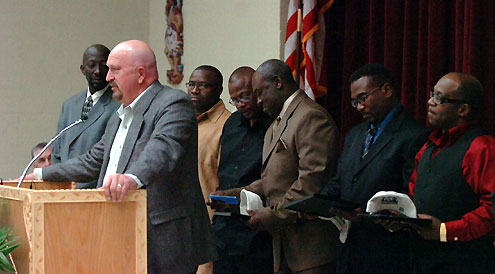 Coach Jon Milstead and his state championship track team
Bonham expected to be fast in 1978. After all, in 1977 Ronnie Brinlee, Lonell Phea, Milton Brown and Mitchell Bennett set a state Class 3A state record in the sprint relay by posting a 41.3 at the state meet.
The record proved to be short lived.
Jerry Morrison, Lonell Phea, Milton Brown and Mitchell Bennett did the unthinkable one year later by blowing away the competition with a 40.5, a new state record regardless of classification from 1978-1980. It would be 1984 before another Class 3A quartet could eclipse the mark set by Morrison, Phea, brown and Bennett.
Bennett also ran in the 100m, Terry Perry placed in the long jump, the third Perry brother to leave his mark at the state level in that particular event, and Bobby Ross was also part of the state championship team.
This year, the Fannin County Sports Hall of Fame also named Dr. Linda Gist and Allen Rich as honorary members for their contributions to sports in Fannin County.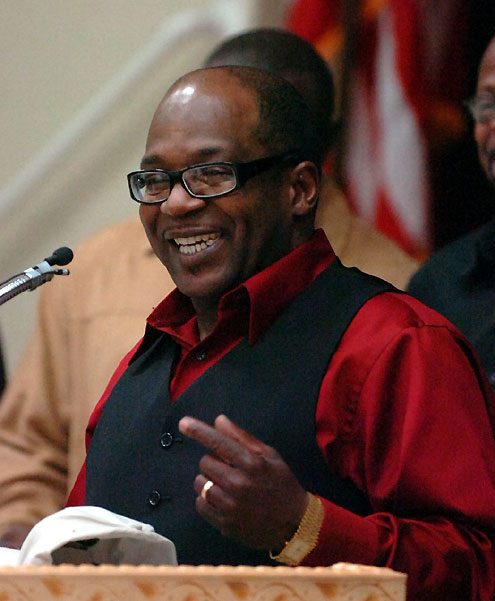 Jerry Morrison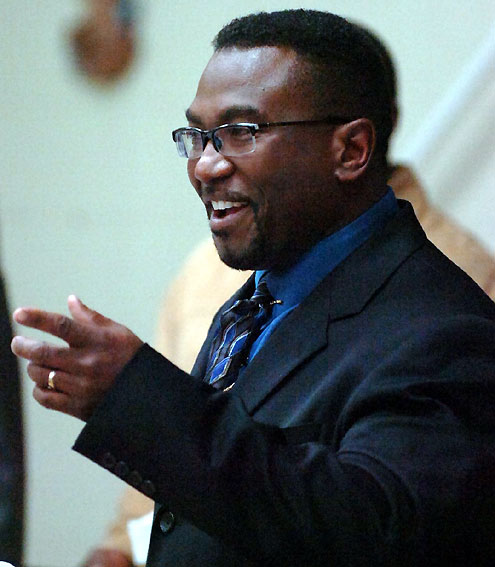 Milton Brown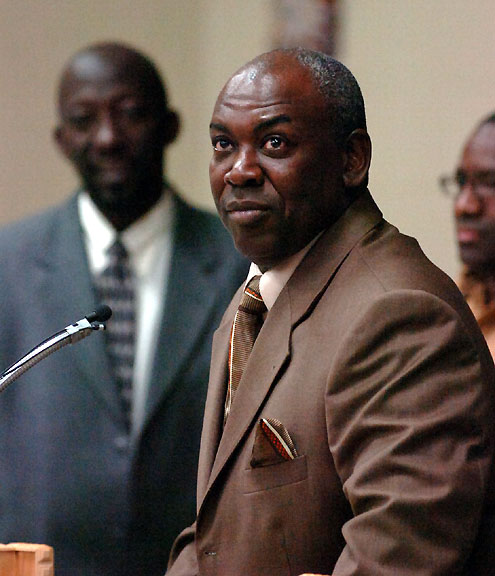 Lonell Phea
Terry Perry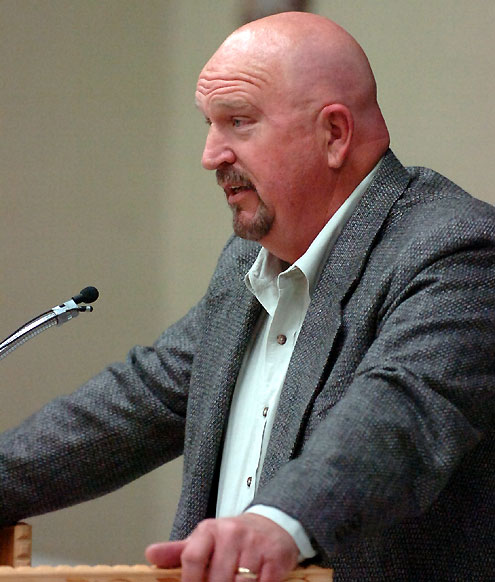 Jon Milstead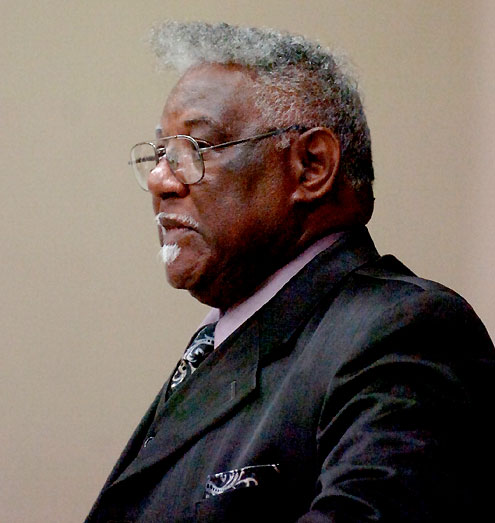 Cecil Jones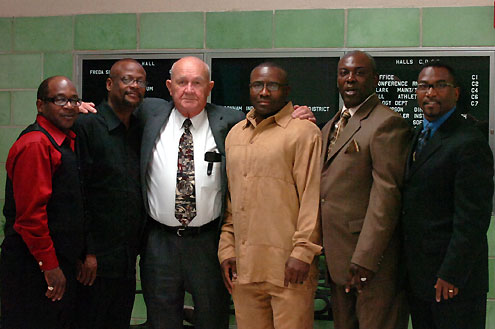 Members of the record-breaking 1978 Bonham High School State Championship Track Team pause for a photo with their former junior high coach, Leonard Gerner, after being inducted into the Fannin County Sports Hall of Fame on Saturday. (l-r) Jerry Morrison, Mitchell Bennett, Leonard Gerner, Bobby Ross, Lonell Phea and Milton Brown
© Copyright 2002-2005 by North Texas e-News, llc.