Front Page
Fort Worth Stockyards land changes hand for new hotel development
Aug 22, 2014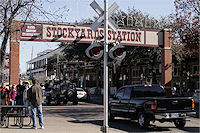 DALLAS -- Fort Worth's well-known tourist attraction, the Stockyards National Historic District, is soon to be home to a new 124-room Marriott Courtyard.
Henry S. Miller's Robert Grunnah-CCIM, President and Lily Chang-CCIM, Vice President of the Investments/Land Division, recently represented Exhibits Building Partnership in the disposition of approximately 2.21 acres for the development of the hotel. The ±96,000 square foot site, at 2533 N. Main Street, was acquired by Sunbelt-CFX, LLC, who was represented by Lynn Dowdle of Dowdle Real Estate.
"The Historic Stockyards have only begun to show its potential as a destination attraction for the city of Fort Worth," Grunnah noted.
Dowdle added that, "We knew the Stockyards needed more hotel rooms but there was a barrier to entry due to scarcity of land for the use. We are thrilled to have finalized this transaction and we are certain the Marriott Courtyard will be a welcomed addition to the most famous historic district in Fort Worth."
The site was acquired by Sunbelt-CFX, LLC, which intends to start construction on the Marriott Courtyard immediately with a to-be-determined grand open date. It is located across the street from the infamous Billy Bob's Texas – concert and dance hall; the Cowtown Coliseum, Fort Worth Livestock Exchange Building and other frequented tourist attractions all within walking distance. The parcel overlooks the intersection of Stockyards Boulevard and N. Main Street and is divided by a creek; an excellent location for the development of a hotel catering to out of town tourists and music lovers.
The Fort Worth Stockyards is considered the finest place in America to experience the country's Western heritage. Every year thousands visit the historic district to see authentic cattle drives, visit the Texas Cowboy Hall of Fame, hear live music at Billy Bob's Texas, the world's largest honky-tonk, and experience Western-inspired dining and shopping.