Front Page
The trail of trials
Aug 20, 2014
David Frost said, "Don't aim for success if you want it; just do what you love and believe in it, and it will come naturally." Jack Herriage hasn't worked a day in his life since he began training bird dogs nearly 50 years ago---he simply gets paid for doing what he loves.
Arising at four o'clock every morning (365 days a year), feeding 20-25 dogs and horses, sitting in a saddle for 7-8 hours, training various breeds of bird dogs to hunt and retrieve, checking and repairing equipment, journeying to field trials, and often serving as a bird dog event judge have finally paid off.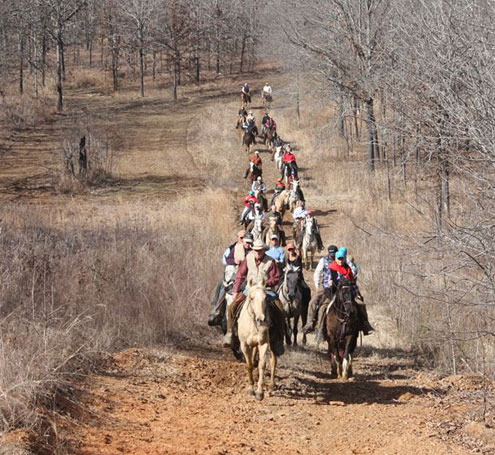 A trail of horses and riders
Jack was recently inducted into the 2014 American Field Trial Club Association's Hall of Fame, after acquiring 109 championships and runner-up titles during his career. He has won the National Open Shooting Dog Championship four times---the most of any handler in the 54-year history of the competition. Jack was inducted into the Texas Field Trial Hall of Fame in 2001 and the Arkansas Bird Dog Hall of Fame in 2007.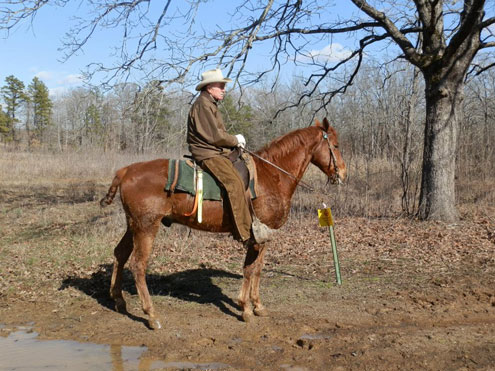 Jack on his horse
This prestigious American Field Trial Hall of Fame honor is gained through nominations and voting by the public. A list of the top ten nominees was submitted to the members of the election committee, who voted for two persons and two dogs to be inducted to the Hall of Fame. The Election Committee was made up of club officials from across the United States, judges of major events, sporting dog editors, and the Purina Awards Committee. In considering the person for selection to the Field Trials Hall of Fame, the standards of consideration centered on someone who had contributed to the sport as an owner, club official, judge, handler, trainer or patron of the game. Understandably, Jack Herriage has excelled in several areas of competition criteria for many years. The Hall of Fame scroll will be presented to Jack at the Hall of Fame awards ceremony in November.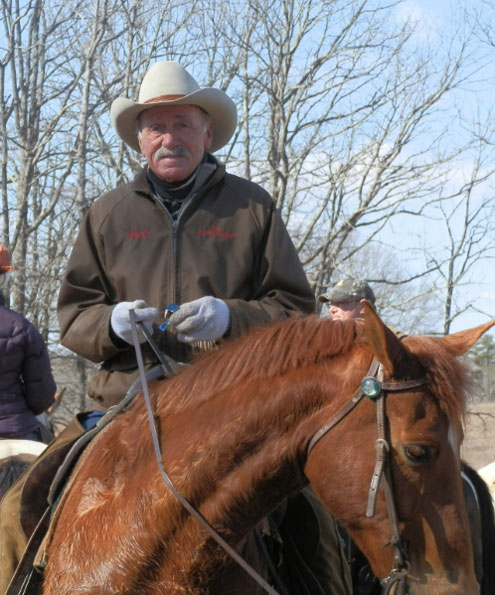 Jack Herriage competes at the 2013 US Invitational Shooting Dog Championship
Bob and B.J. Dow of Norman, Oklahoma, said, "While numbers alone make the cause for election to the Field Trial Hall of Fame compelling, his persona dictates this honor even more." Jack is referred to as a gentleman in the circle of bird dog aficionados and has become a mentor to up-and-comers in the dog training business. Bill Richards of Boonville, Missouri, said, "I've never known anyone to ask Jack for help that help wasn't given with a smile. His honesty, integrity, and sense of fair play are above reproach."
The accolades continue: Dr. Jim Mills of Searcy, Arkansas, called Jack a true professional. "He is one of a kind, unassuming, and affable to boot." The Honorable Lee R. West, a fellow Hall-of-Famer, said, "I will testify to his character…Jack is made of the right stuff…he has done it with class."
Jack resides in Denmark, Arkansas, with his wife Peggy. She offered, "Personally, I know Jack is one of the good guys, whether he is wearing a black or white hat! As for retirement, it will happen when Jack can't get on his horse each day."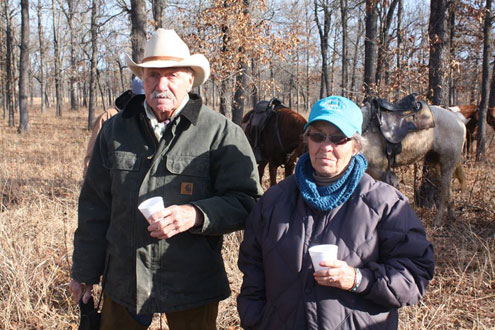 A cold morning with coffee.
A portion of Jack's and Peggy's bird-dog-training year is spent in toe-tapping Lipscomb, Texas, a town in the Panhandle. Maybe Joe Ely had them in mind when he wrote these lyrics:
Well I found a young cow-dog,
An' I told him: "Now, now doh,
"You're a borderline Collie, I'm a borderline fool."
But he had some bad habits,
He was scared of jack rabbits.
I sent him off to canine school.
I think they call it obedience school.

When he came back, he couldn't tell a cow from a horse,
But he could dance like the dickens to the West Texas Waltz.
Son of the late Bessie and Ulta Herriage of the Moore's Chapel Community, Jack graduated from Bonham High School in 1953, where he excelled in basketball and baseball.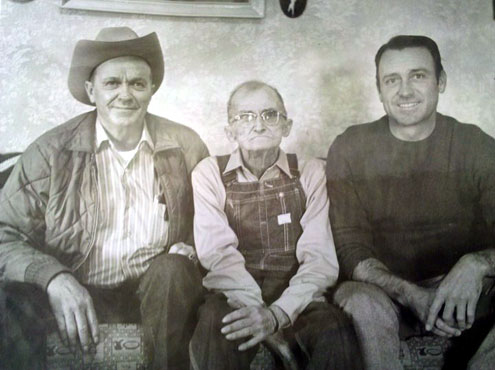 Pete Herriage, Ulta Herriage, Jack Herriage
An underclassman of Jack's, Bonhamite Ray Neal Campbell recalled, "Jackie was a great athlete, a good looking guy, and someone who was fun to be around. He was a role model for me and I'm not surprised that he has been successful in his career." Jack has applied the same principles of sports to the training of bird dogs: The day's success is dependent on how well the dogs work, rather than how many quail are in the game bag. In other words---learn the fundamentals and the winning takes care of itself.
When Mt. Vernon came to Bonham to play basketball, Don Meredith expected to be welcomed as the star. As Jack's nephew Lanny Joe Burnett remembers, "All the girls sat together and chanted, 'Throw the ball to Jackie! Throw the ball to Jackie! Throw the ball to Jackie!'" It took a few years and a different sport for Dandy Don to get the accolades he felt he deserved.
Jack won an athletic scholarship to Navarro Junior College, where he played basketball and baseball. He was a pitcher on the team that won the State Junior College Championship in 1955. Jack's cousin Jim Herriage, Bonham resident, also played on the junior college baseball team, and the two traveled back and forth on weekends from Bonham to Corsicana in Jack's 1939 Chevy (one-way driving time---over three hours). The car was the first "Old Blue" in Jack's life . . . but probably not the last with such a name. Creatively, Jack tied the car into high gear with a piece of rawhide so it wouldn't jump out of gear upon acceleration. It was most likely Old Blue's faulty door latch that sent Jack flying onto a "broken elbow landing strip." Also in 1955, Jack married Peggy Wade, who said, "We did our courting in Old Blue until it died."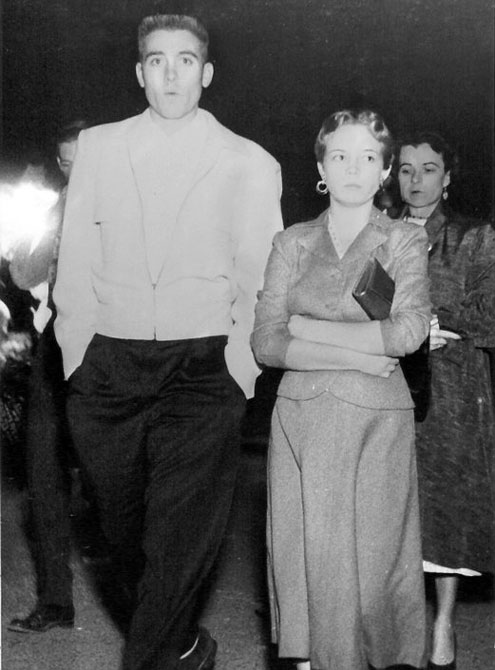 Jack, Peggy, and Jack's aunt Faye Haney
Jack and his cousin Jim played on a semi-pro baseball team, sponsored by Southwest Pump Company. Pete Herriage, Jack's older brother, was the coach, and the players received $25 per game. Bob Cantrell, writer for the Bonham Daily Favorite, referred to Jack and Jim as "Jackie Herriage and Little Jimmy Herriage."
Whether he's called Jack or Jackie, Jack Herriage's favorite name is Dadu, so called by his three children---Kim, Jill, and Chuck---and the eight grandchildren and seven great grandchildren. His wife refers to him as her Hungry Jack, and the kids, grandkids and great grandkids firmly deny that Jack is all work and no play. Whether it's a granddad's bouncing knee, a fierce game of horseshoes, or the family's annual costume party, Jack is definitely NOT a dull boy.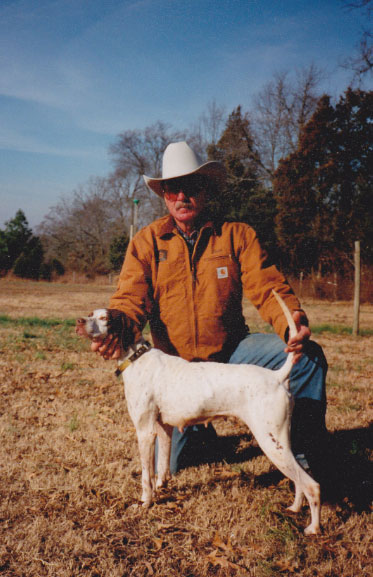 Jack holds his National Shooting Dog Champion, Peak Performer.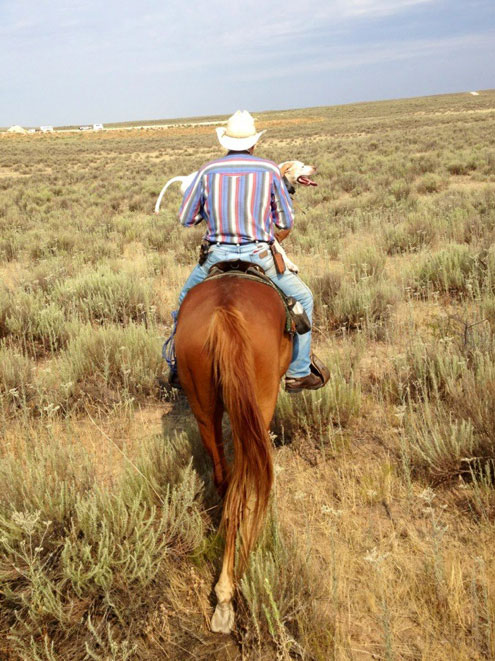 Jack on horseback carrying a bird dog.