Entertainment
Pierce Pettis to perform at Harmony House Concerts Sept. 14
Sep 14, 2014
"Pierce Pettis doesn't write mere songs, he writes literature...End to end the songwriting is brilliant...Pierce Pettis albums are events in my listening. His writing just gets better all the time and his singing is marvelous, wry and warm..." -- Sing Out! Magazine
What an honor it is for Harmony House to host this iconic singer-songwriter on Sunday, September 14, 2014, 4;00 p.m. - 6:00 p.m.! Anyone who has listened to Pettis' music will understand why we feel fortunate that he booked a gig with us during his Texas tour, before returning to his Mintone, Alabama home. To learn more about this legendary singer-songwriter, visit his website, www.PiercePettis.com. You can also listen to short clips from some his most popular CDs. See his short "bio" below.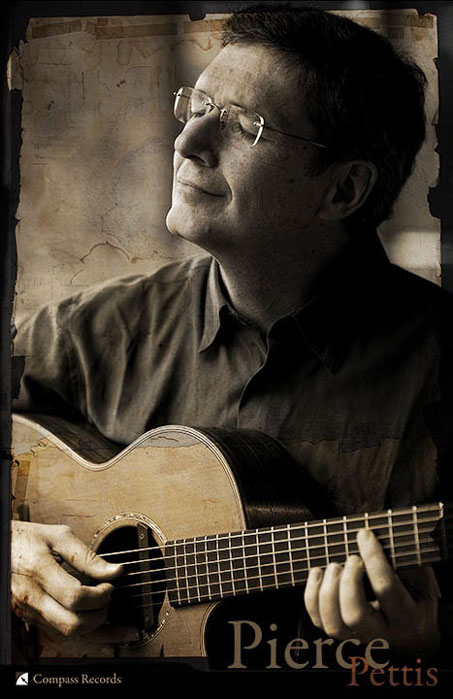 Reservations can be made by calling 903/583-2661. Leave your name, # of seats desired, and contact information (e-mail addresses preferred). The suggested donation for Pettis' show is $18 per person. To prepay, make your check to Pierce Pettis and mail to Faye Wedell; P.O. Box 812; Bonham, TX 75418, to be received by 9-10-2014. Refunds will be made to anyone needing to cancel by that date as well. Persons may opt to pay at the door. If you do so, please "show up" out of respect for the artist and the hosts. Those who do not cancel previously will still be expected to pay. This show is likely to be a "sell-out", so make your reservations early. Reservations are limited to fifty persons.
Pettis will play two 45-minute gigs with a 30-minute intermission for guests to enjoy bottomless cups of coffee, tea, and assorted punches, plus snacks, provided by hosts, Faye & Scott. There will be a basket on the breakfast room table for optional $1 cash donations to help defray their expenses. In the dining room, Pettis will have his CDs for sale at the "Reservation Check-in Table" and will be available to signing and chatting with guests.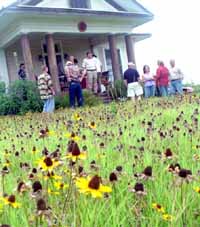 For those who have never attended a "house concert", it is exactly as it sounds. You get to hear well-known musicians play their own original music and at times some cover songs of other artists in the intimate surroundings of a reclaimed vintage home at Wildscape Acres, www.WildscapeAcres.com, near Ravenna, TX. The atmosphere is casual and cozy in this "little house on the prairie". Faye & Scott want to make your experience memorable and fun.

After the concert, there will be an optional Potluck Salad Buffet. Weather permitting, this will be held outside on the grounds and on the deck added to the back of the house. When making reservations, indicate whether you plan to stay for this opportunity to enjoy a meal together and to build community. If you know what you plan to bring, let Faye know so she can keep the menu varied and appetizing for all tastes. Following the Potluck, there will be a Song Circle for all who wish to stay. Pierce Pettis is staying overnight, so this will be a chance to bring your instruments and your songs and play for him....he might even give you a songwriting tip or two! Of course, you can enjoy the Song Circle whether you play or not.

Biography

Pierce Pettis, adored by both critics and public alike, is one of this generation's most masterful songwriters. His music is distinguished by his uncanny ability to capture universals in human experience by drawing on the humor and trials in daily life. Pettis' music can simultaneously pull on our hearts and keep us laughing. The beautiful harmonies, inventive yet subtle percussion, strong guitar, and Pierce's rich vocals are a constant throughout his body of work.

Pettis has performed in all 48 continental states as well as in Canada and Europe, appeared nine times on American Public Radio's Mountain Stage, been featured on National Public Radio's E-town, Morning Edition and World Cafe ... appeared on VH-1, CBS News, and the Nashville Network.

During his long career Pierce Pettis has been a writer at Muscle Shoals Sound Studios in Alabama, recorded for Fast Folk Musical Magazine in New York, won the prestigious New Folk songwriting competition at the Kerrville Folk Festival in Texas, and was a staff songwriter at Polygram/Universal Music Publishing in Nashville. He has received numerous songwriting awards including a 1999 ASCAP Country Music Award for You Move Me --recorded by Garth Brooks.

After three critically acclaimed albums on the Windham Hill/ High Street label, Pettis joined Compass Records in Nashville, releasing five albums. The lastest, That Kind of Love, (2009) received raves from XM/Sirius Satellite Radio, Paste Magazine, Performing Songwriter, American Songwriter, The (London, UK) Sunday Express, Image Quarterly . . . to name a few. The album was ranked at #2 nationally, in February of 2009 in the Roots Music Report for acoustic/folk releases.

"...One of the more vital and critically acclaimed folk stars of recent years." ​-- Performing Songwriter Magazine