Religion
Celebrate Homecoming at Flower Mound Presbyterian Church
Aug 18, 2014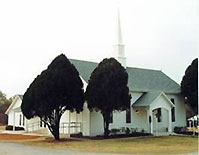 Flower Mound -- On August 24, historic Flower Mound Presbyterian Church, Denton County's oldest Presbyterian Church, is celebrating 160 years along with the 100th birthday of our oldest member, Miss Oleta Simmons Greer. Ms. Greer's family was some of the earliest residents of Flower Mound. Simmons Road is named for her family.

A special Homecoming Worship Service begins at 10:30 a.m. that will include a "Blessing of the Backpacks" for all school children. This will be followed by a potluck at 11:30. The entree will be provided and all are welcome!

Homecoming celebrates the history of the church and Flower Mound and recognizes those who attended the original Donald School. The church was founded in 1854 by Reverend Matthew B. Donald. The school was founded in 1877 and named for the Donald family who were among the first families to settle in the Flower Mound area and helped to develop the community.

The church is located at 1501 Flower Mound Road in Flower Mound, TX. Sunday School starts at 9:30, followed by Worship Service at 10:30. Church members and former attendees of the Donald School are invited to share their memories and stories during the service. All children are invited to participate in the blessing to start their school year off on a good note. See www.fmpcweb.org or call 972-539-7184 for more information.