Lifestyles
Lots happening at Fannin County Children's Center
Aug 22, 2014
Back to school time is always a busy time at Fannin County Children's Center. This year is no different. Staff and volunteers have been busy organizing and buying school supplies and getting bags ready for distribution. Children and youth from First Presbyterian Church of Bonham recently came to the center to move, organize and sort school supplies. Supporters are dropping off donations of supplies and money to purchase more. Last year, the center set a new record by serving 730 students from all over the county. Organizers expect to serve more than 700 children again this year.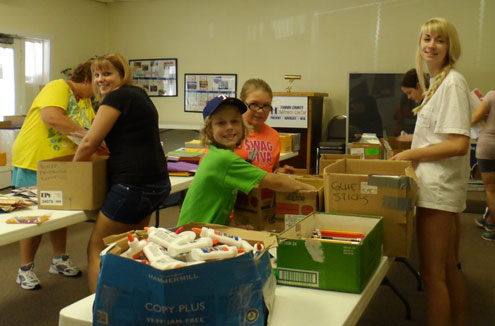 Youth from First Presbyterian Church of Bonham recently organized and prepared school supplies at Fannin County Children's Center.
School supplies will be given out on Aug 20, 21 and 22 from 9:00 am to 12:00 noon and 2:00 pm to 5:00 pm at the Children's Center at 112 W. 5th in Bonham. Parents or other caregivers should bring each child's social security card and some proof of need, such as a food stamp card, Medicaid card or paycheck stub.
Registrations for "Recognize and Report" classes are being accepted now. This free class teaches adults the signs and symptoms of child abuse and how to respond appropriately. There are two upcoming opportunities to take the class: Sept 8 or Sept 30. Both classes are scheduled from 5:30 to 7:00 pm at the Children's Center. To reserve your spot, contact Tara at tara@fanninccc.org or (903) 583-4339.
The Children's Center is also looking for more volunteers to become Court Appointed Special Advocates (CASA). Volunteers who pass background checks and complete training will then be assigned as an advocate for a case involving a child or sibling group in foster care. Currently 4 cases have no volunteer advocate. Next training class starts Sept 2, so contact Sandy Hood now at sandyh@fanninccc.org or (903) 583-4339 to ask questions and start the process.
With a growing caseload, the center is also looking to expand their staff. They are accepting employment applications for a part-time CASA Advocate Supervisor to recruit, train and supervise volunteer advocates. More info is available at www.fanninccc.org.
In order to fund the new position and other services provided at the center, several fundraising efforts are in the works. "Cruising for Kids" is a 7-day cruise in the western Caribbean, which leaves from Houston on Feb 14, 2015. The Norwegian Jewel will make stops in Cozumel, Roatan and Belize. A portion of each cabin booked will be donated to the center. For more information or to reserve your cabin, contact Paula Galyon at (903) 583-0010 or pgalyon@cableone.net.
Kimbo's Kids is a new organization formed in memory of Kimberly "Kimbo" Dawn Parsons in order to carry on her passion for helping children who have been impacted by abuse and neglect. Kimbo's family and friends are currently planning a Bar-B-Que Cook Off on September 13 at the Bonham Civic Center. There will also be bouncy houses, live music, vendors and more at this event. For more information, contact Douglas Parsons at (903) 227-4551.
Board and staff of the Children's Center have also started planning for the tenth annual Justice Is Served event. This year's event will be a Black and White Gala at the Multi-Purpose Complex in the evening on Nov 8. The place will be decorated in only black and white and guests are asked to wear only these colors too.
"We are pleased to announce that Brookshire's will be one of our Platinum Sponsors, again this year," said Sandy Barber, Executive Director of the Children's Center. "We appreciate the generosity of Brookshire's and the hard work of our board to make sure this year's event is the most successful one yet." For more information, go to www.fanninccc.org.