Front Page
Bonham City Council concerned about lack of progress on Hwy. 121
Aug 29, 2014
Bonham -- To increase safety and improve traffic flow on Hwy. 121 through a rapidly developing section of Bonham, TxDOT began work March 2013 to significantly widen the busy thoroughfare to a four-lane roadway with a 15-ft. raised median separating traffic. The estimated completion date was September 2014.
With September only two weeks away and approximately 1/3 of the project completed, area residents and Bonham City Council will be looking to TxDOT and state-level representatives for help.
At a regular meeting of Bonham City Council August 11, 2014, Risty Deets asked councilmembers, "Is there any compensation to the businesses that have been impacted?"
Another citizen was equally dismayed at how long the project is taking.
"Speaking as a concerned citizen, scientists say the sun will burn out in 4 1/2 billion years, and if they don't hurry they'll be working in the dark," Rick Massey remarked.
Work on the project to widen Hwy 121 North from two lanes to four lanes with a 15-foot raised median separating traffic was originally scheduled to begin March 4, 2013. At a pre-construction meeting February 26, 2013 in Bonham City Hall, residents were told phase one, which consisted of construction on the east side of Hwy. 121, was expected to be completed by November 2013, with estimated completion of the entire project in September 2014.
Then, in a public meeting in late October 2013, TxDOT Acting Area Engineer Dan Perry estimated the entire widening project could be completed by December 2014.
Now, with the project moving at a snail's pace, it is obvious Perry's estimate will be far too optimistic.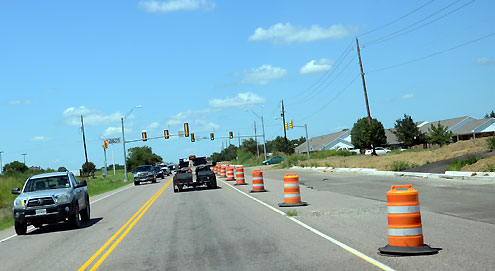 A Monday afternoon drive along Hwy. 121 North in Bonham revealed a project at a standstill. One crew poured concrete for a driveway to a business that has had to deal with the on again, off again TxDOT project for almost a year and a half now. No work was being done along the remainder of the 1.2 miles of the project.
With the project deadline looming, Bonham City Council will now initiate formal communication with TxDOT in an effort to provide area residents with a current percentage of the project that has been completed, as well as the estimated time of completion for the entire project.